---
Ka Kee 2003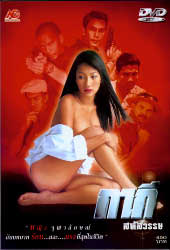 Director: ?
Year: 2003
Starring: Ying Turaluck
Time: 95 minutes
For those who are fans of dull simulated sex, this is a movie for you! Especially simulated sex in which there is nary a glimpse of nudity and all you really see are close ups of faces contorted in pleasure and hands clenching the sheets. Personally, if I never see another scene like this again it will still be too soon. Give me Bollywood any day in which sex is played out in seductive dance numbers – the ultimate in safe sex! The fact that sex has been had of course may be important to the plot of the film – so instead I wish filmmakers would just emulate the days of silent film and put up a placard stating "Sex scene with much writhing and moaning by all involved" or "Sex scene in which the woman looked like she would rather be doing the laundry instead". Movies such as this would then take up so much less of one's life.

Aree (Ying Turaluck, the cutie from Phra Apai-manee) seems to be living the good life, but fate has her in its line of sight. She is young and beautiful and married to an older wealthy fellow who adores her and pampers her. They live in a huge house that has its own 18-hole golf course right outside their backdoor – and as he jokes "and the 19th hole is waiting for me inside". Yuk yuk. One day the husband invites another rich fellow over to hit some golf balls and with one look at Aree this guy decides he has to have her. So he kidnaps her, but instead of forcing terrible things upon her he takes her shopping and more shopping and then more shopping. It must be the way to a woman's heart I guess because Aree finally consents to go to bed with him and decides she wants to stay.

The husband finds out and isn't too pleased and so sends his nephew – who has his own designs on Aree – to bring her back. This is just the beginning of Aree's bad luck - for her and for all the men who fall in love with her during the course of this seemingly endless film. The only thing that might keep you going as it did me is that Ying is quite nice on the eyes and the DVD journeyed all the way from Thailand just for me and so I felt obligated to finish it no matter the cost to my personal well being!

My rating for this film: 2.0

---