---
Hoedown Showdown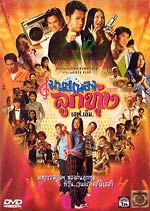 Director: Bhandit Thongdee
Year: 2002
Starring: Dao Mayuri (cowboy hat), Koong Suthirath (son of father), Roong Suriya (juice maker), Sunaree, Apaporn Nakornsawan (factory worker), Kasem Komsun (lost boyfriend), Yingyong Yodbuangam (the cop), Looknok Suphaporn (fruit seller) and many more!
Time: 1 hour 56 minutes
It's all about the music here. Though there is a story of sorts in the film - basically this is an affectionate all-star salute to a type of Thai music called Luk Tung. As best as I can figure out this is their version of country music - popular in the rural areas of Thailand. The songs seem to generally be slow plaintive ballads about lost love and loneliness and sung with an aching heart. If you have seen Monrak Transistor, I think the songs from that film would be considered Luk Tung. I don't know a thing about it, but I did enjoy listening to it. It's the kind of music you would want to play sitting on a porch in the cool late night and allow the sad notes to wander out into the darkness.

The cast as I understand it (from this review on LoveHKFilm.com) consists almost entirely of well-known Luk Tung singers - and at the end of the film they identify them all (but in Thai) and it seems that there are tons of cameos in the film as well. Taking this into account the acting is more than acceptable and a few of the performances are really quite good. There is a lot of music throughout as you would expect, but none of the stars sound all that great - because they are of course not supposed to be stars! - until the final twenty minutes when they are all finally allowed to really do their stuff - and its like wow - that person has a great voice!

The plot is fairly simple but effective for its purpose of bringing together all these singing stars. An old man believes he is dying and his last wish is to bring lovers of Luk Tung together in one place - so he organizes a contest with a prize of 1,000,000 baht (about $25,000). Every wannabe Luk Tung singer in Thailand descends on Bangkok to try for the prize money and each one of them has a story. A monk wants to win the money to fix the temple, another to help his village, another to prove to his father his ability, another is looking for her man who left her three years previously to seek his fame as a singer and she never heard from him again, another is a hostess at a karaoke bar that wants to get out of that life and so on. The film develops each of their stories as best as it can with so many strings to pull. Surprisingly, they all add up to a sweet emotional little fluffy film that I quite enjoyed.

My rating for this film: 6.5

---