---
Monrak Transistor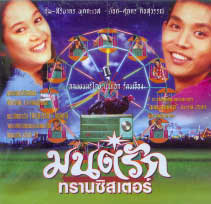 Director: Pen-ek Ratanaruang
Year: 2001
Starring: Suppakorn Kitsuwan, Siriyakorn Pukkavesh
Time: 115 minutes
This, the Thai candidate for the Foreign Academy Award, has more mood changes than the life story of Elizabeth Taylor. It is almost as if each chapter of the protagonist's life is played out in a different genre – musical, comedy, crime, prison, romance and melodrama. It can take a bit of time to adjust to these swiftly changing moods, but the ultimate picture that emerges is one of how life so rarely follows the dreams of your youth and how sad and painful it can become. In a very loose and much less heroic manner, the film is a poor man's tale of Ulysses. A young man leaves his pregnant wife for the army and then has a series of misadventures before finally finding his way back to her. All the way it seems as if the Gods are laughing at this fellow and playing games with him.
Phaen is a simple country boy who has a talent for singing and he is in a small band that plays fairs and events. One evening he sees the lovely Sadao in the crowd and the two begin a sweet courtship that leads eventually to marriage. This entire section is candy-flossed romance – it feels as if the world is just one big glazed apple. Then though he is drafted into the army and things begin going wrong (even with an amusing musical number thrown in). He enters a talent contest and unfortunately wins – without thinking too deeply he deserts the army to make it big in a singing career so that he can give Sadao everything she deserves. Instead though he finds himself cleaning floors in Bangkok for a few years – while Sadao pines for him back in the country. The film begins taking on a fatalistic sadness in which bad luck just seems to have its eyes set on Phaen and we witness this genial singer's life slowly fall apart. All he wants to do is get back to Sadao, but instead he seems to get further and further away from her.

It's an odd film to watch – at times you feel impatient with Phaen – other times you really sympathize with him and eventually you feel broken up inside at how life has treated this sweet couple with such whimsy. But by the end, its simplicity also says something about the endurance of the human spirit and true love. Reacting to this film while watching it is difficult - but it is the type of the film that has stayed with me ever since and one that I think about often - Phaen and Sadao were lovers; Oh, how they could love; Swore to be true to each other; Just as true as the stars above; He was her man; But he done her wrong.

The Thai DVD and the VCD have English subs.
My rating for this film: 8.0

---
Reviewed by Simon Booth
I picked this movie up because it was "Voted Thai best film of 2001" - though I had serious reservations about doing so when I saw the severely sappy romance-indicating cover. I'm glad I decided not to judge this one by the cover, because what's inside is so much more than the wrapper would imply.

Pan and Sadaw are two young Thai kids growing up in a rural Thai village. Life is good - simple, but sweet. The two find especially large amounts of good in each other, and soon become sweethearts. They're very much in love, and Pan even bursts spontaneously into song to express this on occasion. Singing is Pan's other love in life, and he's jolly good at it too. That's the part of the movie that resembles the cover - very sweet and idyllic, but done so very nicely it is genuinely touching, even to somebody with as little tolerance for romance as myself. It lasts about 20 minutes As the voice-over observes, they could leave it there and have a very short but sweet movie that would have the audience smiling on their way to the exits. But they don't - the story continues, and develops into something far more complex and dark.

MONRAK TRANSISTOR is in some ways a debunking of the romantic idealism represented on the DVD case. It reminds the viewer that life is rarely so straightforward and co-operative in the modern world. The movie presents a far more realistic view of life and love, which makes it much more interesting. It reminded me a little of MY SASSY GIRL in that respect (possibly only because I rewatched MSG just before it though ).
It is also very well made. Writer/director Pen-Ek Ratanaruang clearly had a strong vision of what he wanted his movie to be like, and he directs it with precision and skill. The characters are very well written, and brought to life by uniformly excellent performances. Lead actress Siriyakorn Pukkavesh deserves particular mention - her performance is one of the best I've seen. The movie is technically excellent as well - absolutely beautiful cinematography and soundtrack. It's no surprise to see Nonzee Nimibutr listed as producer, as he seems to be involved with nearly all the really intelligent and high quality movies coming out of Thailand in recent years.

The acting, cinematography and sound would be enough to make any movie stand out, but it's the story that really puts MONRAK TRANSISTOR at the top of the pile. It takes the characters (and the viewer) in quite unexpected directions, creating a unique and original movie. Nothing outlandish or bizarre happens - in fact the whole movie feels very realistic. That's what makes it unexpected - things don't turn out like they do in the movies

I believe MONRAK TRANSISTOR is Thailand's entry for the Oscars this year. I don't suppose it will win, because Thailand's movie industry isn't nearly important enough for Hollywood to want to grease its palms. Hopefully it will get the movie onto more people's radars though, because I think it deserves to be seen.

The Thai DVD is not bad by Thai DVD standards. This means it's a reasonably clean non-anamorphic transfer with strong colours. The non-removable English subtitles are very well translated but occasionally disappear against light backgrounds. The soundtrack is beautifully mixed in 5.1 too. It is of course PAL though, which hopefully most of you can handle. The VCD comes with English subtitles.
Strongly recommended!

---