---
Bang Rajan: Legend of the Village Warriors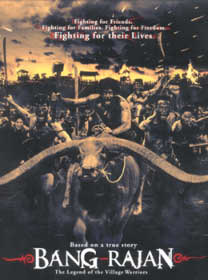 Director: Thanit Jitnukul
Year: 2001
Starring: Winai Kraibutr, Bin Bunluerit, Jaran Ngamdee, Chumphorn Thepphithak, Bongkot Kongmalai
Time: 119 minutes
The year is 1765 and once again the Burmese Kingdom to the west is invading Thailand. The overwhelming Burmese force is descending from the north heading for the capital of Ayothaya and only the small nearly unnoticeable rural village of Bang Rajan lies in its way of victory. The people of Bang Rajan pick up their cleavers, their swords, their farm implements, their bows and arrows and stop the Burmese in their tracks for five long and bloody weeks before they are defeated. To the Thais this is their Alamo – a tale full of valor and the ultimate sacrifice from the men and women of Bang Rajan for the love of their country. It is stirring, ferocious and delivers an accumulated emotional wallop that will leave you saddened and stunned.

It is an epic film in its ambition and its themes. It has often been compared to Braveheart – but it has twice the masculinity and three times the action. Where Braveheart may score points though is that it focuses on one man and thus engenders a great deal of sympathy for his character, while Bang Rajan disburses its story among a number of the villagers and thus is unable to make the characters much more than stereotypes. This appears to have troubled a number of reviewers, but seemed unimportant to me – it's the collective story, the collective heroism and the collective tragedy that matters here and by the final balls to the wall charge it had ripped a huge hole in my stomach.

The action is extremely graphic and brutal – much of it done with razor sharp cleavers and rarely does more than a short time go by without someone losing their head. There are a number of smaller stories that unfold as well – the drunk who finds redemption, a romance blooms among the killing and the deep love of a woman for her husband and is at his side in the final charge.

Neither the Thai DVD or VCD has English subs (I saw it at a film festival).
My rating for this film: 8.0

---