Khun Phaen Begins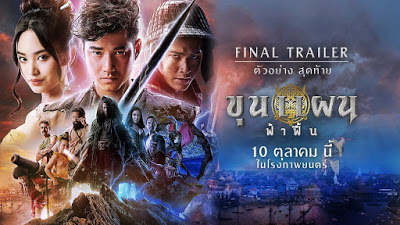 ---
Director: Wichanon Somunjarn
Year: 2019
Rating: 6.0
Country: Thailand

---
A.K.A. Khun Phaen Fah Fuen

I sometimes feel a little guilty for seeing so few Thai films. Primarily since I live in Thailand. They show up in the multiplexes from time to time among all the other offerings primarily from Hollywood but with the occasional Japanese, Korean or Indian film as well. But honestly, Thai cinema has basically been rotten for the past ten years with a few exceptions every year. Just seeing the posters that yell headache inducing stupid or randy teenage hormones is enough to turn me away or the trailers that are full of Three Stooges sound effects - doink doink - is depressing because for a brief shining period Thai films were pretty damn good.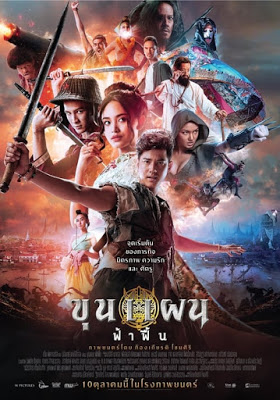 But they generally all bombed and now their films are basically not too different from their incredibly popular TV shows except with a slightly bigger budget. But I have two Thai girls - 13 and 9 - staying with me for a month and so I have been taking them to the movies just to get them out of the condo for a while and after too many animations I thought they would enjoy this fantasy adventure Thai film and fortunately I was right - they loved it. Either that or they had a sugar high from all the junk they were munching on. In Thailand you can actually buy three tickets and assorted crap without taking out a second mortgage.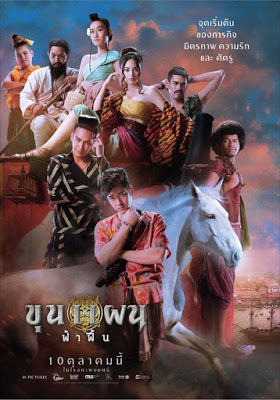 And the film as scattershot as a blast of bird pellets is rather fun even if also idiotic, silly and guilty of a drastic case of attention deficit syndrome. It is all over the map but as long as a cohesive script and editing done with a cleaver doesn't bother you, stick with it because everything is in there somewhere. Fantasy with loads of special effects? Sure. Action? Of course. Romantic melodrama? This is a Thai film. Moments so absurd you have to laugh? Lots of them. Heroics, friendship, childhood memories, a giant Buddhist monster and Excalibur? Yup. Musical numbers? Well why not - one even with a Bollywood beat. They need 140 minutes to squash all this in there like one of my laundry loads but its there.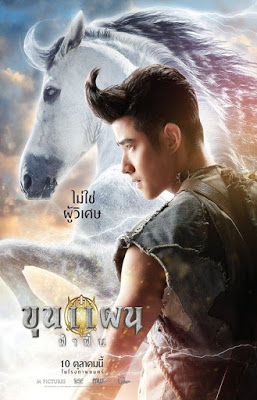 This pretends to be a period film back in the days when Ayutthaya was the place to be, but it is intentionally dipped in modern touches constantly - such as a "taxi" that is being carried by four men having the same colors as current day taxis or a handsome Prince who has all the characteristics of an Idol with women swooning and screaming. When Keaw (Mario Maurer) in a Korean boy band hair style with his friend Petch show up from the sticks they are thrilled and immediately begin a dance number that everyone joins in on. Keaw has lost his memories of his childhood and so when two friends - Chang and Pim (the ever so lovely Yongwaree Ngamkasem) approach him he doesn't remember them but that doesn't stop him from falling like a stone for Pim - who is engaged to Chang. Melodrama ahead!



At the same time an evil sorcerer who has the habit of having snakes crawl out of the socket of his missing eye is intent on revenge and his two assassins - a male - female (Jade-Angelica Fromento) duo - are prepared to do some throat cutting. Meanwhile a good sorcerer sees potential in Keaw and begins training him. The film bounces back and forth between idiot comedy - romance - special effects and action - you almost have to be familiar with Thai films to understand how any film can change moods like a schizophrenic with a hundred personalities. This again being Thai there are gay jokes strewn about like mines but amazingly no ladyboys. Stay for the credits as they do a Marvel thing in there and clearly set up a sequel which I would not mind at all.