The Victim (Pee Khon Pen)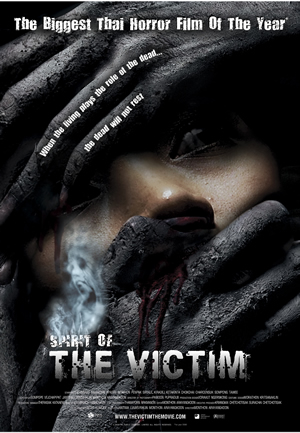 ---
Director: Monthon Arayangkoon
Year: 2006
Duration: 108 minutes
Production Company: R.S. Films
Thailand has a very curious custom of dealing with criminal confessions of murder. After a criminal has confessed to this act, he is forced to reenact it before the press cameras with a hired "victim". So as he stabs or strangles or smothers his "victim" again the press eagerly snaps away and the pictures appear dramatically on the front pages the next day. It is an intriguing concept and one that director Monthon Arayangkoon uses nicely as his basis for a horror film. During the shooting of the film – whether for publicity purposes or not – there were many reports of odd occurrences such as mysterious faces appearing on the film print that made people wonder if the set was haunted by the spirits of those they upset. Upset because many of the sets were the real locations of real crimes that they enacted.
Actress Pichanart Sakhakorn later said that she was unaware of this at the time but felt the presence of things around her during the shooting. After the film was complete she went to a temple to make offerings to any spirits she may have upset and says that a temple boy informed her that two spirits were following her. Now she says she can't sleep without the lights on. You might think she would be used to this by now after appearing in "Pattaya Maniac", "Black Night" and "Rahtree Returns 2", but she says she is terrified of ghosts and only took this role because it was such a good one but wishes she would get offers for other kinds of films! It is in fact a terrific role for this young and attractive actress as she goes through all sorts of emotional and psychological changes.
She plays Ting, an aspiring actress who has only been able to get work as a professional audience laugher on quiz shows. One night she is showing off her laughing skills at an outdoor restaurant and impresses a nearby policeman who offers her the job of being the victim in these crime scene reenactments. She happily agrees and soon becomes a mini media star with her dramatic turns at being killed – so much so that the criminals often break down crying at what they have done! After each one of these Ting makes offerings to the spirits of the victims so that their spirits can rest in peace. When Meena (Arphasiri Nitiphon) an Ex-Miss Thailand is found murdered and a suspect has confessed, Ting knows this opportunity will really throw her into the spotlight and so she studies her character from looks to dress to how she walks so that she can get it right.
Too right perhaps as Meena's spirit comes to her and tells her that the police have the wrong man and Ting decides to investigate herself. But just as you think this is turning into a dull mystery the director unexpectedly pulls the camera back to make the audience realize that everything they have seen so far is not what it seems. This is a pretty solid if forgettable film that speeds along though as in most horror films it depends too much on sudden jarring music and like so many Thai horrors it feels the need to overly complicate and confuse the ending.
My rating for this film: 7.0
---