Seasons Change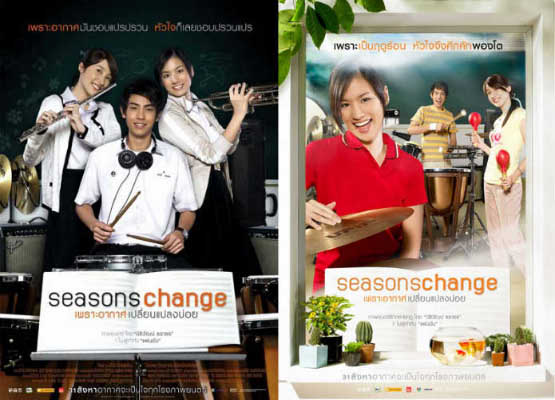 ---
Dir: Nithiwat Tharathorn
Year: 2006
Production Company: BBTV Productions
Running Time: 118 minutes
On the opposite end of the youth oriented film spectrum from the horror films are the youthful romantic comedies. Last year "Dear Dakanda" was a surprise hit and this year perhaps "Seasons Change" may be. I went to see it primarily to see a Thai film but with expectations of needing brain surgery afterwards to remove the sudden buildup of glucose, but instead came away nearly exhilarated at what a sweet smart low key romantic comedy it was. It ploughs through very familiar territory but does so with enormous appeal, sincerity and intelligent comedy. In fact, it is one of the better romantic comedies I have seen in a while even though the romance is kept more wistful than immediate and the comedy is wry rather than raucous as Thai comedy often tends to be. In fact, not a transvestite or fart joke to be seen or heard! I watched this in a theater among a sea of white blouses and black pants/skirts and the students seemed to be laughing as much as I was at the portrayal of high school life and young awkward love. Woven through the film is also the simple pure innocent beauty of music and the pleasure it gives us.
As in most high school crushes, Pom loves from afar, his target of appreciation being the lovely and talented Dao (Yuwanat Arayanimisakul). She is totally oblivious of his attentions and in fact in a later amusing scene Pom discovers that she never even knew he existed. He learns through wind blown fate that she is transferring to the only music high school in Thailand and decides to transfer as well. He plays rock and roll drums and unless this was all well faked the actor is pretty damn good at it. When he informs his parents of his decision his father who owns a small corner grocery store mistakenly thinks he is transferring to a pre-med school and pokes fun at a friend of his whose daughter, Aom (Chutima Teepanat), is also enrolling in the music school. Pom leaves him with his illusion – he only wants to be near his love.
At his entrance exam he is asked dutifully by the professors to perform certain well-known classical drum rolls and doesn't have a clue but a helpful professor acts out rock band names such as "Limp Bizkit" to give him a clue. Again very amusing. He gets in but his rock and roll credentials don't get him any closer to his beloved - though they do earn him two good friends who want to form a band. Dao is a violinist in the school orchestra and to be near her he joins to play the timpani. Yes, the timpani – a far cry from his rock and roll roots and not much action. The school piece is Vivaldi's "Four Seasons" and Pom has to wait forever for his moment of action to come about and fills the waiting time by running chores.
At the same time be becomes chums with the rambunctious Aom and she begins to develop a secret crush on him and is in turn crushed when she learns about his feelings for the other girl. Finally Dao comes to know Pom and to care for him and they both apply for a music scholarship in Budapest – which is not in Germany as Pom thinks. Still you can sort of guess where this is going and it heads there like a well-trained hunting dog with only a few swerves – but it does it with such humor and gentleness that you happily go along for the ride. It may be for those brought up on raunchy American youth comedies a much too idealized innocent world in which parents love their kids, kids respect their parents and love isn't driven by bubbling hormones, but maybe we all need to believe in that fantasy from time to time. Part of the strength of the film is the three personable performances from the three students – Witawat Singlampong as Pom in particular has a very easy going charm that is easy to digest – not a particularly deep performance but a very appealing one. Also, helping the film considerably are the quirky side characters of the two teachers (Japanese actor Yano Kazuki and Panisara Pimpru) and the two friends. It all makes for a consistently entertaining film and one I am glad I sat through.
My rating for this film: 7.5
---