The Touch
---
Reviewed by YTSL
Two summers ago, this (re)viewer caught her first viewing of "Crouching Tiger, Hidden Dragon" -- and came away feeling let down by that which she has since grown to love. My initial negative reaction stemmed in large part from the wuxia work having been saddled with an impossibly elevated level, breadth and sheer amount of hype. Another factor that was at play emanated from Columbia-Sony's decision to release the (not very well done) Cantonese dubbed -- as opposed to original Mandarin -- version of the movie where I had my maiden glimpse of it. Something else that undoubtedly affected my viewing pleasure of this Ang Lee helmed effort stemmed from my favorite still working actress -- Michelle Yeoh -- turning out to have a less prominent role in the internationally acclaimed production than I felt that many of her fans had been led to believe that she would be accorded.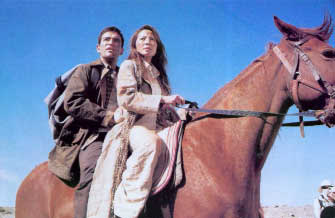 On August 1st, 2002, what may well be the only contemporary romantic action-adventure as well as sole Asian -- even if actually predominantly English language -- movie to feature in the top ten most highly anticipated productions list assembled at this year's Cannes International Film Festival went on general release in Hong Kong, Malaysia, Singapore and (Mainland) China. Over the weekend, THE TOUCH claimed the top position at the box offices of the four territories whose folks were presented with the treat of viewing the Michelle Yeoh, Thomas Chung and Gao Feng Jun co-production on a big screen some days and months -- and possibly even a year or more (if Miramax sticks to its abandon-able plan to give it a North American release (only) in the summer of 2003) -- in advance of others elsewhere in the world. Although I can see why the arguably over-ambitious East-West effort has been the subject of quite a few lukewarm plus terribly unenthusiastic reviews, here's reporting that my own feeling towards the admittedly imperfect Peter Pau directed as well as lensed work which I've now viewed twice inside of a week is one that's mainly positive.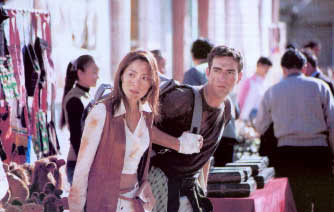 To a great extent, this is due to THE TOUCH providing its action diva of a star actress the most commanding role and largest amount of screen time that she has had in years, maybe ever. As might be expected, she -- who I really do very much enjoy seeing in fighting femme mode -- looked to have eagerly grabbed the uncommon opportunity accorded her with both hands, then proceeded to do what appears to be her utmost to power this Phillip Kwok action choreographed effort with her butt-kicking prowess and charismatic presence. Along the way and, actually, by large dint of its literally plus generally placing Michelle Yeoh and her character (an acrobatic circus performer named Yin whose family happens to be one that had been entrusted by Buddhist monks -- and trained by each preceding generation -- to protect a sacred treasure with highly coveted plus legendary attributes) in the driver's seat (as well as in some other small but significant ways), the 103 minute long movie also achieves the gratifying effect of successfully -- and sometimes even pretty amusingly -- standing a number of cultural, gender and combo cultural cum gender stereotypes on their heads.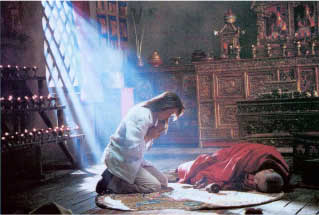 At one point in THE TOUCH, Eric -- the affable (some-time) love of Yin who her father (Winston Chao in a cameo appearance) had bestowed with kindness plus talents of his own -- recognizes a (Mandarin language) Teresa Teng song that's playing on the car radio and sings out its words rather than just hums its tune. What makes this scene special -- and evoke astonished gasps and pleased giggles on the part of some of the (Malaysian) folks I viewed this movie with -- is that this fellow who entered Yin's life in Penang, Malaysia, then sought out the now orphaned woman once more years later in Qingdao, China, happens to be portrayed by the indisputably British Ben Chaplin. What provides confirmation of the Michelle Yeoh, Helen Pao Yun Huang and Kazuo Okada executive produced offering's charming leading male being an uncommon actor is his appearing to be utterly willing to risk being overshadowed by a(n Asian) female and also being able to do as much as he did with his designated role (One that might have come across as thankless, unsympathetic and pitiable on account of Eric being a professional thief who puts other people as well as himself in danger, and needs to be rescued plus helped by a female who's an old flame to boot).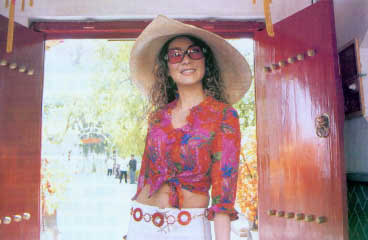 If only the rest of this extra-filled effort's cast members could have transcended the limitations of those not particularly well-written and -developed parts -- and less than inspired lines of dialogue -- that were theirs. As it is, the ruthlessly villainous plus greedy Karl (who Richard Roxburgh got charged with essaying) was too obviously one-dimensional to take seriously; and this especially since his dumb and dumber goons came in the form of such as the surprisingly thick accented Gabriel Harrison/Hoi and -- the admittedly good for a cheap and stupid laugh or two -- Dane Cook (whose American accented Cousin Bob character can verge on the gratingly idiotic). With regards to the characters of Yin's younger brother, the impetuous Tong, and his sweet girlfriend, Lily: At least, I came away from my viewing(s) of THE TOUCH with a sense of why the youngsters played by the debut-making Brandon Chang and Margaret Wang needed to be in the picture. Unfortunately however, the likes of the much revered Lung Sihung (playing a holy man, in what sadly turned out to be his final film appearance) and Kenneth Tsang (as Ping) seem to have had their considerable talents largely wasted in too small roles.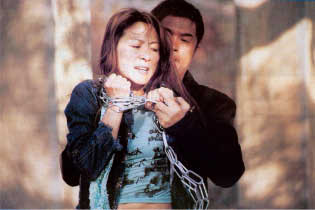 Still, my strong sense is that those who look for -- or can't help seeing -- flaws in that which I felt obliged to check out (just because it stars the woman for whom I voluntarily sat through "Owl versus Dumbo", "Easy Money" and "Wonder Seven") will chiefly zoom in on this work's showy opening section and climactic fight scene rather than anything else. In all honesty though: While THE TOUCH's most lengthy action sequence appeared way too (shoddy) CGI-filled each time that I viewed it, I did feel that the initially unimpressive circus performance segment -- which has Yin playing the Monkey King (who is as much a part of "The Journey to the West" saga as the master monk whose Sharira is sought and has to be prevented from getting into the wrong hands) -- became more meaningful and entertaining on repeat viewing. Relatedly, and for better or worse, my personal opinion of that whose inadequately memorable and insufficiently moving musical score -- in stark contrast to the ample opportunity given to Michelle Yeoh to shine -- is one of its components that I dearly wish could have been better remains generally: unchanged; and -- unlike what can disconcertingly seem like that of countless others -- good.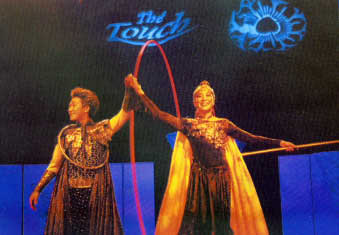 My rating for this film: 7.0
---