In the Mood for Love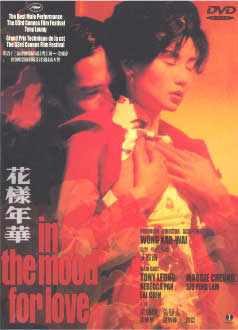 ---
Reviewed by YTSL
"Days of Being Wild" is the Wong Kar Wai work that this general admirer of them likes least. Hence my being filled with some trepidation upon reading reports about the Shanghai-born auteur's latest offering being more similar in evocative feel and tone to his 1990 movie than the later ones I prefer. Still, even the receipt of snippets of information like Maggie Cheung's character in this year 2000 drama having the same maiden name as that possessed by the young woman she played ten years previously -- along with the critically acclaimed production having a 1960s temporal setting like Wong Kar Wai's second directorial effort, also featuring the Shanghainese-speaking Rebecca Pan (here as Mrs. Suen) in a supporting role plus bringing Tony Leung Chiu Wai back once more into the frame of things -- could not prevent this Cannes Film Festival double award winner from being the second most anticipated film of the past year for me (after "Crouching Tiger, Hidden Dragon").

IN THE MOOD FOR LOVE does have certain things in common with the star-studded box office bomb that Mr. Wong seems to perennially threaten to make a sequel to (Christopher Doyle wrote in his "Projections 8" contribution that some crew and cast members of "Happy Together" had thought that the 1997 effort was going to be it). On a visual note, that which was co-lensed by Doyle and Mark Lee Ping Bing is one more mood piece in which clocks prominently figure. Thematically, it is yet another Wong Kar Wai movie that places an emphasis on regretfully missed romantic opportunities (at least by the offering's pair of overly-polite and -cautious lead characters). It should almost go without saying that this often closeted as well as intimate feeling film also is one that plays with time plus requires its audience to pay attention to what initially may appear to be commonplace accessories and unimportant details (e.g., a handbag, a tie, a pair of beaded slippers and a lipstick-stained cigarette).

In other ways though, this Jet Tone production represents a substantial departure from familiar Wong Kar Wai territory. For one thing, it centers on two individuals -- the almost always suit-wearing Mr. Chow is portrayed by Little Tony Leung while his neighbor, the high-necked cheongsam-attired Mrs. Chan, comes in the form of Maggie Cheung -- who are as much approaching-middle-age uptight conformist types as many of the personalities to be found in such as "Days of Being Wild", "Fallen Angels" and "Happy Together" were young rule-breaking, anti-establishment sorts who resided on the fringes of regular society. For another, whereas color tones seemed to have accurately reflected the overall mood and personality of the often sunglass wearing director's previous films, IN THE MOOD FOR LOVE possesses a downright dazzlingly breath-taking visual palette which is a direct contrast to the outwardly subdued and consciously repressed character of its two protagonists (whose fear as well as dislike of being the subject of gossip is hardly shared by her boss (Mr. Ho is portrayed by Lai Chin), the man who appears to be his best friend (Ah Ping is amusingly played by Siu Ping Lam), and their two-timing spouses (neither of whose faces the audience ever gets to see)).

Something else that struck me about this absolute feast for the eyes -- courtesy of the many strikingly patterned, tight-fitting cheongsams donned by Ms. Cheung and designed, as with much else in the production, by William Chang -- and ears was that there may be fewer memorable and quotable quotes in IN THE MOOD FOR LOVE than any other Wong Kar Wai effort since "As Tears Go By". This probably is due in some part to much of the inspired choice of music for this movie -- which includes a selection of Spanish songs sung by Nat King Cole, Rebecca Pan's rendition of the Indonesian "Bengawan Solo" and traditional-sounding Chinese pieces -- being instrumental in nature (E.g., the works specially composed for it by Michael Galasso but also the wonderful "Yumeiji's Theme" by Shigeru Umebayashi). However, it might also be the case that the accent here was on getting many melody filled pictures to paint a thousand words and communicate what it would have taken hours of dialogue to convey.

Still, perhaps the salient question to be asked is: Do these often undeniably beautifully conceptualized pictures tell even just one truly interesting story? After two viewings of IN THE MOOD FOR LOVE, I remain uncertain as to whether this approach is all that narratively effective and emotionally engaging. I also can't shake off the feeling that this simultaneously indulgent yet minimalistic film may possess less intellectual and psychological depth than at least a couple of Wong Kar Wai's other works. What is for sure though is that it provides the willingly immersed viewer with a thoroughly satisfying aesthetically pleasing experience, and on more than one sensory level. As such, my conclusion is that that which possesses a simple (and maybe also small-minded) plot was fashioned -- together with trusted and talented collaborators -- by a master craftsman who knows how to make use of the cinematic medium in ways that would not occur to most people and to a degree they can't approach.

My rating for this film: 7.5

---
Reviewed by Brian
Whatever one thinks of the films of Wong Kar-wai, there can be no argument that he willingly challenges the audience more than any other Hong Kong director. Whether it is an elliptical narrative, enigmatic characters, visual overload, criss-crossing timelines, oblique intersecting story lines or layers of hidden meaning, Wong Kar-wai makes us look within ourselves to interpret his films in a personal way.

With In the Mood for Love Wong Kar-wai once again challenges the viewer, but in a very different manner than in his previous films. During the making of this movie, Wong Kar-wai shot miles of film as he continuously changed scripts and characters until he finally captured the essence of what he wanted. One senses that Wong didn't really have a story to tell - he just had a nostalgic evocation - a mood - that he wanted to burn on to celluloid. It is almost as if he had an image of a cheongsam, narrow alleyways, crowded apartments and cigarette smoke – swirling around in his head - all memories from his youth in Shanghai that he needed to construct a film around.

In the editing process, Wong takes these miles of film and pares it down – drops out characters – drops out scenes – distills it down until what remains is nearly pure mood – pure nostalgia – pure loss and longing. Within this minimalist tone poem, a love affair plays out, but Wong only allows the viewer to glimpse brief fragments from this kaleidoscope of stunning images – often from a distance or from an almost hidden position or reflected in mirrors. Never does Wong allow us to become intimately involved with the characters – we are always outsiders looking in. Thus Wong leaves it largely up to the viewer to fill in gaps – silences – thoughts - what occurs off camera – and interpret the depth, meaning and circumstances of the "affair" through their own emotional prism. Everyone can arrive at a different place after seeing this film.

The time is 1962 – the place is Hong Kong – and in a series of gorgeously textured shots Wong creates a world long vanished – of crowded but friendly living conditions, formal stylish attire, darkened hallways, all night mahjongg games, soft ballads playing on the radio, steaming noodle stalls, narrow alleys bathed with dim lights and shadows - a bygone era of fading images and sweet memories.

Two neighbors (Tony Leung Chiu-wai and Maggie Cheung) realize that their respective spouses are having an affair. Rather than confront them though, they begin a series of role-playing games after Tony inquires "I wonder how it began?" From here it progresses to something more – but exactly what is left for the viewer to decide. These are two people trapped and repressed by conventions - unable to express their passion except in the subtlest of ways. Everything from their clothes – Maggie's lovely cheongsams to Tony's tight suits and narrow ties – to a number of their outdoor moments of privacy being filmed through ever-present steel bars – to a constant sense of claustrophobia - symbolizes the moral and societal restrictions that surround them.

There are moments here that ache with beauty and solitude, but there are also a few sly comical touches – Tony staying in hotel room 2046 (supposedly the title of Wong Kar-wai's next film), Maggie being trapped in Tony's room while waiting for a never-ending mahjong game to finish, the loud slurping of noodles and Maggie practicing her confrontation with her husband. Overlaying all of this though is a poignant and deep sense of longing – of time passing - of lost opportunities that can never be re-captured.

And there is Maggie Cheung. In an early scene the music of Umebayashi begins – Yumeji's Theme – a beautifully sorrowful string arrangement – and from off screen Maggie wafts into the scene as if in a slow moving dream – like cigarette smoke lazily curling through the air – her back to the camera – she moves into the light – the camera slows as if never wanting this moment to end – it is sublime – it evokes something always out of reach – something not quite real and yet so desired. In a performance of subtle restraint Maggie completely captures this woman – this period - not through dramatic displays of emotion – but through a glance, a tear, the movement of her hands, an awkward smile. She does for the cheongsam what Audrey Hepburn did for formal eveningwear – she is magnificently attired with a glorious array of cheongsams. In a sense time can almost be measured best by her changes of clothes. In certain scenes – such as the steak dinner – it appears that the scene is one continuous take – but in fact Maggie goes through three different changes of clothes. In a moment near the end of the film, Maggie stares out the window across at where Tony lived – and the longing that slowly appears on her face will rip your heart in two.

Wong Kar-wai has created a shimmering surface – watching it is like taking a slow luxurious bath – but how far below the surface it goes is open to question. Though he takes us on this journey into his memory, he keeps us at a distance – never allowing us to be more than strangers looking out the window into this little world. It is a beautiful film, but for me not as emotionally connecting as I would have liked – an intimate film for the characters but not necessarily for the audience.

As a note of interest - the little old amah is played by Chin Tsi-ang. She is Sammo Hung's grandmother and appeared as the first female martial arts heroine in a film (The Heroine of Jiangnan) in 1925. In 1938 she and her husband produced the first film about Fong Sai-yuk - The Adventures of Fong Sai-yuk. She is now over ninety years old.
My rating for this film: 8.0
---
For some more pictures click here.
For a review on the In the Mood for Love cd - click here.

---
DVD Information:
Distributed by Mei Ah
The transfer is quite solid - the colors are excellent.
Letterboxed - but not as much as it should have been.
Cantonese and Mandarin language tracks - Dolby surround sound
9 Chapters
The subtitles are Chinese or English or none - but some text that was translated in the theater version are not on the dvd - as are some of the dates.
There is no trailer for this film.

---