Kung Fu Hustle (Gong Fu)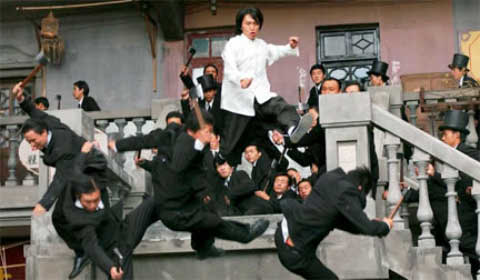 ---
Reviewed by Lee Alon
Hard to reprise, 2001's Shaolin Soccer proved a major success for Stephen Chow, bolstering his career for years to come. After he reinvented himself as more of an international household name, the likeable Mr. Chow continued to search for another runaway hit as a follow-up to his pre-World Cup 2002 blockbuster. Alas, and as much as we adored him in classics like Journey to the West, From Beijing With Love and King of Comedy, Chow has misfired this time round, opting for a run-of-the-mill action comedy with far too many similarities to its fan fared predecessor. Overall, Kung Fu Hustle suffers at the hands of uninspired mercantilism, quite obviously designed with rush-job prerogatives dictated by the board of director's ideas on popular market demand.

Rather than seize the day and craft another satisfying and revolutionary genre-bender, Chow and Co have simply rehashed old material under new guises, but the hackneyed impulses unfortunately defeated whatever innovative content they intended to add. Kung Fu Hustle (or simply Gong Fu, "Kung Fu", in its native Chinese) showcases a bevy of protagonists we've already seen in Chow flicks, most notable of which are 1930's tramp Sing (Chow) and his sidekick (Lam Chi Chung, the overweight player from Shaolin Soccer). Although principally the main characters, these two hoodlum wannabes soon give way to the residents of a fringe slum tenement inhabited by various losers who shed their underclass cover to reveal improbable martial arts prowess in times of need. These uncanny abilities echo Shaolin Soccer's team of underachiever left-behinds to a tee, abandoning originality early on. Although nominally humorous, the superhero characters come across as inept and half-baked, as evinced by Qiu Yuen's rather irritating landlady caricature, among other uninspired personas.

Probably KFH's primary highlight belongs in the prop and set design departments, with the movie nicely composing believable gangster-era vibes by use of period fashion, paraphernalia and music (once again composed by Raymond Wong). But this sheer atmosphere comes to a grinding halt in the face of poor storytelling, with Sing, his reluctant friend, and all the others making for meager interest retention. You'd be hard-pressed to really care about their hapless journey to join the evil Axe Gang crime organization, a feared cartel casting its shadow on the hedonistic city and confronted solely by the virtuous citizens of run-down Pig Sty Alley. As the two factions square off, Sing's morality and very essence fall under scrutiny, albeit not in any meaningful way, so don't worry about expending too much brain power. En route, cameos by Chow co-conspirators like Danny Chan and other Shaolin Soccer veterans add some much-needed comical flavor, but not a lot more.

Lots of frenetic action (supervised by Yuen Woo Ping) and the occasional blood splatter bring KFH up to semi-acceptable levels, as do spoofs of the two latter Matrix entries and Independence Day. However, its knack for riding the Shaolin Soccer bandwagon grates quickly, particularly in light of Severe CGI Syndrome, an issue with many HK big-budget motion pictures. This one simply exaggerates the whole computer-generated special effects deal, bombarding proceedings with over-stated clichés and pseudo-creative moments we could do just fine without. Besides, it's all so derivative of Chow's earlier footie classic, resulting in yawns and jaded exclamations of "yeah right", even as Sing gets his ass kicked so far out he meets Buddha in the heavens above.

Since the two films are so closely connected, KFH experiences a total loss of face as merely a second-rate clone. While Shaolin Soccer was refreshing and original in many ways, Kung Fu Hustle stands as the sick man of 2004 HK cinematic output. It feels mysteriously ambitious while mediocre, and brings to the table nothing beyond the scope of a lacking story coupled with flat characters. Even Chow, who's supposed to be the main draw here, receives insufficient time on screen, so we don't really enjoy the intimate process of getting to know him. Flawed in most aspects, this latest so-called smash hit deserves to be sent packing with a swift kick to its collective behind.
Rating 5/10
Directed by Stephen Chow
Starring Stephen Chow, Lam Chi Chung, Qiu Yuen, Danny Chan, Siu Lung, Yuen Wah
2004, Cantonese/Putinghua, 95 minutes

---