Forbidden City Cop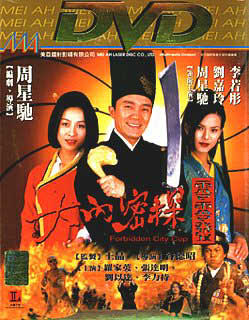 ---
Reviewed by YTSL
It has been said of family man Wong Kar Wai that he may be the Hong Kong movie maker who seems to best understand and represent (on celluloid) lonely -- but still often romantically hopeful -- bachelors. It may well be equally asserted of the never-been-married Stephen Chow and Carina Lau that in their one cinematic collaboration to date, they have come up with one of the most simultaneously fun and touching portraits of a happily wedded couple to be found in any filmic offering, not least a Hong Kong movie and/or primarily (intentionally) farcical production. And for the record: Yes, this they did in a zany period action comedy sometimes described as a companion piece to the "mo lei tau" (nonsense) king's secret agent parody, "From Beijing with Love" (whose Chinese title literally translates as "Made in China: 007"); and the same one in which both a "flying fairy" "specimen" and kungfu stance fairly prominently figure (along with an evil family, whose faceless patriarch seeks to become ruler of China)!

The full of surprises FORBIDDEN CITY COP most definitely contains plenty of laughter-, giggle- and smile-inducing sections. Many of these come courtesy of the Chow man being put in the kind of absurd(ist) situations and improbable gadget rich scenarios that those with less incredible imaginations could never have been able to come up with and successfully pull off as well as cram into a movie that effectively consists of two loosely connected episodes: One of which centers on the news and attending of an announced medical conference in the Gum Kingdom by the Chinese emperor as well as the imperial bodyguard who prefers to be an inventor and gynecologist; and the other of which involves the imperial personage asking his happily married protector to check out a newly-arrived-in-town famously beautiful prostitute for him.

Other humorous moments and prime visual gags come by way of supporting cast members like: Cheung Tat Ming (playing a monarch who has ample reason to be initially displeased -- but later gratefully satisfied -- with the least physically formidable of his hereditarily appointed personal guards); an often bewigged Law Kar Ying (as the hapless sidekick called upon to do such as disastrously demonstrate the mouth cannon...); co-director Vincent Kuk (as the surgeon who attempts to dissect what he thinks is an extra-terrestrial being); and music composer Tats Lau (as "the one who looks like a ghost" and dresses -- and sometimes also sounds -- like a woman). Carmen Lee, who sizzlingly portrays the bewitching Gum Kingdom temptress who threatens to ruin the wedded bliss of Stephen Chow's Ling Ling Fat (008) character, also makes some memorable contributions to this tremendously pleasing movie (that has a largely comic tenor but comes with those extreme mood swings and dips into violence and drama that Hong Kong movie fans have often come to take as second nature with regards to quite a few Jade Theatre works).

For this (re)viewer though, the great part of FORBIDDEN CITY COP's charm actually "just" comes from watching and hearing -- though I can't understand much of what they are saying, I definitely do notice the nuanced cadences of their voiced speeches -- Stephen Chow and Carina Lau's endearing characters making the most of each other's loving company. These two immensely talented individuals -- the former of whom has co-scriptwriting and -directing credits and the latter of whom apparently also had a major hand in the 1996 film's costume design department -- work very well together as on-screen "hubby" and "honey" (Few other duos could make a wrestling match seem so cute and a husband's attempt to successfully lie to his wife be so suspenseful, then funny at a drop of a hat).

Even prior to viewing this offering, I had thought of Carina Lau as being one of the most "giving" of actresses and consequently someone who often makes her co-stars -- not just herself -- look very good (Cf. her pairing with Charlie Yeung in "Intimates", and her being part of the interesting trio who are at the heart of "He's a Woman, She's a Man"). As for Stephen Chow: While he is a master comedian on his own, he can only benefit from a primary co-star of his vehicles who significantly adds to -- rather than takes away from -- his efforts to amuse but also win over audiences. Considering the abundant chemistry that the pair manifest when together, it seems a real shame that the actress who always has an appealingly mature air about her and the no less delightfully boyish looking -- and acting -- man have not partnered each other at least once more in the years since the making, release and box office success of FORBIDDEN CITY COP.

My rating for the film: 8.5
---
DVD Information:
Distributed by Mei Ah
The transfer is fine - clean and sharp.
Letterboxed
Cantonese and Mandarin language tracks
The subtitles are burnt on Chinese and English that are generally no problem to read but on occasion melt into the white background.
There is no menu - and thus no extras
---