Augustin, King of Kung-Fu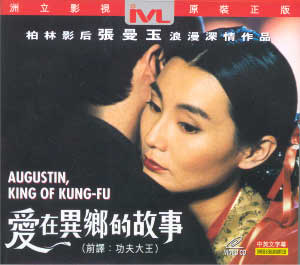 ---
In the late 90's Maggie Cheung - partly as an attempt to become an international star and perhaps even more so to escape the constant harassment of the Hong Kong press – left Hong Kong and made a few non Hong Kong films. A lot of Hong Kong film fans condemned her for this – feeling that she was deserting her roots when they needed her most – but I see nothing wrong with an actress wanting to stretch her horizons and trying to do something different. The films and roles that she picked were interesting and certainly non-commercial ones.
One was a small French film – Irma Vep (1996) – that became a surprising hit in film festivals and boosted her profile considerably outside of Hong Kong. In this film she of course plays herself – a Hong Kong actress making a movie in France and speaks English. In 1997 she was in a bigger Hollywood financed film directed by Wayne Wang – The Chinese Box – that covers the period in which Hong Kong was turned over to China. In this film she plays a bitter and facially disfigured young woman. Then in 1999 she appeared in another small French film – Augustin, King of Kung-Fu – that remained a small film and for the most part disappeared very quickly. In this film Maggie plays a recent immigrant to Paris and she has to speak French. Fortunately for Maggie fans, the film has finally been released on VCD with English subs (the DVD is region 3 so be careful).

It is a difficult film to warmly embrace or get very excited about – but it has a certain very understated French charm and humor that slowly creeps up on you. It is one of those films in which nothing very much seems to happen – except life itself. The character Augustin (Jean Chretien Sibertin-Blanc) had appeared in a previous film a few years earlier and this continues his story. Part of the appeal of this film to HK film fans is not only that it stars Maggie – but also because Augustin is a fanatic kung fu film fan.
Augustin is a bit of a social misfit – awkward - innocent like a child – obsessive – unable to express emotions – unaware of the world around him and its hard knocks – alone – but generally kind hearted. He is oblivious though to what a social misfit he is – and goes about his life in his single-minded manner. He is an aspiring actor – and one scene of him method acting as a waiter with the wonderful French actress Fanny Ardant is quite funny. His real obsession though is kung fu films. He spends his afternoons in the theaters watching them and taping the soundtracks (on this particular occasion an early Jackie Chan film) – and then goes to his small apartment and practices the kung fu routines that he saw in the movies to the accompanying soundtrack. As he explains to Fanny, his dream is to become France's greatest kung fu actor - to which she says with puzzlement - "do they make kung fu movies in France?". To which the ever optimistic Augustin says no - but that could always change someday!

He realizes though that this is not enough – so he moves with his ever present bicycle to Chinatown to immerse himself in Chinese culture - and he checks into a shabby hotel that is primarily used by prostitutes. He then joins a kung fu school and immediately tries to show the sifu how the "eagle claw" is really suppose to be performed. All his training is from watching films of course – but Augustin feels this makes him an expert (how many of us have given into this little fantasy from time to time) – but all the other students think he is a nut. In fact, his kung fu is terrible – the worst I have ever seen – his kick is barely higher than a stool and his jump not much higher than a shoebox. And he has one other problem – he hates to be touched in any way.
Seeing this as an obstacle to his becoming a kung fu master, Augustin seeks help from an acupuncturist. This is where our Maggie comes into the story as a recently arrived immigrant with poor French (though to my non-French ears, she sounded great!). Maggie is very plain – no make up – her hair short and severe – but she still looks fabulous and that smile is still captivating. The two of them develop a friendship – but it never seems destined to go anywhere.

Maggie is the secondary character in the film – and has much less screen time than Augustin – but it was still a pleasure catching her in this – and over all the film is worth watching – not just for Maggie but also for this quirky and droll little story that may feel a little slow and sleepy – but in the end is sweet and touching.
My rating for this film: 6.5

---