Brush Up My Sisters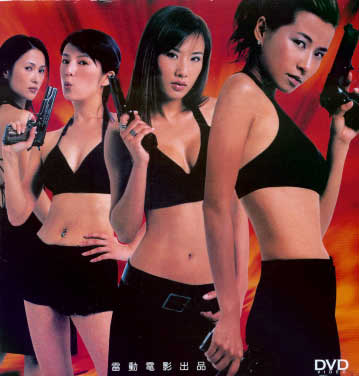 ---
Huh? What the heck does that title mean? Not a clue – not even after watching this film – but who needs a sensible title when you have Jade Leung, Pinky Cheung, Teresa Mak and Natalie Ng on a cover with guns in hand and midriff given exposure like a Hong Kong tourist landmark. Someone, somewhere must have done a psychological study on men to determine what motivates buying habits and come to the easy conclusion that guns, girls and flesh are like leading a sucker to his salvation. If I had a mirror, I would be looking at one of the bigger suckers I know. Just call me Pavlov and put a bone in front of me.

This film is somewhat of an easy and sad comparison to make to Hong Kong films of ten years ago. Just having recently seen The Inspector Wears Skirts II and IV from the early 90's, this film follows along the same lines of female recruits at the police academy with a mix of comedy and action – but it falls so woefully short of either. Here is the big action finale of this film – the one thing that those IWS films did with a blast – Jaime Luk is holding a gun on Teresa Mak and Pinky and Natalie come behind him and – hold on to your shorts – hit him with shovels! Wow – it sent goose bumps up and down my arms and legs – it was filmed with such style and energy (and on video too!) – again in case you missed it - they sneak up behind him, lift their shovels and hit him – try and picture just how exciting the scene is – I felt like I was witnessing the beginning of a new genre, "Girls with Shovels".

Lets go back though to the beginning of this possible landmark film. Teresa talks to her dead sister in her nightmares – and decides that she needs to revenge her murder. So she buys a gun on the sly only to realize when she gets home that it is from Toys-R-Us – oops. But then she notices that policemen/women carry guns – so what better way to get a gun than to join the force and go through weeks of grueling training – which will also of course improve her aim.

Pinky is a paparazzi but needs to come up with an idea for the scandal magazine she works for – and so persuades her boss to let her join the academy and she will try and get pictures of any lesbian going ons between the recruits and their teachers. Natalie on the other hand has a great reason to join – love. She has a crush on the patrolman in her neighborhood (Jackie Lui) but he tells her that he will only date a fellow cop – so she enlists. Their tough taskmaster is Jade – who doesn't have a lot to do in this film besides looking stern and staying awake.

So the big question from any male readers might be what is the sex quotient here – is it worth my $12 for a cheap thrill. Well, not really – but at the same time there was one rather absurd, irrelevant and totally cheesecake scene that almost made the film worth viewing. For no reason that comes to mind a female police instructor decides to have her cadets play volleyball in bathing suits – and she is in the skimpiest one of them all. It's not much to hang your hat on – but I would guess that there are people out there whose thing is women and volleyballs – I am not one of them but I have to admit it was kind of fun!
My rating for this film: 2.0 (for the volleyball game)

---