Looking for Mister Perfect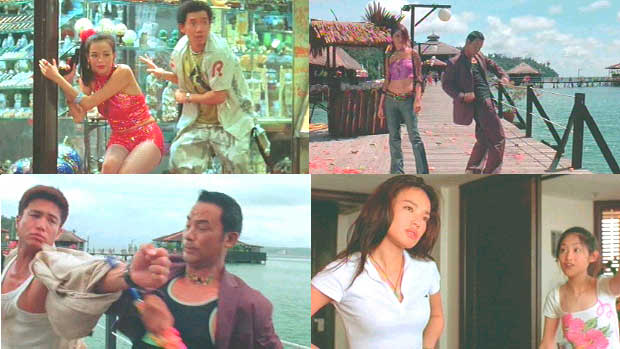 ---
This should have been titled "Ringo Needs a Vacation". I figure that the genesis of this film was that the generally very tightly wound and surly Ringo Lam was forced by his wife to take a vacation and so they packed their suitcases and went down to a dreamy beach resort in Malaysia. But after a few days of getting sun burnt and slurping fruity drinks with umbrellas, Ringo began getting restless and so when his wife was getting her hair done he called up a bunch of actor friends and told them to come on down, the water is great and we can expense it all by making a movie. Yay all the actors said – only too happy to get a paid vacation – and so Hsu Chi, Lam Suet, Raymond Wong, Simon Yam, Ruby Wong, David Wu, Hui Siu-hung, Andy On and Chapman To put on their shorts and sandals and hightailed it to Malaysia before producer Johnny To could come to his senses.

The film has that kind of relaxing laid back atmosphere to it as it mixes comedy, romance and action into an adorable little package that feels like waking up next to a freshly cut tropical fruit salad waiting for that first yummy bite. The film is nearly all in jest and one should not take it seriously for a moment. It is as if Ringo told his cast – we are here to have a good time and work on our tans – so have fun with your characters. Though Hsu Chi and Andy On are the main focus, it is a true ensemble effort that gives everyone some quality screen time and allows Simon to steal the film whenever he shows up.

There is nothing like two love birds giving each other smoldering looks – no, not Hsu Chi and Andy On whose romantic moments have the electricity of a dying fire fly – but that of Simon and Ruby. They may be the sweetest and most endearing couple I have come across in a Hong Kong film in ages – the fact that they are both complete psychos is of no importance – what matters is that they are perfect for one another – and any couple that can take time out for a waltz while trying to kill someone gets my vote as Couple of the Year. Ruby is all punk cigar smoking gothic with a mean roundhouse kick and not a lot to say until the final fight when she tells Andy to stop using durians in their combat because it's not fair! Simon does a retake on his character in Lam's Full Contact – snake boots, pink suits, a Pee Wee Herman hair lick and flamboyancy up the kazoo – but obviously not gay here – as he alternates between the flamenco and Irish dance in his fights. Both would be perfectly at home as characters in a Batman movie.

It all begins with Hsu Chi in red sparkling hotpants – what better way to begin any film – as an undercover cop in Hong Kong. She tracks down a suspect and flips him to his death far below and starts having nightmares in which a man in white saves her. Her model friend Isabel Chan is going off to Malaysia for a photo shoot and has Hsu Chi come along for some R&R. Andy On and Hui Siu-hung are at the resort looking for a stolen missile tracking system and they get it into their heads that the two girls are there as buyers – or at least they use this as an excuse to plant cameras in their room and spy on the two girls doing girly things. Throw into this mix Lam Suet as a lecherous hotel owner, Chapman To as a snitch from HK who co-incidentally shows up, two suitors of Hsu Chi that chase her to Malaysia (Raymond Wong is one of them) and of course Simon and Ruby who are behind everything.

For such a lightweight film, the action is surprisingly inventive, fresh, fun and enjoyable to watch. The action choreographer is Li Chung-chi who was previously responsible for the action in films such as Queens High, Red Zone, a few of the Y&D films, the Gen Y/X films and the terrific A War Named Desire. The scenes here have a real wit to them that fits wonderfully into the overall light mood of the film. There are three main action scenes – a small but clever fight between Simon and Andy, a jet ski race through a village on stilts (the usual mayhem results) and the finale that begins with a car/motorcycle chase and ends with a solid fight mixed with much silliness between Andy, Simon and Ruby in which fruits and umbrellas are used to good effect. Andy On – who was in the previous Black Mask II – displays some fine action skills but otherwise has a rather lumbering undefined presence.

It is goofy, it is silly, it is cute and it's the kind of film that you want to adopt and give it a good home. Everyone looked like they were enjoying their little vacation and having fun and so should most viewers.

My rating for this film: 7.5

---