A Wicked Ghost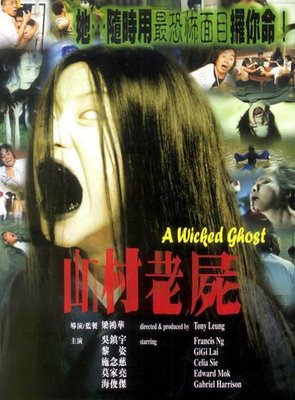 ---
A Wicked Ghost
Director: Tony Leung Hung-wah
1999
Here is a nifty after dinner treat that may have come right out of a Martha Stewart Entertain at Home book. Have a few of your closest friends over for a cozy meal around the dinning room table. After everyone finishes eating and wants to digest for a bit, get a large glass bowl and fill it with a few cups of room temperature water and place it in the middle of the table. Then get a sharp knife – not too large – just big enough to make a sharp quick incision. Have each of your friends take the blade in turn and serrate their index finger allowing just a few drops of blood to slowly ease their way into the bowl. Then stir and serve. Each person takes a deep sip and then sits down at the table and holds hands. A communal moment. Then proceed to a few invocations to invite a ghost to come visit. Oh, but before doing so, be sure each of your guests has life insurance because they are sure going to need it.

This is what these good friends decide to do one evening at the apartment of Rubbish (Tang Chung-him) and before you can say boo, good old Rubbish is good and gone – scared to death. Annie (Celia Sze), Big Bee (Man Yeung Ching-wa), Biggie (Lam Suk-yan) and Ming (Gabriel Harrison) are certain something bad is going down but no one else believes that the death was caused by a ghost. Not even after two more of them soon die mysteriously and violently. Ming was the only one of them who was sanitary enough not to drink the blood that night but his girlfriend Annie did and the ghost has been kind enough to give her a three day deadline . . . to live. So Ming along with his drama teacher friend Mr. Mo (Francis Ng) rush to get to the bottom of why this ghost is seeking revenge before the three days expires. Ming's sister Cissy (Gigi Lai) is a reporter but along with her boss/boyfriend Jack (Mok Ga-yiu) are probably the two worst journalists in Hong Kong as both seem to think this is all co-incidental and no big deal. Now, the long-haired female ghost I could believe but two Hong Kong press people not splattering this story all over the front page to sell newspapers – that stretched my credibility beyond the breaking point.

This was made in the midst of The Ring frenzy when there were enough bad imitations made to add to Hong Kong's ever increasing landfill. This is just low-budget awfulness if there is such a word. The scariest thing is probably Francis Ng lecturing his class on acting and how to "feel" a picture of a horse running. His time would have been better spent teaching his fellow actors a few things. Ng just looks so miserable to be in this misfit of a film – made in the same year he appeared in The Mission, Bullets Over Summer and H.K. Triad – and at times it looks like it is all he can do not to break out laughing. You have to pay the bills I guess. Amazingly, there was to be A Wicked Ghost II and III, so what do I know? By the way, the elderly actor who plays the key to the mystery is Lui Tat, whose filmography goes all the way back to 1952 and is credited on HKMDB with appearing in over 160 films with Wicked Ghost being his last one. Some of the films he appeared in - usually it seems in very small roles are great ones - The Wild, Wild Rose, Sun, Moon and Star, The 36th Chamber of Shaolin, My Young Aunty, Legendary Weapons of China, Royal Tramp, The Eternal Evil of Asia, Young and Dangerous and Sex and Zen II. Pretty amazing.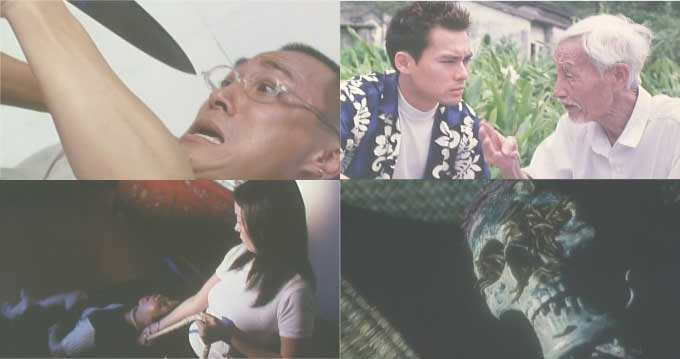 My rating for this film: 2.0
---