Ab-Normal Beauty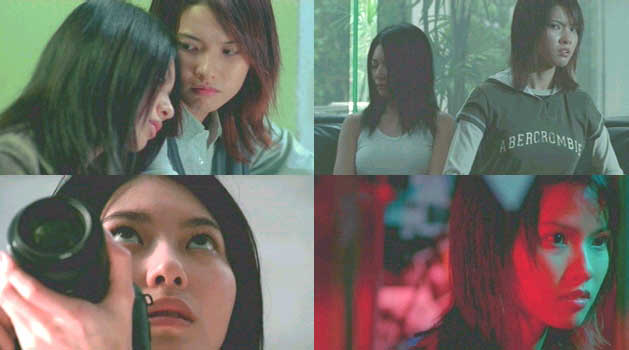 ---
There is never an issue with a Pang Brother film looking good – their well-designed sets, great use of color and constant barrage of visual flourishes always make this part a pleasure – but their narrative has often not matched these visuals in terms of drama or content. One Take Only, Tesseract, Bangkok Haunted and Nothing to Lose come to mind. One senses that they are not great storytellers and that what they really enjoy is the technical, atmospheric and visual aspects of the filmmaking process. When they do have a compelling story (The Eye, Bangkok Dangerous), the visuals are only an added enhancement but too often they seem to be the raison d'etre. That describes this film to a large extent.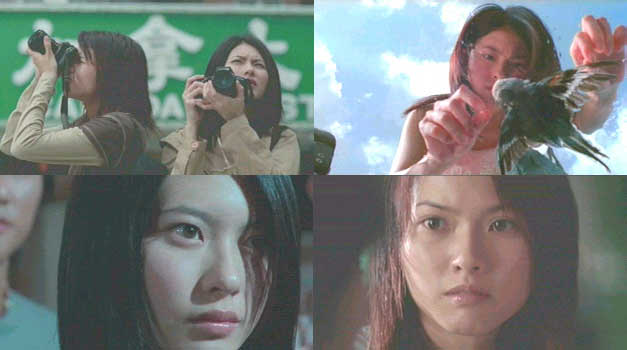 This is a beautifully malformed film. Director Oxide Pang gives it a dynamic and vibrant look – clean crisp visuals – saturated colors – that make many of the shots seem more like still photography than a film. He often stops to simply leave the camera on the main actress's face for long periods of time to capture her changing mood and expressions. He also indulges us in some creepy and virulent imagery and imposes a constantly unsettling mood on the proceedings. Almost every scene on its own has something interesting going on, but there is little emotional or logical connective tissue holding them together. One has to wonder if Oxide had two different stories percolating in his head – one without an ending and one without a beginning – and simply decided to string them into one film and change just enough to be able to call it one movie. The first part of the film fades away with many unanswered questions lingering in the air and the second part comes and goes like a quick nasty slap on the face. This left me with a sense of lost opportunity – this should have been so much better than it is.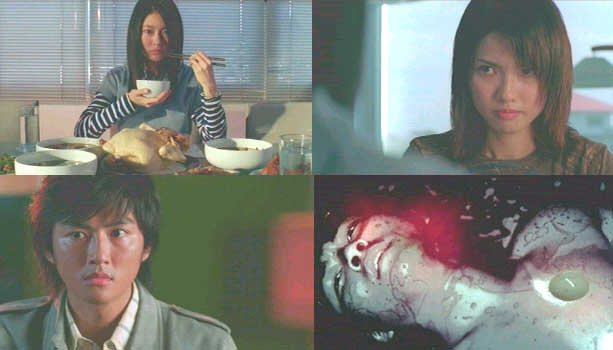 The Pang's seem to prefer young inexperienced actors – Angelica Lee, Fresh (Thai), Wanatchada Siwapornchai (Thai) - for their films in general. Here he brings in two young female pop singers from Hong Kong – better known to those in the know as R2 – Racine and Rosanne Wong – sisters as you might gather. I know absolutely nothing about them, but was surprised at how solid they are in their roles – not that a lot of acting is really called for – but they look comfortable in front of the camera and they are photogenic in an interesting way. I am also surprised at their willingness to be in such a mature film filled with sexual content – one masturbation scene – and brutal violence. I can't imagine you would find many of today's Hong Kong's idols in a film such as this and I give them kudos for doing so. In certainly a very real/reel strange twist – they don't play sisters but instead good friends with strong overtones of a potential lesbian relationship – even play acting that with your sister can't feel right! Racine in particular gets the major portion of time and is darkly appealing and it will be interesting to see if she settles back into more mainstream young adult roles in her next films. Pang also has Anson Leung (One Nite in Mongkok) in the film, but he doesn't generate much interest and appears to be imitating a wooden chair.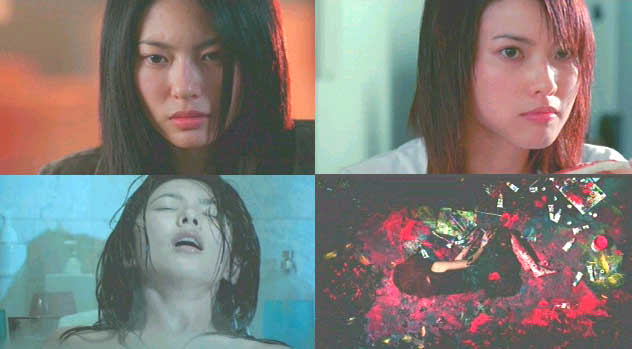 Jiney (Racine) is a morose college student interested in photography and painting and is plagued by a childhood memory in which some other children abused her. Her best friend is Jas (Rosanne) who shares in Jiney's interests and as the film progresses would it seems like to share in much more. After coming upon a dead person from a car accident, Jiney snaps a few shots of the body and afterwards becomes morbidly fascinated with photographing the dead – chickens, birds and dogs – that she takes great care to lie out like a fashion shoot. Her mind soon appears to be on the verge of becoming unhinged – she sees blood dripping down from a model her class is painting, her bedtime facial make-up takes on the imagery of a death mask, she hallucinates that her negatives are covered with blood. Is she going crazy or has she become possessed by some spirit of the dead. She looks to be seeking death everywhere – even possibly her own as she sways dangerously on the wrong side of a 10th floor railing – or perhaps she even has some need to kill someone so that she can photograph it. Anson is a fellow student who follows her around like a lost puppy with a camcorder and films her constantly.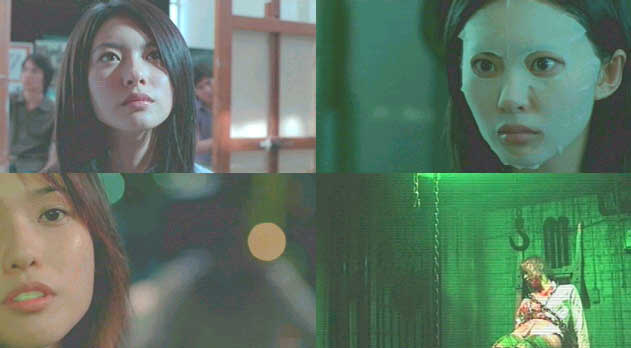 This has some potentially wonderfully dark undertones that could fly off in a lot of directions, but it never adds up to anything in the end. Then the story suddenly diverts into a thread dealing with a snuff film that feels so organically different than from what came before it that you are simply never quite able to join in. The first section felt so unfinished and the jump felt as if it came from nowhere. Perhaps Oxide was attempting to simply kick the viewer out of their genre complacency - what appeared to be a supernatural film suddenly becomes something much more real and scary - but it didn't work for me. A film like this in its own way is more frustrating to watch than a bland Hong Kong comedy that never had any ambitions from the beginning – there is a lot here to suck you in but then it is unable to keep you there.
My rating for this film: 6.0

---