Shiver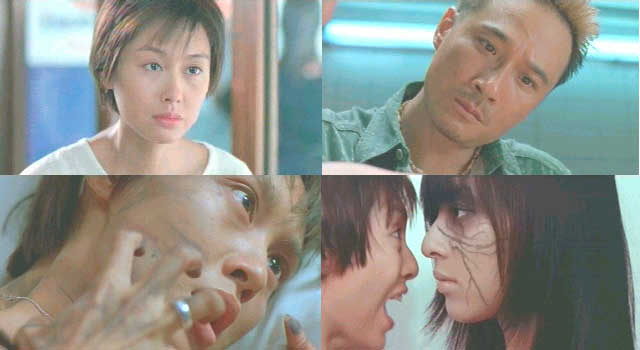 ---
Though this horror/thriller is a well-made production that stays nicely afloat for most of its running time, it was primarily the presence of Athena Chu that had an impact on me. It made me realize how little I have seen of her as of late and what a solid actress she has become. Though she is faced off against one of Hong Kong's most talented and quirky actors in the form of Francis Ng, she more than holds her own and in fact dominates the proceedings with an exhausting performance.

I've always thought she was absolutely lovely ever since I first spotted her in her debut in Fight Back to School II - clean cut and chipper - and she still looks great today. In this film she seems to get a close up every few minutes as the camera just sucks in her image - often beautifully back lit and translucent. She looks wonderful whether in a coma, with a blank stare or simply scared – in fact scared out of her mind as she is for much of this film. Athena looks good with fear smeared across her face like a primitive painting.

Director Billy Chung is long past his seminal Cat III film, the 1993 Love to Kill, with its painful to watch scenes of anguish and sadism. He didn't direct many more films after that until 1999 when he began churning out a number of commercial movies that have never approached the raw meat horror of Love to Kill. It strikes me as curious that while films from other Asian countries have ramped up the gore factor considerably; Hong Kong has gone in the opposite direction and has had no films that display the horror of the human soul as did the spate of Cat. III films in the early to mid-90's. Many of Chung's commercial efforts have been quite stylish and effective though - Paramount Hotel, Last Ghost Standing and My Schoolmate, the Barbarian - and this one adds to that list. Nothing here feels particularly original - little bits and pieces from other films often come to mind - but it kept me intrigued and involved with a tense narrative and creepy images until a disappointing climax - symptomatic of so many Hong Kong horror films these days it seems.

Athena is married to cop Francis Ng, but his constant neglect of her has made her miserably unhappy and asking for a divorce. Neglect doesn't seem so bad though compared to stupidity after they are stuck in traffic and Ng spots a couple of robbers running away. Seemingly as much to get away from his carping wife as to do his job, he gets into a gun battle right in front of his car and Athena watches it all as if it is on TV. Sure enough she gets shot in the head - that's one solution to alimony - and goes into a lengthy coma. When she comes out of it she has the fright of her life - her doctor is Nick Cheung - playing a neurologist. A proctologist I could believe. Now I knew Nick Cheung was an expert on getting on my nerves but here he is just an expert on nerves. Seeing him was as much as a surprise to me as it was for Athena as I had somehow missed his name in the credits. I try and avoid him if possible but it is like stubbing your toe in the dark on the same protruding table leg - it can't seem to be avoided. He tells Athena that she has "Presbyopia" - gee thanks for clearing that up doc.

After getting home she begins having visions of ghosts and mutilated bodies - a dead woman (Tiffany Lee) trying to talk to her. Her visions start turning into reality when a series of gruesome serial killings begin taking place and Francis is put in charge of the case. Of course, the shot in the head life altering ploy has been used in a few other films - in "Henry" Harrison Ford becomes a nice guy, in Killing End Andy Hui is able to chat with ghosts - and now Athena appears to have gained supernatural powers to see the future. Still for those in need of a life change, shooting one self in the head is generally not recommended. The constant barrage of frightening images begins to slowly drive Athena mad, but Francis refuses to pay her much heed - until she finds a body stripped of all its skin right where her nightmare told her it would be. This is a solid film with good production values and is better than most of the torrent of horror films from the past couple of years in Hong Kong – not so much scary as mildly chilling, nicely filmed and well written.

My rating for this film: 6.5
For an essay on Billy Chung, here is a short write-up from Peter Nepstadt on the HKMDB.

---