Run and Kill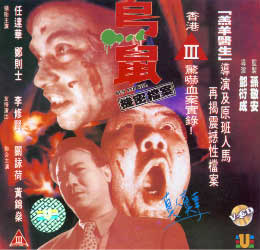 ---
Reviewed by YTSL
In the introduction of their chapter on "Over the Edge" films (that includes reviews of Doctor Lamb", "Remains of a Woman" and "The Untold Story"), Stefan Hammond and Mike Wilkins vouchsafed that the Category III movies that fall into this category: "aren't for kids, the overly sensitive, or the easily queased. Most of 'em aren't even for vegetarians. But that doesn't mean that they are cheapo road-show quickies, no matter how bad they sound. After all, try explaining the plot of "The Silence of the Lambs" to someone who hasn't seen the film. Then explain why you liked it, then why it won a truckload of Oscars..." (See their ""Sex and Zen" & "A Bullet in the Head"", 1996:227).

What with its containing that which no less a Hong Kong cinema authority as David Bordwell has described as "one of the most famously barbarous scenes in Hong Kong film" (In his "Planet Hong Kong", 2000:155), the boldly titled RUN AND KILL is one of those violent -- as opposed to supernatural -- horror movies that the faint hearted should steer far away from. At the same time though, this 1993 "Bloody" Billy Tang helmed work that is all the more powerful for starting off slowly rather than with an almighty bang -- and which reunited the co-director (with Herman Yau) of the 1992 Category III hit whose main character was a murdering, body dismembering plus sometimes necrophilic taxi driver with Kent Cheng, Simon Yam and Danny Lee -- also is one of those cinematic efforts that I honestly believe has more to offer than the kind of sights and sounds that may shock even the most jaded along with experienced of gore hounds.

Among other things, RUN AND KILL's main dark tale of the personal disaster and woe that befall an extremely unfortunate Hong Kong man -- and involve (three female members of) his family along with certain, not entirely innocent, acquaintances -- is one that this (re)viewer found to be pretty absorbing plus gripping as well as coherent. Additionally, especially for those who are apt to have been put off by the often painfully unfunny sections of "comedy" relief that were inserted into the likes of "The Untold Story", here's pointing out that this well written -- by the same Bryan Chang who went on to script, direct and produce "After the Crescent" and "Among the Stars" plus is a prominent Hong Kong film critic -- offering is largely bereft of such annoyingly intensity disrupting sections of celluloid.

RUN AND KILL is further distinguished by its lead actor, Kent Cheng, having turned in an absolutely terrific performance as a propane gas shop owner -- known as "Fatty" because of his large size as well as more properly as Mr. Ng Kam Cheung -- whose world started to fall apart on his wedding anniversary. Earlier in the movie and day, there already had been some indications that, for all of his doting on his physically attractive spouse (an individual who came in the nubile form of Lily Lee) as well as cute young daughter and caring widowed mother, Fatty's domestic life was not as entirely blissful as he would like for it to be. Nonetheless, one can sympathize with his not realizing how bad things were until he returned home that afternoon to find his woman happily having sex with one of his workers. And to make things worse, neither of the cheating pair seemed at all apologetic for doing so nor looked like they were going to cease meeting after their illicit relationship was uncovered by the cuckolded individual.

Faced with this unsatisfactory state of affairs, a disturbed Fatty phoned his mother and asks her to keep her visiting granddaughter over at her place for a while more, then proceeded to wander off in a daze around town. At some point, he ended up in Lan Kwai Fong and a bar there named 1997 with a "gwailo" bartender along with a "mixed" clientele that included a young woman (named Fanny played by Esther Kwan) who Fatty ended up pouring out his sob story to and, in return, suggested that he get mad and find someone to beat up his wife and her extra-marital sex partner. After convincing the now extremely drunk as well as emotionally upset man that this would indeed be the ideal course of action, Fanny proceeded to introduce the near comatose Hong Konger to a Vietnamese thug who would be willing to commit violent acts on his behalf for a not insubstantial fee.

In a nearby alley, the hoodlum (thinks that he) hears Fatty stating that "I want her dead" and "Dead...no problem then" in between muttering such else as "I'm dead drunk" along with having bouts of vomiting before the urge to fall into a deep sleep got the better of him. The next morning, he woke up with -- like the troubled man was to report to a skeptical Danny Lee's Inspector Man and that policeman's subordinates -- only the faintest recollection of what had transpired the night before. However, as the rotund protagonist of RUN AND KILL soon would learn with a vengeance (and by way of some truly terrible experiences that would get inflicted on him and his loved ones -- most notably by a demented Mainland Chinese ex-soldier named Ching Fung portrayed by Simon Yam -- that most people wouldn't even want to encounter in the form of nightmares), he still was going to be held responsible for his drunken words plus actions, and so much more besides.
My rating for this film: 8.

---