The Eye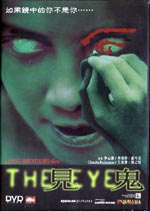 ---
Reviewed by YTSL
One of the more highly touted characteristics of Hong Kong's filmic offerings is their regularly appealing to more than just a single territory's moviegoers. Even with the appearance of Americans like Bruce Lee, his two children, Cynthia Rothrock and Michael Fitzgerald Wong in a number of Jade Theatre works though, it doesn't seem to have been as widely, often or immediately realized that many "Hollywood East" players actually possess(ed) ties to lands beyond those of that which have been referred to as The Three Chinas. Consequently, the mind can threaten to boggle somewhat upon its realizing that more than a few contributors to the former British Crown Colony's Cinema have hailed from places as diverse plus far flung as: Vietnam (Tsui Hark); Australia (Christopher Doyle and Joyce Godenzi); Malaysia (e.g., Michelle Yeoh, Angie Cheung and this transnational hit's capable female star); Canada (inc. Sally Yeh, Pauline Wong, Valerie Chow, Theresa Lee, and this supernatural drama's main actor); Japan (notably Yukari Oshima and Michiko Nishiwaki); and South Africa (Lawrence Ah Mon); and France (the scriptwriters of "Running Out of Time 1" plus "The Touch").

In part, this is because few truly wholesale multi- or even bi-lateral collaborations have sailed out of the "Fragrant Harbor" until recently, and maybe even up until work got underway on the atmospheric Peter Chan and Lawrence Cheng co-production whose cast and crew look to have been majorly drawn from the HKSAR and Thailand (but also include other nationalities, like the Singaporeans -- who are represented on this supernatural horror-drama's screen by the medical doctor portraying Pierre Png and Edmund Chen). For the record: THE EYE is an emphatically non-monocultural and -- what with it containing lines of Khek, English, Mandarin plus Thai together with Cantonese dialogue -- at least quin-lingual effort that (nonetheless) is by no means bereft of the sort of authentic "native" color and content that's sorely lacking in the territory-hopping, wanna-be cosmopolitan "Full-Time Killer" as well as many a shallow Hollywood blockbuster.

Indeed, it is the little local touches with which the haunting movie's makers have infused their offering -- including, in the portion that takes place in Hong Kong, those which come in the form of a Taoist priest-exorcist, a candle-eating hungry ghost and a ghoul who begrudges a living person's taking her place in a Chinese calligraphy class -- that effectively works to underscore that it is not just a(nother) senseless knock-off of "The Sixth Sense" as well as anchor many of THE EYE's unusual goings-on onto that which can come across as everyday reality for many an (Asian) individual. All in all, the attention that gets paid to all sorts of small but shown-to-be-significant elements plus minor characters (who include young children, grieving parents, aged grandmothers, an albino man and a whole orchestra of blind musicians) is what serves to conclusively establish that this Danny and Oxide Pang (Bangkok Dangerous) co-directed , -scripted (along with Jojo Hui) and -edited effort -- whose blind-since-the-age-of-two protagonist starts seeing dead as well as living people and having a recurring disturbing nightmare after undergoing a cornea transplant -- is uncommon in quality (along with such as its admirably sensitive approach to what could have easily been presented as mere juvenile fright fodder or lurid exploitation fare).

Admittedly, THE EYE's opening credits' starting off being in Braille before transforming into Romanised script may seem a trifle gimmicky -- this especially since it's cheekily preceded on the 35 mm print version of the film by that which is geared to look like the movie's projectionist is experiencing technical problems that prevent him from smoothly running it -- even if thematically appropriate. However, it appears to have been a downright inspired decision to show the brilliantly lensed by Decha Srimantra offering's viewers how things look to someone -- specifically, Angelica Lee's youthful Mun character -- who is not used to having seeing eyes, to the extent that she requires a therapist (who is played by a bespectacled Lawrence Chou) to help her psychologically plus physically adjust to what can seem like a whole new (scary) world. Additionally, I consider the choice of spectral form for those whose role it is to herald plus facilitate the progress of human souls from our realm to the one beyond to be another of this actually more moving than terrifying work's fine(r) as well as intriguing details.

THE EYE also benefits from possessing a few terrific acting performances. The film's still not all that experienced lead actress (who won the New Talent Award at the 2001 Berlin International Film Festival for her work in "Betelnut Beauty", and whose name appears on posters of this 2002 movie as Lee Sin Jie) is to be congratulated for having made her complex, surely difficult to essay character sympathetic, memorable plus believable. Chutcha Rujinanon -- who portrayed the heart-breakingly ill-fated Ling -- was impressive as well. So too was the older Thai actress (whose name I unfortunately do not know) who played her understandably sad mother. Alternatively, those expecting big things from Candy Lo in this often very suitably scored (by Orange Music) effort ought to be warned that her part as Mun's stewardess sister is -- like with those accorded to Edmund Chen and Pierre Png (neither of whom play Singaporeans but, instead, a Hong Konger and primarily Mandarin speaking Thai-Chinese respectively) -- really not substantial at all.

My rating for the film: 8.

---