Walk In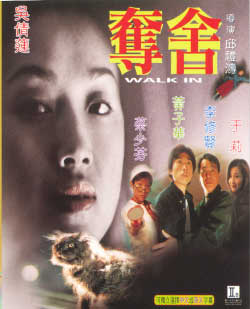 ---
In the same year (1997) that these two men - Herman Yau (director) and Nam Yin (producer) – began the Troublesome Night series – they also made this feature length film. In some respects it resembles their Troublesome Night films as it cleverly mixes the genres of horror and comedy – but it also throws in elements of action and romance and is in total a much fuller and realized piece than any of their Troublesome Night films. In an interview Yau mentions that there is subtext here regarding the imminent Handover – but I must confess that if I hadn't read it I would never have picked up on this. The film plays well though – with or without getting the symbolism within.

For me this was just an immensely fun little film that evolves from what initially seems to be a supernatural horror film to a near screwball action comedy. It also contains some terrific performances from Danny Lee, Dayo Wong and Ada Choi. Ada is simply delightful – nothing surprising there – but both Danny and Dayo play against their typical film image and both deliver excellent performances. Lee has to carry this film and has never been better or funnier. In a smaller but intriguing role Wu Chien-lien is suitably eerie and mysterious.

Wu Chien-lien looking beautiful in her blue tinted hair and sorrowful expression walks to the top of a building and sits on the ledge contemplating suicide. She turns to the police who have shown up – Dayo and Yu Li – and tells them that she has been a loser all her life and it is time to change that. "How" Dayo asks. "By Walking In" – Wu replies and jumps to her death along with a creepy looking cat. Or does she? Ten floors below, she lands next to Dayo's partner, Shing Fui On, and lies motionless for a few minutes before she struggles to her feet, licks herself, smiles enigmatically and walks away.

Later both Danny Lee and Dayo are badly injured during a heist committed by Vincent Wan – Lee is shot and goes into a coma that the doctors think he will never come out of – while Dayo is paralyzed after getting hit by a car. Dayo wants to die – but his girlfriend Yu Li convinces him to visit Wu Chien-lien. She is now smoking cigars and talking like a bitter old man - but tells Dayo how he can walk into another body (ie. subtext for China walking into HK).
Dayo goes to the comatose body of Danny Lee and tells him if he allows Dayo to walk in – he will avenge him – an upbeat in his monitor gives Dayo permission. Afterwards (now being played by Danny Lee of course) Dayo thanks God for allowing him to walk and have a working penis again - but he should have done some more research.

He soon discovers that Lee is a small time stuttering crook hated by practically everyone - has two triad gangs trying to kill him - has a mother, a wife and two concubines who despise him (and all live together!) – has a sister (Ada Choi) who develops a crush on him - Yu Li no longer is attracted to him in his Danny Lee body - and he is getting turned on by his sister - but its not really his sister - but he is suffering from premature ejaculation anyway - and Danny Lee's spirit is watching to make sure he doesn't take advantage of his women.

It's all very complicated and gets increasingly more comedic as Dayo – make that Danny - tries to deal with his personal problems and catch the bad guys responsible for shooting him. Also making appearances are Law Koon-lan as his wife and Yvonne Yung Hung as one of his concubines.
My rating for this film: 7.5

---
DVD Information:
Distributed by Mei Ah
The transfer is excellent - sharp, rich colors.
Letterboxed
Cantonese and Mandarin language tracks
20 Chapters
The subtitles are Chinese or English or None.
There is no trailer or other previews.
The subs are fairly easy to read.

---