Perhaps Love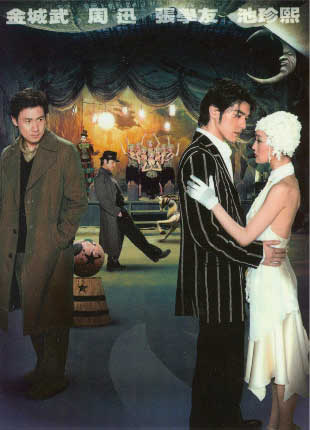 ---
Back in the 1960's Hong Kong film was awash in musicals – colored candy dreams with big musical numbers or intimate tender songs of love. Between the film studios of Cathay and Shaw Brothers these had the biggest female stars, the best singers and the best song writers contributing to some of these lovely showcases of talent. But it was for the most part a short burst of creative energy and by the end of the decade the musical genre had nearly vanished from the big screen. Audiences wanted realism, sex and violence and musicals have never been very good at delivering those elements – they just don't mix together that well. People watch musicals to generally escape from realism, to live in a fabricated world where people break into song to express their emotions and where a happy ending is almost always guaranteed.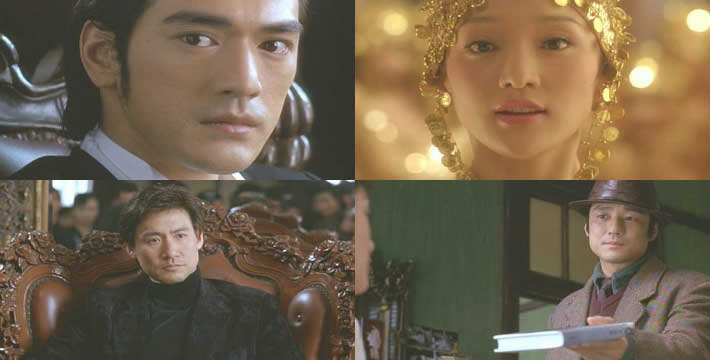 On rare occasions a musical has been produced since then such as the 1994 "I Have a Date with Spring" or the festive "Ninth Happiness" with Leslie Cheung. Other films like "He's a Woman, She's a Man" have taken place within the music milieu and included some musical numbers and other films like Stephen Chow's "God of Gambler's III: Back to Shanghai" and "Kung Fu Hustle" have haphazardly and joyfully broken out into a musical number to wonderful effect. Yet none of this has spurred a return to the musical genre. It has especially struck me as unfortunate because of the tremendous cross-breeding that takes place in the Hong Kong entertainment world between acting and singing. So many of the major actors are also popular singers – Andy Lau, Aaron Kwok, Sammi Cheng, The Twins, Leon Lai to name a few – and even ones with little apparent singing talent like Cecilia Cheung have had musical careers launched. So I have always thought it would make perfect sense to utilize all this talent in a musical and was eagerly looking forward to Peter Chan's "Perhaps Love" with Takashi Kaneshiro, Zhou Xun and one of the Sky Kings, Jacky Cheung.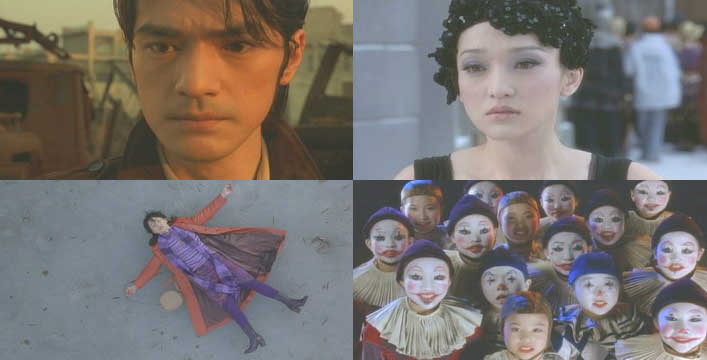 Regretfully, the great Shaw director, Inoue Umetsugu, is no longer available for directing duties having died many years ago because his light touch, pop sensibilities and frothy emotions are sadly missed in this film. "Perhaps Love" is beautifully shot (not surprising considering the talent behind the camera – Peter Pau and Christopher Doyle) and well acted, but it is so gloomy, leaden and lifeless that it exhausts one to watch it. Love weighs down the characters like a cinderblock and never allows the film to breathe or overcome gravity. Love has rarely felt so plodding. And this is seemingly quite intentional on the part of the filmmaker – the film is not about first love but instead about unrequited love that is strangling in its pessimism. This isn't necessarily a bad thing, but unlike Wong Kar-wai who has made the pain of unrequited love an art form, the emotion generated here is only skin deep – all lovely show with little depth and there is no sense of regret or sorrow engendered by the viewer. At no time do you feel any particular sympathy or affection for the characters – there is simply too much distance created by the format of the film to ever feel close to them.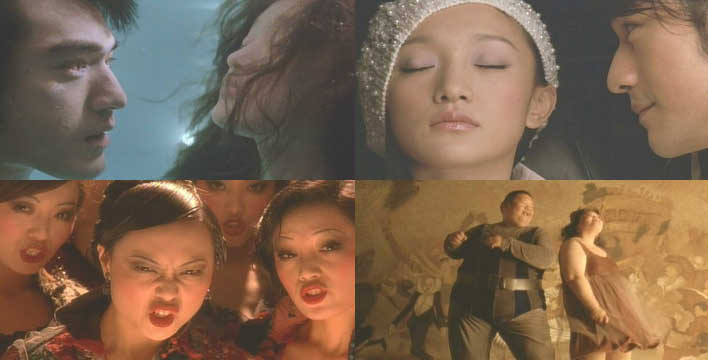 Admittedly, part of my disappointment has to do with my expectations of what a musical should be – and Chan doesn't adhere to this which is obviously his choice. He wanted to create a dark layered story of modern angst that is full of shades of gray and not very likable characters, but for me musicals are simple explosions of exuberant emotion whether joy or sorrow – when the earth suddenly comes to a shattering stop for a few glorious minutes of dance, fantasy and song in which everything true is laid bare. Almost all the great musicals share this in common – they are emotional roller coasters of ups and downs – of delirious song or broken-hearted ballads, but "Perhaps Love" is a constant stream of morose pondering – why doesn't she love me, why doesn't she love me more – and there is not a glimmer of joy anywhere to be seen. Musicals can be depressing and glorious at the same time – watch "The Umbrellas of Cherbourg" for an example – but there have to be snatches of sparkling happiness in there to feel the sorrow and Chan never allows this.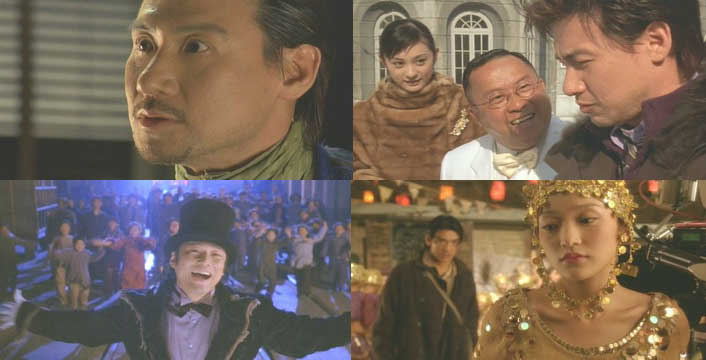 A lot of this could possibly have been overlooked had the music and the dance numbers been more inspiring as opposed to merely serviceable. There are nine songs – all performed by the actors – but none of them are particularly memorable. They feel much more influenced by Broadway music than film music – and the four sung by Jacky Cheung all have a dramatic warmed over Andrew Lloyd Webber taint about them. Jacky is such a strong singer that he overwhelms these songs and one nearly expects to see The Phantom of the Opera come out of the wings – while both Takashi and Zhou are nearly buried by their arrangements. All the songs are part of the movie within the movie and so no one breaks into song just for the thrill of it. The dancing is also something of a let down, especially considering that they brought in Farah Khan as the choreographer. Farah is the top choreographer in Bollywood these days – the genius behind the dance numbers in "Kabhi Khushi Kabhie Gham", "Dil Se", "Kuch Kuch Hota Hai" and many more as well as the director of the very fun "Main Hoon Na". But one has to wonder what the point of dragging her from India was after seeing the dances – any MTV choreographer could have done as well or as badly to be precise. The dancing is almost non-existent and often flashes by before you can register it.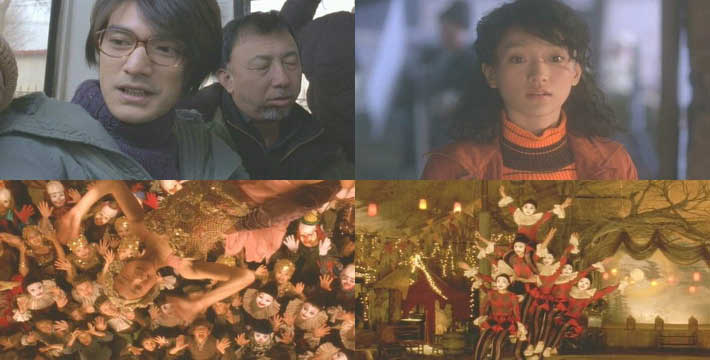 The narrative has a certain "Our Town" structure with a narrator (Korean actor Ji Jin Hee) introducing and concluding the story by talking directly to the audience and occasionally getting involved in the songs and the story as various characters (reporter, waiter, driver, projectionist) though in truth I didn't really see the point of this other than giving the proceedings a theatrical flavor but this also contributes to the artificial feeling that constantly seeps into this film. It begins in style – the narrator gets off a bus on an empty dark street, then suddenly overhead lights come on, snow begins to fall and you realize this is the set as it comes alive with music and dancers and it is probably the high point of the musical numbers as it is an old-fashioned tribute to the magic of the movies. A film producer (Eric Tsang) is bringing together various talents to make a romantic musical in Shanghai – he hires Nie (Jacky Cheung), a well known auteur director, who is full of misgivings and insecurities about making this kind of movie, the lead actress is the Mainland star Sun Na (the wonderful Zhou Xun) who dreams of going to Hollywood and who believes there is no such thing as love and the lead actor Jian Dong (Takeshi Kaneshiro) is brought from Hong Kong as the romantic love interest. There is emotional baggage though everywhere – the director and the actress are an item – he discovered her and made her a star but is fearful of losing her. It turns out that Jian Dong and Sun Na had an affair ten years ago before either was even in the film business (and were much less attractive) when he was a film student in Beijing and she was a chorus girl in a low-rent troupe of entertainers. She refuses to address any of this and wants to keep those shoddy memories in the past where they belong.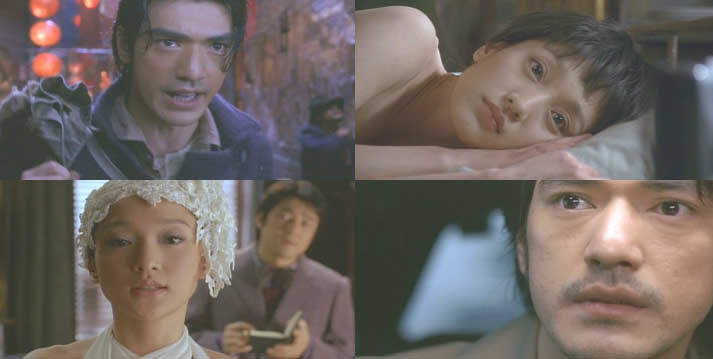 Jian Dong though has never gotten over her and the way that she left him and wants – no, desperately needs - to rekindle their romance and bring some closure to the empty hole inside him. The film they are making co-incidentally echoes this relationship – it's about a woman who has lost her memory and can no longer remember her lost love and is now in love with a circus master and both films go back and forth between the past and the present. Part of the weakness of this film is that the movie they are making looks to be so dreadfully bad that you can't take anything seriously – circus performers? Didn't that go out with Fellini? The acting is fine and the close-ups of Takashi and Zhou are nearly worshipful, but there is little opportunity for them to show much range – though both of them look lovely sulking and staring into space. Or kissing underwater. I am no doubt being too hard on this film – I hoped for so much more – but it is well-produced with some technical brilliance surrounding it, a serious adult love story and gorgeous to look at – but it left me feeling nothing – other than a desire to watch "The Band Wagon" or "Ziegfeld Girl" or maybe even "Hong Kong Nocturne.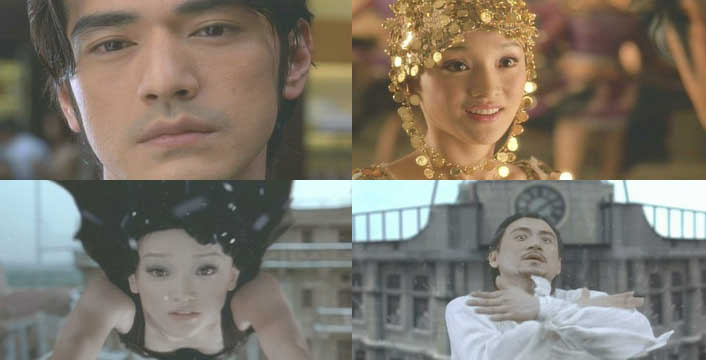 My rating for this film: 6.0
As a note: If you are a Zhou Xun fan, I highly recommend you get your hands on the difficult to find "Baober in Love" – she is amazing as is the film.
---