Hands in the Hair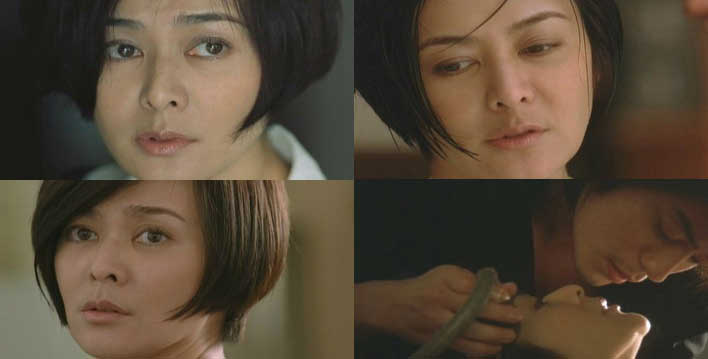 ---
With some surprisingly high profile backers, this small film seems to have sunk like a stone in the middle of the ocean. Charles Heung acts as Executive Producer, Stanley Kwan as Supervisor and William Cheng (of Wong Kar-wai fame) is credited as Style Designer. There is some talent on the screen as well, Francis Ng, Rosamund Kwan and Wallace Huo (a Taiwanese singer/idol), but none of this gives this lifeless drama a much needed kick in the pants. Based on a novel from Tang Ying called Hong Yan (Red Face), it feels somewhat musty in a rapidly changing world. Mainland director Jiang Cheng ("Violin") first brought the book to the stage, but felt it needed a film treatment to really get a sense of its locale – Shanghai.

Shanghai has been the subject of a number of recent films of late – often used as much as a character as a location in films like "Leaving Me, Loving You" and "Everlasting Regret" (directed by Stanley Kwan) and this is the case here. Author Tang Ying is a resident of Shanghai and she apparently often delves into the lives of Shanghai women and gives her books a very local flavor – a flavor that the director attempts to capture. The problem though is in the timing of the film. The story in the book takes place in the early 90's – a period when China and Shanghai were undergoing rapid cultural changes – and at that time perhaps the story felt relevant to what was happening, but now set in modern days it feels anachronistic and inconsequential.
Ainu (Rosamund, whose family came from Shanghai) is a fading beauty in her forties and seems to have become frozen in time like a butterfly in amber. In the past she had been well known in the city for her beauty and her style and she tries to grasp on to those crumbling memories. She now lives in middle class poverty – married to a poorly paid journalist (Francis Ng) with a young daughter but gets little happiness from either her role as mother or wife. Her husband is kind but boring and immune to her sexual needs. She still expects pampering though and this comes primarily in the form of her nearly daily visits to the state-owned hairdressing salon. Her picture from a decade ago still resides in the window with her face enclosed in her "mushroom" hairdo that she once made the rage of Shanghai. She still wears it like a crown of royalty. When she enters the shop, the aging overly-staffed barbers welcome her like a celebrity and she purrs like a contented cat for a few hours. One of the hairdressers though is a young handsome stud and Ainu will only allow him to take care of her. After receiving her hair treatment, she is all aglow – a radiant smile covers her face and her hair bounces joyfully as if she is in a shampoo commercial as she walks around the city.

Though nothing has transpired between her and the young hairdresser, Hwa, clearly the idea is fermenting in her underutilized brain. Then her insular world begins to collapse – an old rival Lulu (Yang Lu) returns from the United States like a dolled up strumpet and demands the attention of Hwa to the point where Ainu's picture is replaced by hers (gasp), a wealthy friend reminds her all too well how middle class her life is and finally the salon is set to be closed by the government in its turn toward capitalism. Her solution to all this is what felt so jarring and not quite in synch with all that came before as she sets herself on a path of female liberation by ditching her husband and daughter, going for a new hair style and setting up her own business! This being Shanghai, I expected suicide or abject loneliness at a minimum. A "happy ending" (well except for the poor old husband and daughter who become yesterday's newspaper) seemed nearly cheating.

This is an interesting opportunity for Rosamund these days. She doesn't make a lot of films anymore as do few Hong Kong actresses who have reached their forties – and to take on a role that to some small degree may reflect her own life as a well known actress from a well known acting family entering middle age is somewhat brave. She still looks great and has a mildly steamy scene with Hwa that ends symbolically and in rather corny fashion with the water pouring from a shower nozzle slowly coming to a halt. I expected it to moan, roll over and go to sleep. She called this the first time that she felt like a real actress which may be true as she was never one for taking on very challenging roles in her career and slid by primarily on her acre wide eyes. The story just didn't interest me that much – maybe it's a gender thing but the theme of her finding herself just didn't ring true for me and felt fifteen years too late.
And just because it never hurts to gain a little knowledge, here is a brief biography about the author from the University of Iowa.
TANG Ying (fiction writer, screenwriter, playwright, filmmaker;
b. 1955, China) is a prize-winning, widely anthologized writer, with many TV and film credits. She has produced and directed in both media, venturing next to independent filmmaking. She has published over a dozen novellas, four collections of stories, two novels, and is currently at work on Another China , a documentary film project about expatriate Chinese writers in New York, and a new novel. Tang's numerous publications include Tell Laola I Love Her , a novella selected for inclusion in the Best Chinese Novellas of 2001 , W ife from America (1994) , a novel that was adapted for the stage, serialized in Liberation Daily , and won first prize for Stories Serialized in Newspapers and Magazines, Asexual Partners (2001), a novella that was also serialized, No Love in Shanghai (2002), and most recently, Senseless Journey (2003), a novella published in the Chinese journal Harvest.
My rating for this film: 4.0
---