Moonlight in Tokyo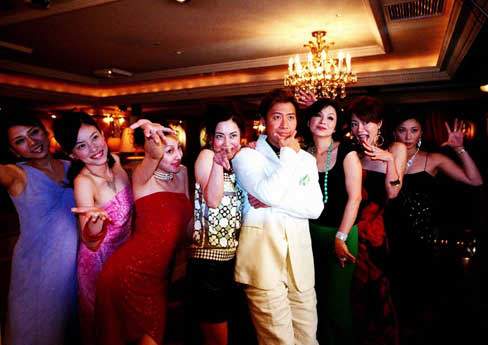 ---
Film review by Lee Alon
Before we line up all our ducks in a row for 2006, here's a late entry to put an entirely more positive spin on the previous year. To the sounds of clinking crockery and bursting champagne bottles, another improperly boosted, rather impressive movie has fallen into our grasp. Just like the Hard Rock Café insists on having cover bands headline its new year's festivities while calling it a "party", so does someone out there in HK lalaland believe Moonlight in Tokyo a comedy. We've seen this sort of error before with Crazy 'N' the City, where what essentially came to be a moving drama was almost forgotten due to ill-conceived marketing. So have they affronted against this late-comer, a human tale at its core, blessed though it may be with a few ample samples of healthy humor. It also features two of HK's finer male leads in excellent opportunities to prove themselves after both suffered setbacks over the summer period.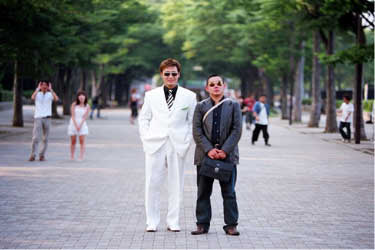 First, you have your Leon Lai, back in shape after being involved in the somewhat embarrassing Seven Swords. Then, Chapman To, who was good in stuff ranging from the Infernal Affairs series to Golden Chicken. He too faltered lately when partaking in the calamity known as Initial D, but now all's forgiven. The two pair up in a simple yet surprisingly effective story embedded with genuine heartache, some certified laughter, and a whole lot of professional creativity.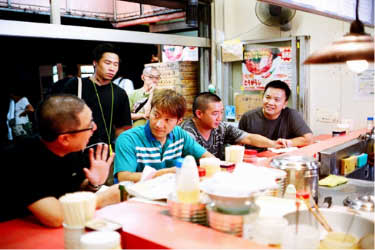 For starters, since the premise basically revolves around men selling themselves (i.e "ducks"), Swan Lake serves as a consistent theme, with both characters discovering aspects of themselves like the whole duck to swan transformation (or was it the other way around?). The movie opens with a deliciously theatrical scene revealing, from the word go, that the folks involved with this project took the initiative and crafted something a cut above most of the fare coming out these days. The ballet motif recurs several times, as does the superb artistic angle. Overall, Moonlighting enjoys some of the better locales, cinematography and editing this year (maybe second only to All about Love), making it come ahead of grossly over-budgeted blimps like The Promise.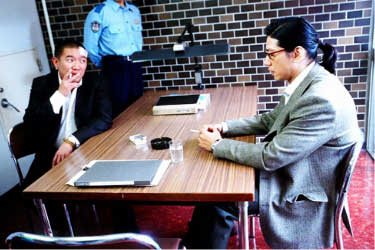 Tokyo's the inspiration on hand, particularly Shinjuku, a district that for some odd reason has risen to notoriety among HK's youthful cadres. Anyway, after an accomplished intro explaining Leon's character, we proceed to the meat of the story. Lai plays Jun, a slightly retarded individual with all the eccentricities and endearing facets one would associate with an innocent man-child trapped inside an adult form. Leon's performance here rivals anything similar done before, and comes across more likeable than Dustin Hoffman in Rainman.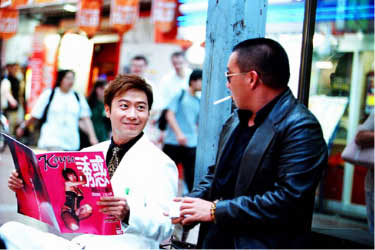 We learn of Jun's difficult situation vis a vis his family, and how he feels left out and unwanted. Next thing you know, he's in Tokyo by himself, hooking up with down on his luck triad-wannabe Hoi (Chapman To), who owes insane amounts of money to local Yakuza nut cases. Jun believes Hoi to be a former classmate, and allows himself to be exploited, at least on the face of it, since the less scrupulous of the pair soon realizes Jun's uncanny prowess among the sheets. Jun therefore becomes Hoi's meal ticket and surefire debt-resolution hat trick, although with certain repercussions since Jun tends to be a bit on the unstable side. He also possesses the gift of consolation, making anyone he embraces quickly feel better, at least till they notice his "disability", reject him and inflict even more hurt. Yep, you guessed right, Moonlight in Tokyo's more sadness than comedy, hence our puzzlement at its promotional tactics.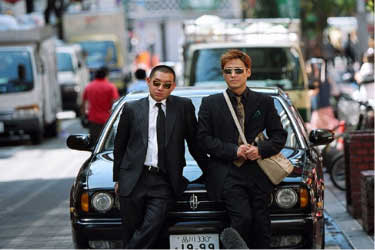 Slowly but surely, Jun earns Hoi impressive buckage via the pleasure of assorted female and male consorts while vaguely masquerading as tourists. This opens up various insights into relationships the two have with all manner of curious characters, including brief but gratifying appearances by the machoest dude in HK, Roy Cheung, as a collegiate professor, and Yang Kuai Mei (Eat Drink Man Woman, Double Vision) as Yan, Hoi's Mama San friend and collaborator. In fact, alongside the human side of things here, glimpsing the Chinese community in Tokyo stands as a constant interest of Moonlighting. It attempts to portray them as hopeful, yet perpetually on edge, people with a serious identity crisis, evinced by the mishmash dialect they often resort to, consisting of Cantonese, Putonghua, Japanese and English, at times in the same sentence. To its credit, Moonlight steers clear of racist, or otherwise, stereotypes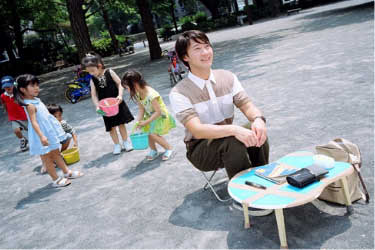 Not only do you get touching drama that has you growing, crying and laughing with the protagonists, but there's added extras like short bursts of adult language, cleverly memorable dialog, and even a helping of gore. But above all these, Moonlighting in Tokyo boasts the un-tackiest ending you could wish for, surprising viewers just as they go "oh please" in anticipation of something trite. Gentle, thoughtful, expertly done and stuffed with meaning, just the right recipe for being quickly brushed aside. Sad but true, Moonlight in Tokyo seems destined to be one of those titles few will think of in mere months while that Geisha flick gets billed as "the new face of Asia" or something.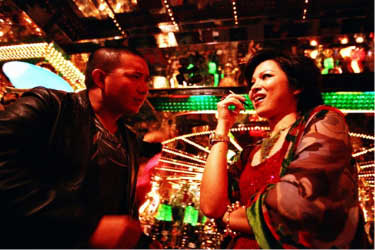 And this writer, for one, is thus properly goosed. Happy 2006 everyone.
Rating: 8/10
Directed by Felix Chong and Alan Mak
Starring Leon Lai, Chapman To, Yang Kuai Mei, Roy Cheung
2005, Cantonese/Putonghua/Japanese/English, 100 minutes
Contact Lee Alon here
Pictures from www.mov3.com
---