Crazy N the City (a.k.a. Crazy and the City)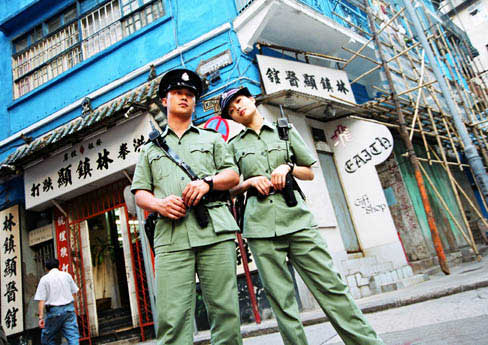 ---
Reviewed by Lee Alon
We shuddered at the ridiculous title and cringed with horror upon first seeing the generic cover shot gracing this underdog of a winner release. Not another bubble-headed police caper, we hoped with uninitiated innocence. After all, love Hong Kong we may, but as true believers in the city's movie making potential we have also suffered over the last few decades from more than our fair share of dumb storylines and semi-moronic affronts to perfectly usable celluloid, often endorsed or inspired by HK's ubiquitous police force.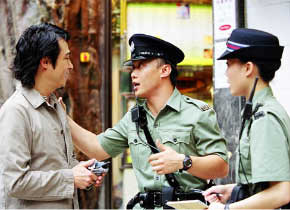 But with James Yuen's unexpected angle on the brave boys and girls in olive theme, we have formally received a superb opening shot for 2005, as the movie brings to the fore a unique treatment of a subject matter flogged so badly in the past, it has practically become dead horse pulp. Besides, you better start your praying and counting your Hail Mary's, coz if the guy responsible for the cataclysmically retarded "My Wife is Eighteen" can be behind such a marvelous flick, judgment day can't be too far behind.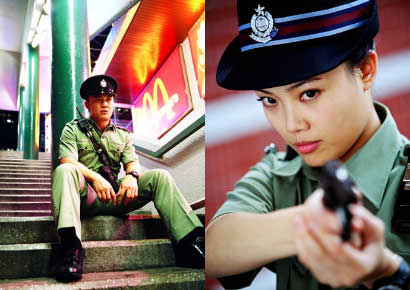 Likewise, one of Asia's biggest teen throbs in recent years, Eason Chan, manages to do the unthinkable and actually act like his life depended on it, once again deviating from his usual hip-hop comic routine, and is even more impressive than in 2002's similarly unexpected "If U Care". Chan seems stronger than ever in Crazy, conducting himself with sheer professionalism as he depicts beat cop Jack Chan, an experienced malcontent serving in HK's uniformed cadres with almost no passion for the job. After seven years on Wan Chai's rather boring streets, Chan has yet to even come close to using his weapon in the line of duty. When his longtime partner leaves, Chan lands a new colleague, Man Liu, played by Joey Yung, who remains just as formulaic in this outing as she was in vapid entries like Feel 100% 2 and My Schoolmate the Barbarian.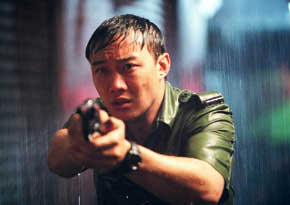 Chan soon grows frustrated with the idealist newbie, as she goes around trying to rescue stray cats and help senior citizens push overburdened carts uphill. Of course, Chan's jaded nature allows him to refrain from getting overly invested in neighborhood goings on, even when a poverty-stricken local beatnik (Lam Suet) throws himself off a building to gruesome results.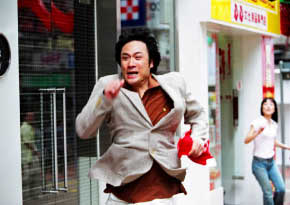 The story's third main protagonist, Cheng Wang (Francis Ng), a complete loon residing in Chan and Liu's designated area, enters the fray in a parallel plot. His life went to the cleaners and never came back following a series of personal traumas, with the guy left in ruins as a consequence, constantly mumbling to himself, talking on a long-defunct cell phone and holding on to memories of owning a bra and lingerie boutique. Ng does a good job showcasing Cheng's troubled personality, and at times we felt tears welling up as the tragic basket case interacted
with his ever-loyal sister and newly found love interest Fei Fei (Zhang Yao), a gorgeous young lady masseuse emblazoned with some of the most perfect hair seen on screen lately. However, Ng's performance felt too much like a remake of his appearance in late last year's White Dragon, where he delivered an impressive impression of eccentric, sight-impaired martial arts legend Chicken Feathers.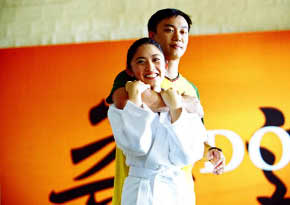 We therefore concluded that, while all involved did at least a plausible job, Crazy belongs almost entirely to Yuen's competent direction, Eason Chan's wholesome contribution and to a genuinely effective story. It all comes together when Jack Chan begins to see the point in being a cop after a group of high school girls practically fall in love with him and his allure as a law enforcement officer, and ask him to help them in picking up Judo classes at school. This injected some acceptable humor into the film, but was soon usurped by tension. Wan Chai finds itself under siege
at the hands of a murderous sex offender, which of course immediately touches on everyone's lives, including Jack's protégés and Cheng's attractive upstairs neighbor, Fei Fei. Galvanized into action, Jack and Cheng both find their respective bearings, coming out stronger. Man Liu, in keeping with Joey Yung's somewhat neutral input into this project, experiences little evolution, save for getting all worked up over a hunky traffic cop (special appearance by Alex Fong).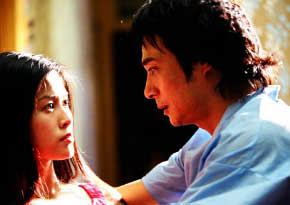 Via aids like clever editing, nifty camera use and driving music, Crazy N the City comes up roses, fortified further with cameos courtesy of Sam Lee (Made in Hong Kong) and Hui Siu Hong (Love Undercover among dozens more).
A total surprise from way out in leftfield, this picture proved that even the most seemingly mainstream film could defy classification and gives credence to the old adage about not judging books by their cover. An excellently touching as well as gripping package you'd be utterly mental to miss out on.
Rating: 8/10
Directed by James Yuen
Starring Eason Chan, Joey Yung, Francis Ng
2005, Cantonese, 100 minutes
Contact Lee Alon here

---