Six Strong Guys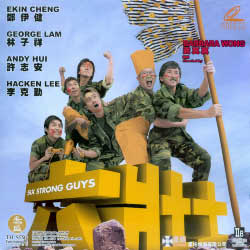 ---
Reviewed by Lee Alon
Although its cover shot has you waiting for the eponymous protagonists to enlist in the military and prove their mettle, this movie really has nothing to do with boot camp, and the only flag it ever raises waves for men and their arduous existence in today's goal-driven world.

Through a mass of passable plaudits and more or less entertaining gaffaws, Six Strong Guys evokes four main characters motivated by everyday, endless struggles to converge on one of Hong Kong's gleaming towers for the purpose of committing collective suicide. As police try to sway them from this desperate scheme, the posse decides to give life another chance, mostly with the purpose of saying goodbye to their loved ones and rivals in mind.

This opens up the rest of the film, as we track each gentleman and his particular conflict. Always superb Ekin Cheng portrays a careerist perpetually accosted by a bumbling boss (George Lam), while disappointing Hacken Lee does playboy Ben, on the lookout for ways to evade his long-time girlfriend, done by the entrancing Candy Lo (No Problem 2, Tiramisu, The Eye). Sufficiently acceptable Andy Hui (Give Them a Chance, Feel 100% Once More) needs to figure out who has his illegitimate child and why life became such a big mess, while Chapman To (Infernal Affairs series, Golden Chicken), in one of his better appearances, weighs married life versus an old flame (a cameo by Karena Lam).

Why six then? Well, the story diverges to take in antics befalling George Lam's kind but incompetent boss character, and Shaun Tam (Star Runner) arrives to depict a high-tech, posh sort of sidekick which really adds nothing to proceedings.

Luckily, most thespians on stage here know the job quite well, so all's OK in that respect. Some of them manage to pull off impressive roles, but denied a strong story, it's a bit wasted in the end. Six Strong Guys recounts a funny tale, indeed, but does so rather obviously and without much sophistication. The concept at its core carries considerable innovation, and even the incessant promo shots pushing HK's newly-augmented skyline can be forgiven within the movie's context. However, too many elements in Barbara Wong's latest (following Women's Private Parts and Truth or Dare: 6th Floor Rear Flat) keep it firmly attached to countless other HK comedies, depriving a plausible story ever-important distinction and personality.

One could definitely do worse than this, but, as par for the course, that does not speak volumes in favor of any cinematic effort, regardless of genre. Six Strong Guys, at the end, comes across as too weak and forgettable.
Rating: 5/10
Directed by Barbara Wong
Starring Ekin Cheng, Chapman To, Andy Hui, Hacken Lee, George Lam, Candy Lo, Karena Lam
2004, Cantonese/Putonghua, 107 minutes
Contact Lee Alon here

---