A Gambler's Story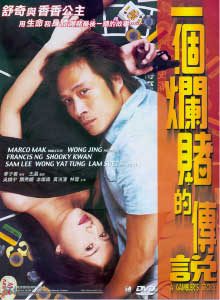 ---
Reviewed by YTSL
As I write this review (in late February, 2002), Hong Kong film fans continue to debate whether 2001 was a good movie year. On the other hand, a consensus seems to have been reached a while back that the two works with the word "gambler" in their titles that starred Chow Yun-Fat are classics of this "only in Hong Kong..." genre. So, I wonder what it says about me and my general views re the quality of the past year's HKSAR offerings -- as well as the film itself -- that I really do prefer this Li Ko Hsiong produced 2001 drama about a couple of not particularly lucky gambling addicts (portrayed by Francis Ng and Suki Kwan) over both the original "God of Gamblers" and the "God of Gambler's Returns".

In any case, here's stating for the record that I found A GAMBLER'S STORY -- more specifically, that which is the second film to bear this title and the probably more quirky one that the HKMDB notes as having had a cinematic run of only 5 days along with box office takings that did not exceed HK$600,000 -- to be a thoroughly compelling effort as well as a welcome (temporary) antidote to what has of late sometimes felt like a never ending romantic comedic assault on viewers by HKSAR movie makers. Also, while I have liked quite a few Wong Jing works, I will suggest that this interesting -- and often positively unpredictable -- offering was well served by its bearing the visually creative imprint of director cum ace editor Marco Mak rather than its cheeky looking executive producer (who, of course, had a significant behind-the-scenes role in many of the biggest earning gambling films).

Featuring characters who wear their hearts on their sleeve (when they're not slowly and deliberately trying to figure out what cards they have been dealt at the baccarat table), A GAMBLER'S STORY is an original feeling movie that openly provides signals of the life led by its protagonist (Suki (AKA Kee) is essayed by a largely non-manic Francis Ng) being akin to that of a high speed, suddenly up-and-down -- and then maybe up, then down, again -- roller-coaster ride. A professional gambler since his mid-twenties, the thirty-something man is as likely to lose hundred of thousands of -- and maybe still more -- dollars in one evening as to win $80,000 by way of a $3000 bet on a racehorse. In his personal life, Suki is almost uniformly less fortunate however; as can be seen by his not only getting dumped by his girlfriend (Wong Yat Tung) soon after he is first introduced to the audience but also being incredibly unsuccessful in his bid to find an attractive club girl to console himself with at the karaoke bar that he retreated to after his lady love called it quits on their relationship.

At the same time, a strong argument could be made for Suki likely being in no worse a situation than A GAMBLER'S STORY other main character, a fellow gambling bug-afflicted individual known as Princess Fragrance (who is well played by Suki (AKA Shooky!) Kwan) who he first encountered in a Hong Kong karaoke bar and again later in a make-shift Macau debtor's prison set up by a schizophrenic acting hoodlum who identifies himself as Brother Face when he's nice and Face Off when he's not. Then there's the waitress-turned-mamasan's brother: An intelligent as well as nice young man named Chung (who Sam Lee quite charmingly portrays) who suffers from "fragile bone syndrome", has a tumor in his brain, needs an expensive operation that can only be carried out in the U.S. (as a result of a freak encounter with a cockroach), and thus majorly qualifies as someone who merits Suki's pronouncement of fate having been seriously unkind to. Additionally, there's the unlucky individuals who come in the form of an elderly patient who has the same extremely rare blood type as Suki and an aged "Foster Dad" (essayed by veteran actor Walter Tso) whose heart fails him when it looked like a great sexual opportunity had been presented to him on a silver platter.

To my mind, how all of these colorful personalities' lives come to intersect at one point or another makes for a fascinating story -- that is all the better for its being prone to veer "like a drunken driver all over the emotional map" (in the words of "A Better Tomorrow"'s Peter Martin) -- and engrossing movie (whose sometimes rather obviously budget-strapped makers clearly appear to sympathize quite a bit with those folks who many would callously dismiss as losers without worthwhile tales to tell). A GAMBLER'S STORY surely also benefits from having had the talented likes of composer Lowell Lo (who looks to have had one heck of a productive past year or so) and cinematographer Tony Miu on its crew as well as some very competent -- though, sadly, evidently not particularly popular -- actors (including a guest starring Lam Suet) in its cast.

My rating for this film: 7.5

---