Sisters of the World Unite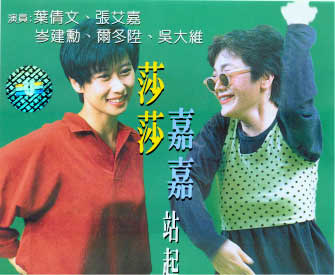 ---
Reviewed by YTSL
Although its English language title may suggest otherwise, this 1991 work -- whose director (Maisy Choi), presenter/producer (Sylvia Chang), scriptwriters (Sylvia Chang, Maisy Choi, Brenda Lo and Eveline Au), production designer (Catherine Hun) and leads (Sylvia Chang and Sally Yeh) are all of the female gender -- is less stridently feminist than good humoredly gentle in tone. Two other points that ought to make this offering from the same production company -- Paka Hills -- as that for "The Heroic Trio" seem more worthy of many Hong Kong movie fans' attention than might otherwise be expected is that of it: Very possibly having been Sally Yeh's last film; and actually garnering a favorable review from the notoriously hard-to-please Paul Fonoroff (who praised it as being "a breath of fresh air" plus lauded the filmmakers of that whose Chinese title actually translates as "Sasa and Gaga Stand Up" for "treat(ing) its title characters with unusual sensitivity" (See his "At the Movies", 1998:192)).
If nothing else than for those reasons, I vowed to persist with viewing SISTERS OF THE WORLD UNITE despite it causing me more white (subtitles) on white (background) frustrations than a great many other productions. Matters were not helped on this visual front by the film's cinematographer, Jingle Ma, somehow making even such as the busy streets of Hong Kong look absolutely pristinely near-white (though the kind of glow that seems to have become his visual trademark and can be seen in such as "City of Glass", "Fly Me to Polaris" and "Summer Holiday" is not particularly evident). Balancing it out is his presenting the movie's viewer(s) with some really lovely images of Sally Yeh -- and David Wu -- plus, in the latter part of the work, Sylvia Chang (whose character undergoes a metamorphosis of sorts from ugly duckling to swan here; though it probably is only in the Hong Kong movie world that someone played by Ms. Chang -- who really was old enough in 1991 to have been married for 20 years, like the woman she portrayed -- would be adjudged to be plain and haggard looking).

SISTERS OF THE WORLD UNITE additionally benefited aesthetically from having William Chang -- who looks to have collaborated almost as frequently with Sylvia Chang, what with his having worked too on "Passion" and "Mary with Beijing", as with Wong Kar Wai -- as its art director. Some more sensory -- this time, auditory -- pleasure comes by way of its having a wonderful end song (that has been attributed to Sarah Chen but also does appear as the final track of the first CD of multi-talented Sylvia's "Dear My Love" album). Still, all this would not be enough to make for an enjoyable movie if it were not accompanied by a good story and performances. Fortunately, they are things which this charming film also does possess. Consequently, when that upbeat song -- with its nicely translated lyrics -- and the cool allusion to "Shanghai Blues" (the 1984 Tsui Hark work which starred Sylvia Chang, Sally Yeh and Kenny Bee) come along to draw this offering to a close, they come across as a fittingly nice cap for the preceding proceedings.

When superficially outlined, SISTERS OF THE WORLD UNITE can seem like a not particularly interesting or deep movie which connects the stories of two sisters with man problems who can be heard being referred to as Sasa and Gaga (but who the English subtitlers gave the actresses who played them's Western names to. And should you think their names to be strange ones, consider that other characters in the film include ones named Bo Bo and Cho Cho!). However as Fonoroff pointed out, the work is distinguished by its "filmmakers display[ing] faith in the viewers to draw their own conclusions about the place of women in Hong Kong society" (1998:192).

One of the women in this Hong Kong movie, Gaga, is the elder sister with the grown-up looking son and a husband (played by John Shum) who took her for granted plus has a mistress in Taiwan. After Gaga decides that she has had enough of her less than happy married life, she moves in with still single Sasa. Although advertising director Sasa looks in some ways to be a good role model for Gaga, it's not like the far less domestic(ated) younger sister is having the most ideal of relations with members of the opposite sex either. For a time, she's been having a relationship with a married man (Johnny is portrayed by Derek Yee). After his wife goes to Sasa's apartment to have it out with his other woman (but actually ends up having a rather comic -- yet also sad in parts -- conversation with a mudpack-faced Gaga), Sasa decides to end her relationship with him. Perhaps in reaction, she then forms one with Ray, a sweet young lad who just happens to be eight years her junior and Gaga's son's schoolmate (David Wu plays a variation of the boy toy part that got him named as HKFA Best Newcomer for his starring role opposite Brigitte Lin in "Starry is the Night".

What all this leads to, and how matters are dealt with, are things that are handled very satisfactorily indeed. What particularly impressed was how those behind SISTERS OF THE WORLD UNITE managed to ensure that pretty much throughout it, a nice balance was effected between comedy and meaning. Consequently, its viewers can have some laughs and smiles along with food for thought plus arguments for life being such that: "Even when we are in love, we never know what tomorrow brings"; and "Even after the tears and sorrow, no doubt there will be hope and excitement".
My rating for the film: 7 (though I suspect that with fewer disappearing subtitles, this might have been a 7.5 or even 8).

---