C'est La Vie, Mon Cheri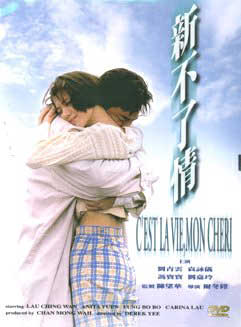 ---
Reviewed by YTSL
This past weekend, in a bid to get myself out of some doldrums, I rewatched the 1993 surprise critical and box office success -- it won 5 Hong Kong Film Awards (including Best Picture and Best Actress) along with raking in HK $31,149,673.00 in cinemas alone -- whose French title translates into English as "That's Life, My Sweet". Despite the skepticism expressed by a couple of my Hong Kong movie fan friends, the re-viewing of the dramatic work whose ending is admittedly not the happiest around really did do the trick. To my mind, there are many reasons for this; and all of them reflect very well on an obviously lovingly put together offering whose scriptwriter cum director is the same Derek Yee who previously had a fairly successful career as a leading man (in movies as diverse as "Magnificent Warriors", "Four Loves" and "Vengeance is Mine") and appeared for a time in gossip columns as Maggie Cheung's love interest.
Chief among these is the fact of C'EST LA VIE, MON CHERI being filled with characters almost anyone would welcome spending some time with (yet still are recognizably human rather than impossibly saintly ideal(ized) types). The heavy on sentiment -- yet never mawkishly sentimental -- film's leading female character, a young woman named Min (who is wonderfully portrayed by Anita Yuen), is shown to be the kind of person who can banish away black moods and make others into better people than they were prior to her entering their world. Its main man, a moody songwriter cum musician named Kit (who Lau Ching Wan makes more sympathetic than lesser actors could have done), is the (apparently) rare male who is both cursed and blessed with the capability and capacity to feel and care deeply.

After splitting up with a more successful pop singer (Like she did with her Rose role in "He's a Woman, She's a Man", Carina Lau endows C'EST LA VIE, MON CHERI's Tracy with a surprising amount of sensitivity and tenderness along with a glamorous outer layer), Kit moves out of their luxury living space to a much more humble abode. Among his new neighbors are a group of down-to-earth folk whose de facto household head runs a Chinese opera school and also has charge of a troupe who usually can be found entertaining people at their outdoor Temple Street venue (Former child actress, Petrina Fung Bo-Bo, is additionally known to Kit as Min's generally unsmiling mother). Other notable members of this close-knit family -- through professional affiliation as well as biology -- are the seductive-looking Yau Ling (played by a Carrie Ng in mature and fine form) and Min's endearing Uncle Cheung Pan Tze (who is portrayed with gusto by Derek Yee's half brother, HKFA winning actor, Paul Chun Pui).
Before too long, Kit is effectively adopted into this little community of people who are not the wealthiest or luckiest around yet also are among those who don't complain much about their lot. Along the way, they -- and their friends, including some Filipino musicians who turned Min's mother's birthday party into a rousing jam session -- serve as a positive contrast to Kit's too bitter jazz -- and alternative? -- musician friends (composer Tats Lau and director Herman Yau are among those who put in cameo appearances in C'EST LA VIE, MON CHERI) as well as Tracy's commercial minded colleagues (U.F.O. doyen, Peter Chan, lends his face to one of these comfortably living individuals who Kit rather obviously feels contempt towards because of their having chosen to make money at the expense of creating music that sincerely speaks to the heart and soul).

As I see it, C'EST LA VIE, MON CHERI is an appealingly warm movie with an uplifting outlook and sound recommendations re how one should lead life and deal with people plus the sometimes not great situations in which one finds oneself (I particularly like the truism voiced by Min that "Not everyone on earth is your enemy"). It thus is especially heartening to learn that many friends of Derek Yee apparently came together at a time when his career was at its lowest ebb to help him to complete this personal -- and not at all as preachy as it may sound -- project (by doing such as working for gratis on the film). For the record: Some others besides those already mentioned who reputedly did such are the delightful Sylvia Chang (who puts in a short but sweet appearance as Min's doctor), Jacob Cheung (in a cameo role as the fortune-teller whose positive prediction Kit hears with quite a bit of incredulity), Jamie Luk (in a small role as the rather tough "Blacky"), Joe Junior (who sings with Anita during her studio cover song), Andy Chin, Teddy Chan, Sherman Wong, Eugene Pao and David Wu.

The potential viewer ought to be warned however that C'EST LA VIE, MON CHERI does not have the reputation it has as a guaranteed tearjerker for nothing. Put another way: Life is shown in this quality offering to be all too capable of dealing one with a blow whose impact you cannot completely and successfully avert but, instead, may only show true character in accepting and dealing with as best you can. This notwithstanding, it also is revealed to be something that is precious and frequently filled with its share of small pleasures that ought to be treasured more than they often are by many of us. Red bean cake, night markets, social strolls through interesting parts of town, music in so many of its forms, friendships and other relationships. They end up being shown to possess the ability to touch one's heart and soul, even as memories of them threaten to break those of others.
My rating for this film: 8.5

---
Reviewed by Brian
Since YTSL reviewed this film, I reluctantly sat down to watch and gather pictures – and was quickly charmed – pulled into a world and a city that felt as if fairy dust had been sprinkled over it. Wonderfully fanciful, it is a world filled with music and sentiment, friends and lovers, saxophones wailing in the warm night air, talking and laughing into the wee hours of the morning. Though the film is set in contemporary times, it is lovingly drenched with a strong coating of nostalgia – in a Hong Kong that is sadly melding into the morass of sameness - this magical little neighborhood exists – a trapdoor into the past - where people still gather to watch Chinese Opera performed on the narrow streets and where your fortune can be told along with tasty red and white bean cakes - a world that feels as if it is disappearing before us.

This was not only an unexpectedly successful film and a huge boost to director Derek Yee – it was also a breakthrough film for both Lau Ching-wan and Anita Yuen. Lau had been acting in films for a number of years – had success in TV but not really in the movies. He was considered too dark (something alluded to in the film by Carrie Ng) and not attractive enough for leading man romantic roles. He is quietly charismatic and personable here – his hangdog eyes and fleshy face find their way into Anita's heart like a guided stealth missile. He is the perfect everyman - appealing to women and men alike. He was to become one of Hong Kong's top leading men after this – often being paired up with Anita in romances and comedies. Anita was still new to the business with only a few supporting roles behind her. Her performance here makes you feel giddy – as if trapped in a spinning house of mirrors – she is captivating, luminous, quirky and totally lovable – it feels like she has so much energy and scattered thought patterns that you expect her to go off in five different directions at the same time. Thus when the lights start to slowly go out, it is particularly devastating. This film began the Anita Yuen craze that was to last in Hong Kong for the next few years.

There are certain films that I make an attempt to avoid no matter how good their word of mouth is – and this had been one of them. Films with themes of love and illness are ones that I would normally do ninja like back flips to get away from. Not because I find them manipulative and smaltzy (which they often are - though this one is definitely not), but because I am a total sucker for them. I fall apart like a broken piñata and it's not a pretty picture I can assure you. This film had piñata written all over it. I am still picking pieces off the floor.

My rating for this film: 8.0

---
Ranberator has been kind enough to translate the song lyrics for the final song sung by Petrina Fung and the final screen:
Part I
Remembering my past, there were many laments and feelings
My life is full of failure, pain, and turmoil
Have not blamed fate; I simply wiped my own tears dry
Whenever there is a stormy night, we embrace and
comfort each other
That there is an end to the darkness
No matter how hard the rain falls and the wind blows
outside the window
I will always be by your side
Love will give us the strength to wait until the wind
and rain stop and dawn's light arrives
Part 2
This moment I am left alone and sad
I am only waiting for the nightmare to end quickly and
the light of dawn to break through
So we can get past our trouble and chase our ideals
together again
In the future, we will continue to live whether we are
in pain or happy
In life there will always be happiness, hatred, joy,
sadness, gatherings, separations, spring rains and
autumn frosts
I must accept life and not be discouraged; I will
always look toward the future.
I hear a voice, calling my name, wishing and blessing
my most beloved will remain unscathed.
Final screen:
If the worst thing in life is death, then there is no
difficulty that cannot be faced while one is living.--
Kit and Min

---