Profiles of Pleasure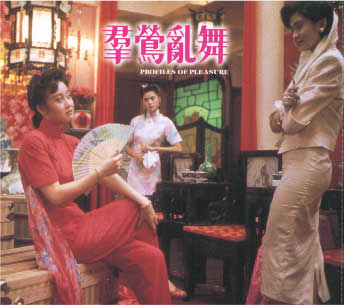 ---
Reviewed by James Chang
What can I say? After Director Li Han Hsiang* returned to HK in 1971, it seemed that every type of brothel from the old days was rediscovered and brought to the cinema screen. From Beijing to Shanghai, from Tien Tsin to Canton, the prostitutes in HK were considered to be the most desirable. To many of the HK directors, prostitution was considered to be part of the "glorious" past of this colony and worthy of praise long before the era of Suzie Wong .

Stanley Kwan's Rouge (1987) was a typical example of glorifying this oldest profession in the world, and the director of this film, Tony Au, was attempting to follow in his footsteps by creating a luxurious paradise for dandies and other lustful bastards and indulging in even more debaucheries. Compared to Rouge though, it is far less dramatic and ravishing. Overall, it is just a soap opera.

If you are not a moralist or a feminist, you can at least watch it for the simple pleasures it offers. After all, it is quite enjoyable to see many very lovely ladies walking about, adorned in fancy clothing and doing all they can to catch some man's attention. Though there is no real plot, you won't get bored, as everything is thrown into a giant pot and served in the form of potpourri. There are many ladies competing for sugar daddies and occasionally trying to kill themselves in dramatic fashion after being abandoned. This film, that takes place in the 1930's, also presents a feminist movement that wants to shut the brothels down. Besides the lovely visuals, there are many songs and Cantonese operas to hear and watch. But if you're asking for a solid plot and a sense of refined taste, this is definitely not your cup of tea and you may even find it annoying.

The story starts with the British government's plan to ban prostitution in Shek Tong Tsui (Tong Sai), Hong Kong. Adam Cheng, a commissioner educated in London, is sent to investigate this issue. After arriving with his westernized fiancée, Carina Lau, he goes to Tong Sai to have a 'thorough investigation' and ends up being personally involved with two of the courtesans, Nina Li and Rosamund Kwan. This is the story of how an anti-prostitution commissioner gets pulled into the world of high-class brothels and the fascinating creatures within. The story ends when brothels were turned into cabarets**, and Adam finally has to resolve his relationships with three of the most beautiful ladies in the world. " Men are teapots and women are cups, one single teapot is usually matched with a couple of cups " was his philosophy of life.

Basically, the entire film is sheer nonsense, however, people like myself (mainly guys) could easily find watching this nonsense amusing. Three of the most beautiful Hong Kong actresses of the eighties are brought together on the same screen. Carina's performance did not persuade me that she came from London with a university degree. Besides, I don't think Chinese in the thirties were likely to be so open-minded about having sex before marriage (it appears that Adam is intimate with Carina in the film).

On the other hand, all the 'prostitutes' in this film have very distinct personalities. Rosamund Kwan does a brilliant job portraying a sophisticated prostitute from Shanghai, who is confident, fashionable, witty and not without a sense of humor. Nina Li also shines as she plays a corny yet voluptuous local Cantonese*** girl whose beauty tends towards the gaudy side. In fact, her role is probably the most dramatic one - as she discovers that she was engaged to Adam prior to her birth ****. As it is, she has already been married four times, but she had jinxed all four of them to death (actually, we shouldn't be that superstitious, it is hinted that these "poor" guys died from exhaustion after making love with her all day long!). Nevertheless, countless dandies continue to "fearlessly" pursue her. I find the scene in which she shampoos herself and converses with Adam Cheng particularly sensual. Other scenes such as Nina Li dancing on a table, Rosamund drinking tens of glasses of Champagne to save face, Nina Li teasing poor dead Alfred Cheung (who was yet another victim of her prowess in bed) was also a pleasure to watch.

Pauline Wong's performance as the owner of the brothel was also exceptionally fine and Adam Cheng, besides being handsome, has successfully depicted the personality of a dandy. Compared with these actors, those in the late 1990's are merely good-looking statues and dolls. I know it is strange but their appearance and performance simply doesn't shine, not to say radiate. I think what the modern day actors really lack is natural charm.

However, the performance from sci-fi writer, Ngai Hong (Ni Kuang), the old fellow who played the long-time patron of the brothel was simply terrible. Still, he was definitely much better than Pai Yun Chin, who plays the feminist leader. I really wish we could one day have a Peter Ustinov or Charles Laughton in Hong Kong. Also appearing are Paul Chun Pui, Wong Jing and Lawrence Cheng

As director Tony Au was once an art director, he has always tried his best in designing the set for his works. One major attraction of this film besides the attractive women are the sets and costumes, however, they are not authentic if we compare them with photographs of the thirties. Besides, for me, the production design was a bit too gaudy. The songs and extracts from Cantonese Operas, composed and rewritten by Dr. Law Wing-Fai , professor of the HK Academy of Performing Arts and sung by Kam Kwok Wai, a celebrated Cantonese Opera star ,were pleasures to hear.

Basically, Profiles of Pleasures is pleasing to both eyes and ears, no matter how ridiculous and debauched its plot is.
---
* Li Han Hsiang (1926-1996), a major filmmaker throughout the 50s to 70s, was the father of today's HK commercial films. When one is watching the God of Gamblers (1989), or a Ching costume drama, or a Cat III film, don't forget that it was Li Han Hsiang who first brought such type of materials onto the silver screens in the 70s.He was also the man who discovered Michael Hui in 1972 and cast him in the Warlord (1972), thereby catapulting him to regional super stardom. Later on, in the 80s, Li primarily worked in the mainland, making costume epics where he first discovered Tony Leung Ka Fai in 1982. As a director, Li has the ability to combine vulgarity and elegance in a film, and as a scholar, he was extremely meticulous when dealing with historical details in his films. This ability plus the ability to discover stars make him different from Wong Jing. By the way, Gong Li also first appeared in a Li Han Hsiang vehicle playing a supportive role.
** On June 30th 1935, the British banned prostitution in Hong Kong
*** This is ironic, since it was Nina Li who came from Shanghai in real life. Rosamund Kwan whose origin was from Mukden, was educated in Hong Kong and the USA.
**** This is a Chinese custom that was abandoned after 1919. In the old days, a pair of good friends could make such an arrangement - if both of them had children of opposite sex at the same time, their children would marry each other in the future.

---
If you find watching beautiful Chinese ladies a pleasure, rating = 7.5
If you are a decent, honest and conservative person, rating = 5.5
If you are a right-wing moralist, rating = 3
If you are a feminist, DO NOT go for this film. It can be OUTRAGEOUS.
---