Hong Kong 1941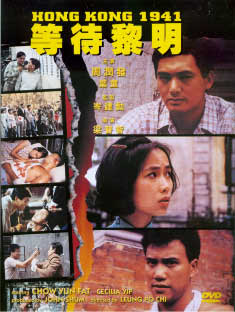 ---
Reviewed by YTSL
At the ostensible heart of that which garnered eight HKFA nominations -- and the Best Cinematography award (for Brian Lai) -- is a story of binding love and friendship between a young woman (Ha Nam is played by Cecilia Yip) and two men (Golden Horse Best Actor winner Chow Yun-Fat portrayed Yip Kim Fei and Alex Man had the role of Wong Hak Keung). For all of this trio of interconnected personal relationships -- that help get the three chums through thick and thin in addition to prevailing through some very trying times for everyone -- being very lovingly depicted though, this John Sham production came across as trying to communicate plus be much more than your usual romantic drama.

For starters, I could feel some sort of undercurrent flowing through the Leong Po Chi directed effort that endowed a strong sense of significance to coolie Keung's mantra that "when the going gets tough, the tough get going" and former Chinese opera troupe member Fei's favorite song containing the message that "Justice prevails". Similarly, the following words uttered by poor little rich girl Nam at the beginning of the film -- whose alternative as well as Chinese title is "Waiting For Dawn/Daybreak" -- seem to be meant to have more than just fictional and individual relevance: I.e., that "[o]ver the years, I've survived the darkness of night. And have seen countless dawns. Everyone of which is unique."

It's not just that HONG KONG 1941 is set during the Second World War (For the record: The Japanese invasion of the then British Crown Colony began on December 8th, 1941 -- and was successfully concluded on Christmas Day of that year -- but many of its residents already were feeling the effects of war, what with Britain having been battling the Nazis and Italians since 1939 and portions of China having been occupied by the Japanese as early as 1931). Indeed, it could be argued that July 1st 1997 was the date that was as much -- if not more -- on the minds of the makers of this 1984 movie as the day that dawned a little past the film's 30th minute mark, and is one which many Americans exclusively associate with the bombing of Pearl Harbor (located across the International Dateline from the other territories that got attacked that fateful day).

This was because this Chan Koon Chung and Sammo Hung co-scripted work came out in November of the year in which it was realized that the People's Republic of China were not going to grant an extension of the British lease of their Fragrant Harbour. As more than one person noted, that which might be considered to have been "the single most important political event in Hong Kong's history" could not fail to have some impact on its cinema" (Roger Garcia in "Hong Kong Cinema '79-'89" (A HKIFF publication)). Much, including directions as to what could (have) be(en) done to combat the Handover blues, thus can be read into HONG KONG 1941's protagonists wanting -- even before they came to live under Japanese rule -- to leave their homeland to "look for gold" -- on either "Gold Mountain" (San Francisco) or "New Gold Mountain" (Australia) -- plus "go and see the world and learn".

One of the things that I really like about quite a few Hong Kong movies is how it is that they can comment about political and other matters in such a way that their points are not restricted to a certain time and place. Another ability that I find very impressive is that which allows a single movie to evoke a diverse range of emotions as well as straddle more than one genre. Precisely because HONG KONG 1941 is such a film, it actually doesn't feel out-dated (even while the period piece often does seem to be bathed in nostalgic tones along with a warm light). Correspondingly, many of this well-acted work's memorable supporting characters -- notably Nam's hardly ideal father (Ha Chung Sang is played by Sek Kin), the covetous Sergeant Wing (essayed by Paul Chun Pui), the sadistic Chairman Liu (who Wu Ma chillingly portrayed), the very intimidating Japanese Commander (who comes in the form of Stuart Ong), and the courageous Ah Shiu (Ku Feng has this role) -- have personality traits that are likely to come particularly to the fore during extended periods of crisis yet probably would still not be out of place in some peace-time or more contemporary offering.

This is not to say though that HONG KONG 1941 doesn't contain certain disturbing scenes of events that can be said to be quite specific to that violent era and regime -- one in which beheadings of civilians and bayoneting of babies did occur. However, I would like to emphasize that this effort also contains enjoyable segments of quiet beauty -- including a sensual one involving an opium-smoking Nam -- and others that show people delighting in the company of those who they care for and can have good-natured fun with. While the latter can sometimes feel inappropriate in what is after all a war-time drama, I'm willing to entertain the -- commendable if so -- possibility that they were put in the picture to idealistically suggest that hope and the human spirit really can and should prevail against some fearsome odds (plus are to be treasured along with the kind of true friendship that involves placing the welfare and happiness of other people above your own).
My rating for the film: 8.
---