Blind Romance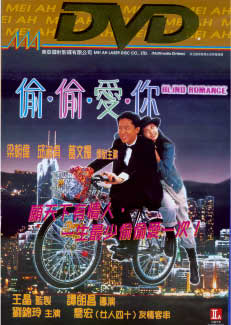 ---
There is a reason that Chingmy Yau has the nickname of Dou Dou which translates I understand into "cute cute". Though she will always be most famous for her sexually earth-scorching roles in Naked Killer, Raped by an Angel and a few other sizzling outings, Chingmy is above all adorably cute. No more so than in this otherwise middling romantic Cinderella like tale. She is simply as cute as a bee in butter here and though the cast is very solid it is only Chingmy's cute quotient that keeps one interested in the very predictable outcome of this film. If of course you are immune to the Chingmy factor, this film will leave you as cold as yesterday's bacon and eggs. I however am not immune and am glad for it.

Chingmy has a medical problem – whenever she is around a man that attracts her, she starts to have problems breathing and is unable to talk to him. Most of these men take her for an idiot. The doctor tells her that the trick is not to look him in the eye. Otherwise though she is fine – and works several jobs to help pay the bills for her brother, Eric Kot, and her grandfather, Roy Chiao. On one of these jobs she runs into an old school friend, Jan Lau, who has now become a well-known pop star. Lau is delicious in this role of a totally selfish and manipulative celebrity. She keeps these not so nice traits well hidden from her very wealthy boyfriend, Tony Leung Chiu-wai, who thinks she is the cats' pajamas.

Lau hires Chingmy to be her assistant and Chingmy immediately falls in love with Tony and his big brown limpid eyes. But of course she can't utter an intelligent word to him and hides her feelings below her floppy hat. You would have to be from another solar system not to realize exactly where this film is going – and thankfully it heads right there without really a moment of doubt. Of course there have to be complications along the way or this would be a very short movie and we would not get to see Chingmy in a bunch of different outfits!

It's all very sweet and Tony and Chingmy have a nice easygoing chemistry together. Basically everything goes wrong for Tony – loses his sight, loses his money and loses his love – but Chingmy is there (and of course now that he is blind she can talk to him) – but Tony thinks it's someone else – so when he looks for her later all he has to find her with is his memory of walking there as a blind person and now has to retrace his steps. Hey, I didn't say it was a great story did I? Only that it was a pleasure watching Chingmy and the rest of the cast do the best they could with a script that could have been written in the 1930's. Appearing also in the film are Annabelle Lau as Kot's girlfriend, Liu Fan as her mother, Wong Wah Wo as Tony's subordinate, pop legend Joe Junior as Tony's friend and Dennis Chan as the wealthy band mate.

My rating for this film: 6.0

---
DVD Information:
Distributed by Mei-Ah
The transfer is OK considering that Mei-Ah didn't take any trouble to do much with this DVD.
NOT Letterboxed
Cantonese and Mandarin language tracks
Burnt on Chinese and English subs - often cut off at the side - but still able to be understood.
There is no menu and thus no extras.

---