AV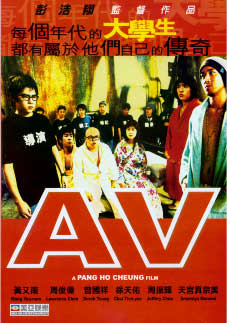 ---
Early on in the film one of the characters muses, "Why am I not the guy in the porno film?" and from that wishful sentiment the entire plot of this film flows. Director Edmund Pang realizes he is part of the "now" generation - we want it and we want it now - the beautiful women on the billboards, the high flying celebrity parties, the summer houses, hobnobbing with Paris Hilton - the glitzy material things by which this generation has come to measure their worth - the things we want but don't want to really work too hard for - they have it so why shouldn't we? On a couple of occasions in the film Pang awkwardly and out of context compares this generation to a past one when students held high ideals and were willing to sacrifice for them but though Pang may seem somewhat wistful that he wasn't a part of that generation he still seems to embrace the shallowness of this one with lighthearted zest and humor.

Like "The Graduate" was a statement about a new generation that didn't know what they wanted other than not being like their parents, this film is also a statement of a new generation - but they know exactly what they want - everything their parents couldn't have. At one point in the film in an attempt to raise money from other students, a character compares their attempt to bed a porn star to Rosa Parks and Martin Luther King and their fight for civil rights - mildly amusing I suppose but at the same time rather sad and telling of a generation that feels like it has no political agenda to fight for any more - getting laid is the only agenda. Of course, you can say there have been thousands of films about teenagers wanting to get laid/lose their virginity and so what makes this different, but Pang is trying to wrap this sex comedy within some kind of social context - not so much to be judgmental but just to make a point about how things are today.

This is an effective social satire - easy to watch - amusing at times – quite clever at others - but it didn't feel like a step forward for Pang who already has the superior "You Shoot, I Shoot", "Men Suddenly in Black" and "Beyond Our Ken" to his credit. His droll quirky sense of humor has already been established and it feels like its time for him to move on to something weightier with more of an emotional impact. As entertaining as his films can be, they do have the feel of a throwaway comedy sketch stretched out but there are enough hints in his work that he can do better. Pang is clearly one of the few bright lights in Hong Kong film these days and it's really up to this new generation of directors to move Hong Kong film in new meaningful directions and though there is nothing at all wrong with satiric modern comedies films like this, they won't do anything to change the status quo. Does Pang only want to be the Kevin Smith of Hong Kong or does he want to evolve in the way that Katsuhito Ishii did by going from "Party 7" to "Shark Skin Man and Peach Hip Girl" to the sublime "The Taste of Tea". When is a director in Hong Kong going to make their Taste of Tea? Will Hong Kong allow them to?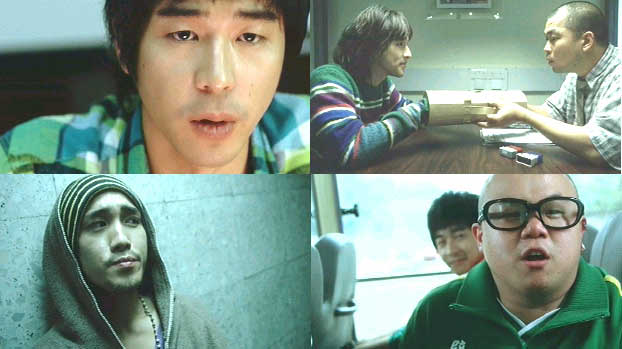 When a friend (Tsui Tin-yau from the group Shine) of theirs is busted for using his student film project (ala Wong Kar-wai with the swaying hips, police uniforms and Latin music) as a pretence to make out with a girl he had been obsessed with but afraid to approach (with a number of needed re-shoots of course), a group of four young men (Wong Yau-nam (also from Shine), Lawrence Chou, Jeffrey Chow and Derek Tsang) see even more possibilities. Why not pretend to be porno producers, hire an AV (Adult Video) actress from Japan and film them having sex with her. It's every boy's dream. They put their machinations into operation - create a phony website, borrow an office, get film equipment and find a set to film on.

All they need is an actress and so they contact aspiring porno starlet Manami Amamiya - who is as cute as a bug in a rug and more than willing to shag on one. In real life this actress really is Manami Amamiya - a real life adult actress with such profound film credits to her name as "Virgin Princess", "Slutty Nudes", "Hold Me My Goddess" and of course the classic "High School Girl – Sweet and Sour Recess". Look for these titles in your local Blockbuster. Who wouldn't want to work with this girl? And all of this for a mere 400,000 Yen - approximately $40,000. Wouldn't it be easier and cheaper to simply rent a brothel for the night? Anyway, they raise the money through a loan in some amusing credit interviews with Eric Kot and by selling watching rights to their school mates and they are ready to go.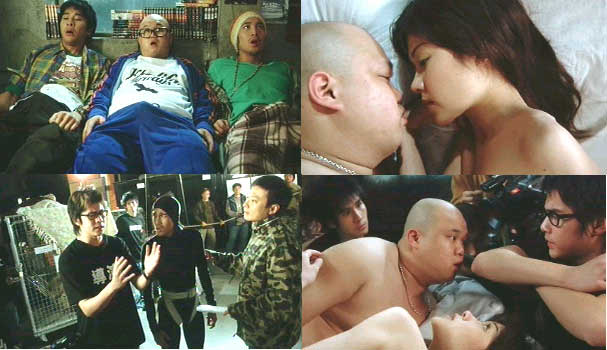 They run into the usual problems - performance anxiety (Viagra takes care of that), falling in love with the actress, jealousy and an ambitious director who wants to use the film as his calling card to Hollywood and so brings in an action choreographer (Chin Kar-lok) to set up an action sperm scene. In the end I suppose some lessons may be learned but not really - it simply comes down to wanting to have sex with a porno actress and following through on your dreams. The young actors do a very solid personable job - Pang always seems to bring out good natural work from his actors - and the actor who plays Fatty and resembles Porky Pig is someone I want to see more of. As to Manami, I wouldn't mind seeing more of her as well! It must have been fun for her to have some dialogue for a change beyond moaning. I didn't find the film as funny as I probably should have - perhaps its a bit male fantasy smirky for me - but it is clever, contains lots of film references and goes down quite smoothly. Maybe that's all I should ask of Pang, but I hope that one of these days he will give us a film that will really have something to say and something that will stick with us for days to come.
As a note of interest, look for the all too brief appearance of Tim Youngs in the porno shop scene. Now I guess we know why he has been too busy to update his Hong Kong site! There is also an inside joke aimed at Bey Logan as one of the porno titles.
My rating for this film: 7.0

---