Flying Hero, Little White Dragon (Fei Xia, Xiao Bai Long)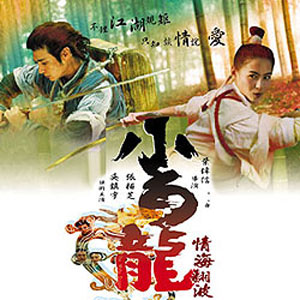 ---
Reviewed by Lee Alon
Basing a modern wuxia flick on a semi-classic entry by the same name is a trick and has been done before to varying degrees of accomplishment. Meddling with the original's very fabric can be dangerous, but evidently not enough to keep Wilson Yip (Mongkok Story, Skyline Cruisers, 2002) from transforming late sixties film "White Dragon" (directed by Fung Wong) into a tongue-in-cheek comedy a la Gordon Chan's superb "Cat & Mouse". From a hardcore action pseudo-epic to lackadaisical laugh fest? Sounds like a surefire dud, doesn't it? Well, maybe not, for this revamped, reworked, and infinitely tweaked "White Dragon" edition comes up roses by introducing a workable story and numerous modifications to the original content.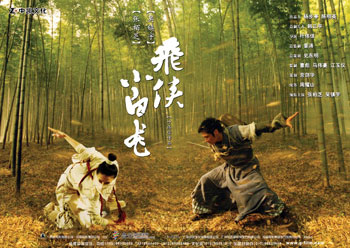 Heading up these alterations, Cecilia Cheung once again adds her big-mouthed comic routine to a pleasing script featuring her as Hei Feng (Black Wind), a spoiled sorority chick whiling away the years in a Tang dynasty-era version of "90210". Although too skinny since being involved in a stunt car accident two years ago, Cheung's indelible style and penchant for goofiness carry her over successfully, and here she's back to capable "Cat & Mouse" form full steam. Hei Feng's luxurious aristocratic existence comes to a grinding halt when one of her mentors (the original White Dragon!) falls prey to Yi Di Ji Mao, or Chicken Feathers Everywhere (played by a mesmerizing Francis Ng), a renegade vigilante with more than some inclination towards chicken worship.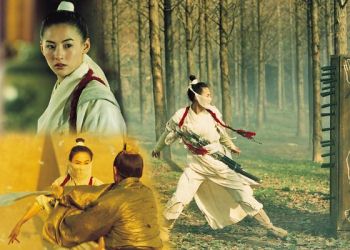 Rather than dying though, White Dragon transfers her martial arts acumen to debutante Hei Feng, with the proviso that the young lady track down Chicken and annihilate him. This scene embodies FHLWD's mindset quite well, since most of its humor echoes what we saw in several other recent wuxia satires cum farces, namely taking stuff from our age and planting it back in traditional, "ancient" times, to ludicrous effect. Hence, White Dragon doesn't teach her prodigy, but rather uses broadband to download it all, Matrix-style. There are other sequences of similar ilk, such as pop performances (lifted straight out of Cat & Mouse) and designer boutiques, but while genuinely funny they do not constitute the film's main saving grace.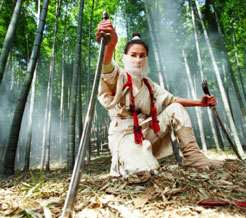 For that we need to wait till the new White Dragon finally faces Chicken. Following a forest engagement, which she loses, the lady becomes Chicken's captive, hampered by a broken leg. She then realizes the mighty warrior's true nature as a Zatoichi-esque, blind master of martial arts. He's also a bit stingy and generally an oddball, living in a shack and carrying a backpack full of money wherever he goes. These alleged shortcomings don't prevent her from falling for the recluse, and vice versa. Through their developing relationship we behold the movie's primary asset, a truly heartfelt, romantic undercurrent of considerable elegance, conveyed more than properly by its two key protagonists, but more so in the hands of Francis Ng. This actor, excellent in Infernal Affairs II, The Mission and a host of other productions, does a bang-up job depicting Chicken's tragic hero character, maintaining complete believability while playing a blind person. Your heart can't help but go out to him. FHLWD brings to the fore other highlights. Combat remains frenetic, typical heyday wuxia throughout, recalling legendary fight-fest Tai Chi Master (with a younger Jet Li). Though in short supply, the fight scenes contain great choreography and provide high gratification.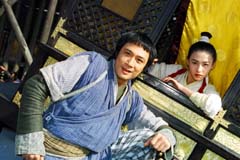 Then we have Hui Siu Hung, perennially good as a comic relief and all-round robust supporting actor, here playing Chicken's friend and sympathizer, as well as occasional victim. He's somewhat offset by Andy On, who enters the fray several times as Hei Feng's object of desire, the Emperor's son and eventual target for Chicken's wandering blade. As much as the screen likes Mr. On, he still stands as largely invisible, exactly the same dilemma facing him in the big-budget fiasco Black Mask II (2003).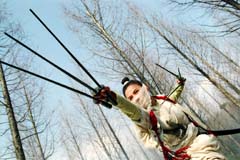 Although not a gilded masterpiece, Flying Hero, Little White Dragon contains two excellent main roles, a bonafide touching story, great action and a couple of scenes so meticulously heart wrenching you'll hardly be able to keep from going weepy. Sure, its humor may fall in the rather sophomoric bracket, but why the hell not? Bringing together equal parts comedy and tragedy is never easy, and this movie does just that to above acceptable results.
Rating: 7/10
Directed by Wilson Yip
Starring Cecilia Cheung, Francis Ng, Hui Siu Hung, Andy On
2004, Cantonese, 100 minutes
Contact Lee Alon here

---