Protégé De La Rose Noire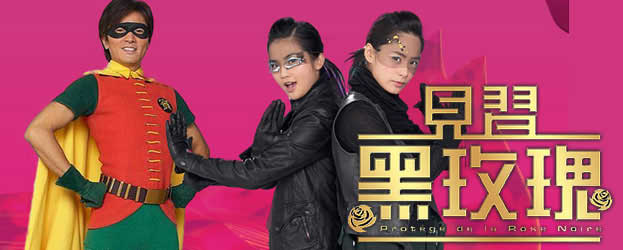 ---
Reviewed by YTSL
When I looked at the females involved in making this 2004 installment of the "Hak Mui Gwai" story which has the super heroine and her protégés battling against the evil Poison Ivy and her Ivy League, my expectations rose pretty high. After all, its co-helmer Barbara Wong Chun-Chun's two previous directorial offerings ("Women's Private Parts" and "Truth or Dare: 6th Floor Rear Flat") have been commendably creative as well as entertaining. Additionally, Teresa Mo -- who has the Black Rose role in this comedy -- is an established comic actress I was glad to see return from self-imposed exile in Canada four years ago. And then there are the Twins: a pair of actually biologically unrelated individuals who both are more than capable of being little rays of sunshine in films that might have been dreary if not for their presence (cf. "The Twins Effect" and also "Summer Breeze of Love").

Admittedly though, two of the main men associated with PROTÉGÉ DE LA ROSE NOIRE didn't inspire comparable confidence and enthusiasm on my part. Alternatively, I do believe that Ekin Cheng does tend to get an overly disproportionate amount of barbs from (overseas) Hong Kong movie fans; and especially in view of the singer-actor having rather admirably attempted to widen his range in recent years by appearing in comedies rather than sticking to crime -- and more specifically, triad -- dramas. As for the other favorite "hate figure" that is this effort's action director: Well, I had liked "The Twins Effect", and Donnie Yen did action direct it, didn't he? Besides, I must admit to having trusted that Barbara Wong (whose 2003 work has gotten her a HKFA Best New/Young Director nomination) would get more say behind the cameras than the Yen man the way that I knew that Charlene Choi and Gillian Chung -- even if not Teresa Mo -- would get more screen time than Ekin.

When I saw the opening credits for PROTÉGÉ DE LA ROSE NOIRE however, my heart sank somewhat. For there, amidst the cute images that appeared in the movie's introductory segment, was the announcement that Donnie Yen was the senior director on board the production. Also, as the work progressed, further confirmation of this fact came along in the form of its having well choreographed action scenes -- some of which feature Mr. Yen's film debut-making younger sister, Chris (as a character obviously inspired by Chiaki Kuriyama's "Kill Bill" appearance) -- that couldn't help but steal the show from its often quite lame comedy segments, and seemingly at the expense of plot continuity.

While great action is a good thing, the fact of the matter is that its very existence cannot save a film if it is supposed to be primarily a comedy. And lest there be any doubt, PROTÉGÉ DE LA ROSE NOIRE -- an effort which has Charlene Choi playing a character who might or might not be an alien (from outer space, as opposed to, say, Mainland China), Gillian Chung as a young woman who gets all violent when hearing her full name getting uttered, and Ekin Cheng as a chatty taxi driver named Lo Tai (which, when inverted, becomes Tai Lo...) who gets sucked into the Twins' adventures that began with their answering a mysterious job ad that turns out to have been created by the Black Rose -- is supposed to be a comic offering. Accordingly, much of it -- including a scene where the off-the-rocker Black Rose forces Lo Tai to painfully pick roses that were stuck to their thorn-encrusted stems for her with his mouth -- clearly is devoted to trying to elicit laughs, chuckles and such like from its audience.

But, of course, whether PROTÉGÉ DE LA ROSE NOIRE's attempts at comedy were successful is another matter altogether. And much as I would have liked for it to have been otherwise, my feeling is that most of them fell terribly flat. To add insult to injury, even those that got me chortling were ones that came across as silly as well as mere single note sight gags (like Ekin dressed up to look like Batman's Robin and Teresa Mo's long hair showing the effects of her having been hanged upside down for a time) rather than instances that were funny in a way that smacks of true comic genius. To sum it up then: What a disappointing movie this turned out to be; and so much so that if the personalities who headlined it are not going to lose their fans, their next work really ought to be far better than this.

My rating for the film: 4.
---