Magic Kitchen
---
Reviewed by YTSL
Wong Kar Wai. Tsui Hark. Ann Hui. Johnnie To. Wong Jing. Love them or hate 'em, it's undeniably so that these are auteurs who are familiar to a large percentage of Hong Kong filmophiles. Additionally, there are a sprinkling of others -- e.g., Alan Mak, Riley Yip, Wilson Yip and Barbara Wong Chun Chun -- who have latterly gained a following and reputation on the basis of a handful of, sometimes less than that even, offerings. However, while many fans of Hong Kong cinema have viewed at least one movie in which erstwhile United Filmmakers Organization (U.F.O.) partner, Lee Chi Ngai, had a hand (be it as director, scriptwriter, producer or art director), his is a name that does not seem to be readily recognizable to quite a few folks.
Maybe this is the result of Lee Chi Ngai's not having worked for a while; what with his having decided against being involved with "The Touch" and "The Sleepless Town" (1998) consequently being his last directorial effort before he finally returned to the Hong Kong film-making scene in 2004 with MAGIC KITCHEN (which he scripted as well as helmed). Perhaps it's due to his versatility (It can be hard to believe that the man who made his directorial debut with a rape revenge work entitled "Vengeance is Mine" could go on to helm such U.F.O. works as the feel good "He Ain't Heavy, He's My Father" and the thoughtful as well as magical "Lost and Found"). In any case, his name being attached to this Chinese New Year offering -- rather than it having a star-filled cast headed by Sammi Cheng, Jerry Yan (of F4) and Andy Lau -- is what got this admittedly not always in the majority (re)viewer all interested in checking out the movie that has been described as a comedy but turned out to be too preachy to strictly qualify as such.

MAGIC KITCHEN centers on a sweet, even if insecure, woman named Yau (essayed by Sammi Cheng) who is a successful restaurant owner and does much of the cooking that takes place in the establishment's kitchen. Unbeknownst to almost all bar for her faithful assistant, Siu-Ho (who's played by a broody as well as dubbed -- in the Cantonese version of the film -- Jerry Yan), though, the recipes that she follows to cook up a whole host of culinary delights were actually thought up by her food lover mother -- an individual who would conjure up a feast in honor of even an accidental slip by President Reagan! -- rather than herself. Furthermore, Yau doesn't seem to possess much of a love of food, never mind food preparation, and thus considers herself a fraud who's in major danger of being found out should she ever do such as accept a tendered invitation to appear on a popular Japanese TV cooking show.
Nonetheless, Yau allows herself to be talked by Siu-Ho to visit Japan and check out the rules, regulations and conditions which she would have to adhere to if she were to take part in that "King Chef" TV program cum cooking contest. While in the Land of the Rising Sun, she bumps into an old flame (Tsuen Yau is attractively portrayed by the guest-starring Andy Lau). Although she tries -- albeit in neither the most efficient nor ideal way possible -- to get him re-interested in her, they return to Hong Kong without truly reconnecting. While this was bad enough, worse was to come: as in Tsuen Yau turning out to be going out with one of Yau's two best gal pals (i.e., the sophisticated May who is played by a badly dubbed Maggie Q, as opposed to the other guy-magnet essayed by Nicola Cheung). As a result of this state of affairs, Yau finds herself with more than her suspect culinary abilities, never mind a cooking contest, preying pretty heavily on her mind...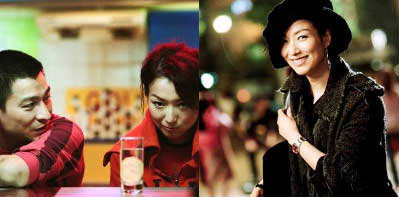 ...Although certain connections are made between Yau's loveless, for the most part, culinary activities and her (in)ability to come by true love with a man, they generally seem rather forced. Additionally, if I were asked whether MAGIC KITCHEN is more a film about food (and/or cooking) or love, I would immediately answer that it's primarily a romance -- and one that neither needed nor gained all that much from its main character being a cook (or, more accurately, restaurant owner). Therein lies one fairly substantial problem that I have with this uncommon Lee Chi Ngai movie whose surroundings didn't jive with as well as was far away from effectively functioning as an additional character for its main story.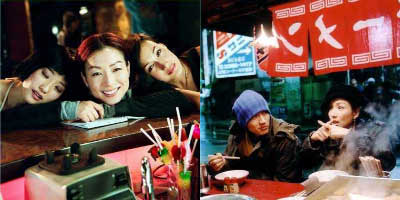 Another is the lack of chemistry that Sammi Cheng has with the veritable parade of men -- bar, as one might expect, for Andy Lau -- who appeared as her character's possible love interests. In all fairness to them, Stephen Fung seemed to really only be there to be comic relief as well as was in just a few scenes, and Daniel Wu is in MAGIC KITCHEN for even less time than his fellow Chinese-American actor (As an aside: what with its also having Michael Wong in its cast, this effort appears to have an unusually high Asian-American quotient). However, it is a damning indictment on the offering as well as the individuals involved that its leading lady and main man (Jerry Yan, unfortunately) fail to generate sufficient sparks and sparkle to cast light as to why anyone would think that this duo would make for a real winning combination at the box office or anywhere else. Indeed, on the face of their interactions in this work, it would seem that Ms. Cheng might do much worse than consider having Anthony Wong (who has a small role here as a writer neighbor of Yau's -- and seemingly can do no wrong these days) play a romantic partner of hers in a future dramatic offering instead.
My rating for the film: 6.
---