Men Suddenly in Black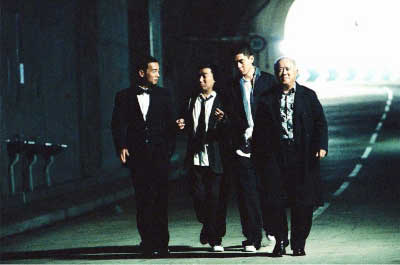 ---
Reviewed by YTSL
According to the HKMDB, Edmond Pang had his first credited association with a Hong Kong movie in 1999, when he appeared along with the likes of Allen Ting and Elvis Tsui in the Ryan Law reviewed "Mysterious Story I: Please Come Back". Nonetheless, it appears safe to suggest that this multi-talented individual didn't get noticed by too many Hong Kong filmophiles until 2001: The year in which his "Full-Time Killer" novel was made into a Milkyway Image production by Johnnie To and Wai Ka Fai, and he himself directed, co-produced and co-wrote the script -- the latter two along with Vincent Kuk -- for "You Shoot, I Shoot" (A thoroughly inspired comic effort that wasn't a big box office hit -- and has yet to be released on DVD -- but certainly is not bereft of enthusiastic admirers).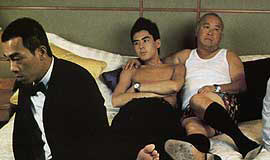 The year after that saw Edmond Pang apparently withdraw from the Hong Kong film scene. Rather than beating a premature retreat however, the man who has had show business ambitions since he was a schoolboy appears to have been making preparations during that time for his latest and biggest -- plus, as it turns out, most successful thus far (what with this audacious 2003 comedy's takings having passed the HK$10 million mark in cinemas) -- assault on the HKSAR box office; one in which he had an on-screen role as well as has sole directing and original story plus co-scripting (along with Ye Nianchen and Erica Lee) credits. In the process, he has supplied the once dominant United Filmmakers Organization (UFO) -- which produced this slick effort along with the previously unheard of Anytime Pictures Company -- with its first commercial hit in a while.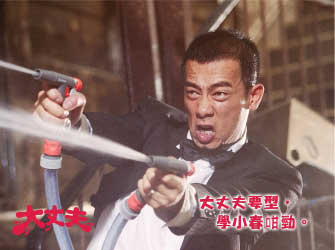 MEN SUDDENLY IN BLACK is a star-studded plus cameo-filled offering that can be seen as one more episode in the on-going battle of the sexes. Taking as his inspiration a 1969 laugh fest entitled "Clever Wives and Stupid Husbands", Edmond Pang has fashioned a work whose central story concerns a quartet of men (Eric Tsang, Jordan Chan and Chapman To play the married men of the party while Beijing model, Jia Zongchao, has the virginal male role) who are intent on seeking plus having a good ol' sexual time while their "better halves" (who come in the form of Teresa Mo, Candy Lo, Marsha Yuen and Tiffany Lee) are off on a presumably less sex-filled holiday in Thailand. And although it may seem unlikely upon learning about the film's cheating males premise, what's likely to tickle its viewers' funny-bones in equal parts are both the four main men's diverse plus increasingly desperate efforts to achieve their goals, and the women's counter-moves upon discovering what their men appear very much intent on accomplishing.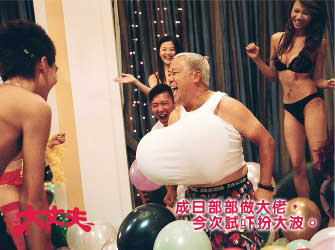 Other aspects of MEN SUDDENLY IN BLACK that will undoubtedly amuse are its parodies of certain sections of well known movies. One scene that has caught the eye of those who have seen the probably "only in Hong Kong..." offering's trailer is that which has Eric Tsang duplicating to a "T" in this effort some trademark actions that had been enacted by his character in "Infernal Affairs". Other segments which are more general in nature -- but no less mirth inducing for being so -- include those which count on its audience being familiar with those dramatic offerings that glorify "heng tai" ties, individual sacrifice on behalf of (other) errant members of a familial group, and John Woo-esque gun battles in which heroic figures have a gun in each hand and fire them while gracefully executing mid air leaps. Additionally, as a friend who's more familiar with Hollywood than Hong Kong productions pointed out, musical scores from American films are just as likely to be utilized to elicit laughs in this movie as just about anything else that has a place in Jade Theatre fan memory banks.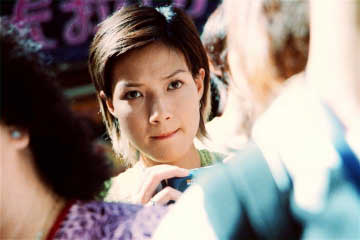 Then there's the cameos and guest starring appearances -- four of which this (re)viewer feels obliged to single out. Admittedly, Sandra Ng didn't get too much screen time in MEN SUDDENLY IN BLACK. However, her eye-catching role as the exemplary female figure for determined and wily wives like Theresa Mo's character is as crucial to the movie's main story as Tony Leung Kar Fai's guffaw evoking part as a martyr whose exploits are deemed worth commemorating plus emulating by misbehaving boy-men who are apt to under-estimate as well as -value many a member of the female gender. As for the third of this supporting foursome: While the strangely coiffed Natalis Chan (who is, for good measure, credited as a co-presenter of this work along with Bruce Ren) has his detractors, I'm betting that even they will be unable to keep a straight face when taking in "Brother Clever"'s contribution in this often side-splitting film.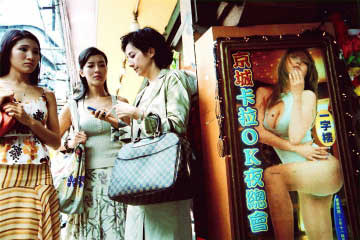 Last but not least: Although Maria Cordero (as Jo Jo, the now very plump first love of Eric Tsang's character) initially looks to have been placed in the picture as the butt of especially mean-spirited jokes, hers is a part that happily turns out to have more dimensions than that of many a superficially more attractive gal in the MEN SUDDENLY IN BLACK frame. Indeed, the way that pretty much all of the salient women characters in it end up faring, even if not acting, ought to ensure that this well written work -- which contain some gems in its dialogue (e.g., an outlandish query re whether the movie's main men wish to be "wankers or fuckers"(!) plus some prescient suggestions as to what will happen in a match between Arsenal and Manchester United) -- will have its share of female as well as male fans.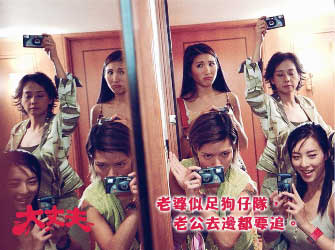 My rating for the film: 8.
(Pictures borrowed from www.163.com)

---