My Life as McDull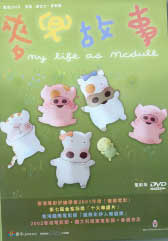 ---
Reviewed by YTSL
Cross-dressing women warriors. Pistol-packing gunmen. Lovely female ghosts. Quick witted and fast talking "mo lei tau" comedians. Quirky females bursting with personality who tickle funny bones and are lovable precisely because they are imperfect beings who one can imagine encountering in one's life (as opposed to those cool goddesses who need to be worshipped and placed on pedestals). Sensitive young males who are not above shedding a tear or more for the tragic objects of their affection and/or what their lives might have otherwise been. These are the kind of protagonists that I have become accustomed to seeing in a Hong Kong cinematic offering.
To my mind, MY LIFE OF MCDULL's main character possesses -- and in spades -- that vulnerable "lost boy" quality that I found so endearing about the individuals essayed by Takeshi Kaneshiro (in such as "Chungking Express" and "Fallen Angels"), Tony Leung Chiu-Wai (particularly in "Chungking Express") and Leo Koo (in "Task Force" and "Cause We're So Young"). From this viewpoint, he thus looks to fall squarely into a recognizable plus appealing category of Hong Kong movie man. However, in at least two ways, the anti-heroic personality in question undeniably differs quite a bit from the arguably actually pretty wide-ranging established norm. The lesser of these comes from his being a juvenile -- who appears to be even younger in age and mentality than, say, the titular "Little Cheung" or even "The Kid" -- for much of this 75 minute length film. The greater one is the result of the humbly named McDull (as opposed to, say, McNificent or McMug) being, for the most part,...and there really is no way getting past this...a cartoon character: To be precise, an animated piglet.

If the porcine physical form of this cute creation of Alice Mak (who is billed as the art director of this Toe Yuen directed plus edited film) did not already confer a large amount of novelty onto his person, his aspirations surely would. By this, I mean that the primary personality plus narrator of MY LIFE AS MCDULL (who is equally wonderfully voiced as a boy by Lee Chun-Wai and an adult by Jan Lam) harbors, plus gets shown attempting -- with varying degrees of success -- to realize, "pie in the sky" fantasies and ambitions that include: paying a visit to the advertised "world outside our world" that is the exotic, idyllic Maldives; and becoming an Olympic medalist (first in windsurfing like real life Olympic champion, Lee San San; then for Cheung Chau Island-style bun-snatching); in addition to one that involves his partaking of a delicious turkey Christmas dinner together with his working-class, "middle aged swine" of a loving, but nonetheless high expectation laden, mother (Mrs. McBing is delightfully voiced by Sandra Ng).

Similarly, MY LIFE AS MCDULL does not only stand out from the Hong Kong cinema crowd by virtue of its being a rare -- even though actually not the HKSAR's first -- full length animated work. Instead, the winner of the Fipresci award at the 2002 Hong Kong International Film Festival as well as the HKFA's Best Original Score prize also strikes me as being particularly special on account of such as its the ambitious decision to innovatively set many of its composed specifically for the film lyrics to Western classical music (notably of Mozart, Schubert and Schumann) plus have the one-woman Hong Kong band known as "The Pancakes" give a faster paced than usual, alternative music styled, rendition of "All Things Bright and Beautiful" (as well as lend its voice to at least two minor characters in the movie).
Additionally, there's the twelve person production team's equally creative utilization of a variety of visual styles. To wit, at one end of this artistic equation is a section of MY LIFE AS MCDULL that daringly, even while modestly, consists of not much more than minimalist -- yet, as it turns out, not at all uninteresting -- black lead pencil on mono-colored craft paper sketchings. On the other are those far busier portions of this remarkable offering that have McDull, Mrs. McBing and a whole host of other hand illustrated characters (including more than one adult male who sounds, for good reason, like Anthony Wong) figuring in scenes whose backgrounds can go -- in the blink of an imaginative eye -- from being computer generated photographic images of portions of Hong Kong (that those who have visited them will be able to easily recognize) to a segment that looks like it could have been taken from out of a video game or something else altogether.

Then, there's the sizable amount and degree of philosophical substance and emotional sustenance that is to be found within MY LIFE AS MCDULL's contents which, among other things, causes me to doubt that this existential product was intended to be solely consumed by children. Indeed, I found two of the most appreciative viewers of this utterly sincere feeling movie -- that contains within it such parental type exhortations and wistful sentiments as "Let the world know that the talent of your children. That is the biggest comfort a woman can get" along with the less age-specific query plus volunteered answer of "You like buns? I like buns"! -- to be my mother and an equally mature friend of hers. In light of these two individuals (and this other appreciative viewer of the work) not being Hong Kongers, conclusive proof also looks to have been furnished for what its producer and scriptwriter, Brian Tse, described as "a totally local creation" which looked to have to have been conceived with the express aim of celebrating as well as "captur[ing] the characteristics and flavours of Hong Kong" (In the HKIFF's "Hong Kong Panorama 2001-2002", 2002:72) being well capable of capturing the hearts plus minds of many members of an international, rather than just its indigenous, audience.

My rating for this film: 9.
---