Love Massacre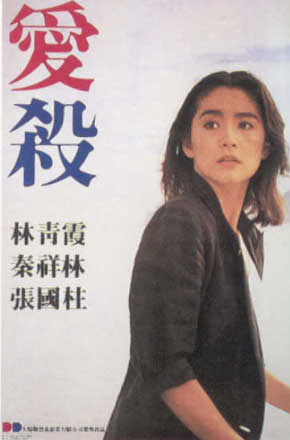 ---
Reviewed by YTSL
The often illogical realm of Asian cinema being what it is, it was almost inevitable that the one film that Brigitte Lin Ching-Hsia made on American soil would: Not be readily available on home video; possess a Hong Konger dominated crew and cast; have her being dubbed into Cantonese by somebody with a not particularly attractive voice; plus be bereft of English subtitles for all but the few minutes that take place prior to the flashing of the movie's opening credits. Under most circumstances, that last detail alone would make me disinclined to check out this 1981 work. However, on account of the Patrick Tam helmed effort starring my favorite actress, having been shot at an interesting point in her life and career (i.e., in the period after she had fled Taiwan to escape the love scandal which had enveloped her and Chin Han, and before she had set out to re-establish herself in Hong Kong) and happening to be a rather unusual (sub-)category of movie (to wit, an art-house slasher thriller), I found that I couldn't resist the lure of viewing -- and then sharing some of my thoughts re -- it.
LOVE MASSACRE starts off with a stunning view of a red dress clad Brigitte Lin walking in a desert-like space, towards and up a sand dune, and leaving a long, solitary trail of footprints in her wake. Then, abruptly, it shifts its focus to two other individuals, who stand and tensely talk on a bridge that spans a still- looking body of water. Shortly afterwards, we (the audience) are treated to the chilling sight of the female of the pair slitting one of her wrists with a blade. Before this (re)viewer had a chance to fully comprehend what she had just seen, this "new wave" Hong Kong film suddenly cuts to its boldly written opening credits (that are accompanied by blasts of sound that are a real contrast to the haunting reed music that had played earlier on -- and would also later figure -- in the work).
For all of the air of mystery along with the seed(s) of horror that were planted in its first few minutes though, much of LOVE MASSACRE actually proceeds in a rather straightforward -- and consequently easy-to-follow, even if clearly artistic (e.g., this is the kind of work in which people are seen casually strolling through art museums) -- manner. Early on, it gets established that the suicidal woman is named Joy, the man on the bridge -- whose plans to go to New York she had voiced dissent to -- is named Louie, and that Joy harbors suspicions -- and is clearly jealous of -- Louie being in love with her room-mate, Ivy Lin. Upon learning that Louie is played by Charlie Chin (who not only happens to be a frequent co-star of hers but also actually was engaged for a time to the actress known as "Wondrous Beauty") and Ivy is portrayed by Brigitte Lin, those familiar with Lin Ching-Hsia's Taiwanese romantic weepies might jump to the conclusion that this movie will follow the lines of a conventional melodrama and center around a love triangle involving sweet faced Ivy, unhappy Joy and the handsome Louie. With the entry of a fourth character (the clearly upset Joy's elder brother, Chiu Chung; who gets essayed by Chang Kuk Chu) into the picture though, this is shown to not be the case.
Indeed, before too long, Joy (who is played by an actress whose name I do not know) is permanently removed from the story, having died -- in circumstances that could be construed as accidental but, given her history, might well have been purposely brought about -- the same evening or night that Ivy and Chiu Chung consummated the relationship between them that began shortly after the Hong Kong man's arrival in San Francisco (where the bulk of LOVE MASSACRE takes place). After his sister's funeral, Chiu Chung goes home to Hong Kong, but not before issuing a "wait for me" command to Ivy. If she hadn't consequently found out that he was in fact a married man (whose wife gets portrayed by Deannie Yip), she probably would have happily done so. Instead, she learns to get over both him as well as the sorrowful state she momentarily fell into upon learning of his marital status.

Things might have proceeded happily on from there if not for it being so that, in the first half hour or so of the film, doubts had gotten cast over the psychological stability of not only Joy but also her elder brother. After news reaches her regarding the premature death of Chiu Chung's wife, Ivy understandably starts to feel fearful for her safety as well as her erstwhile lover's mental health. Despite her not living alone (but, instead, in a small residence hall type facility with (at least) seven other ethnic Chinese females) as well as having Louie still around in town, she is filled with a sense of unease…that gets greatly exacerbated upon her getting solid proof of Chiu Chung having returned to San Francisco. Thereafter, as Ivy does her best to avoid Chiu Chung even while he does his utmost to see more of her, tension mounts and suspense builds; and, to say the least, the audience's nerves are jangled all the more with the realization that this offering -- whose art cum assistant director, William Chang, has made heavy use of reds as well as whites (e.g., we see lots of all too easily stained white walls, clothing, bed sheets, bathroom ceramics and kitchen furniture along with a red sports car, red strawberries, blood red tomato juice, shiny red lipstick on Brigitte Lin's lips, a pair of similarly colored short shorts, and – of course – red blood) -- is in fact entitled LOVE MASSACRE.
In terms of dramatic, aesthetic and technical quality, LOVE MASSACRE is clearly a cut above many -- if not all -- of the Taiwanese works that Brigitte Lin had previously graced. Something that this production's cinematographer, Brian Lai, shares with the cameramen who the Taiwanese movie goddess had worked with prior to making this film, though, is a propensity to shoot a lot of close ups of the then twenty five year old actress' lovely visage. I see no reason why viewers of this intriguing offering -- along with Brigittephiles -- will not be appreciative of his doing so. It's always nice, after all, to have some breathtakingly beautiful images to take in and remember (to help counter-balance the less pleasant others that this Joyce Chan-scripted effort also yielded).

My rating for the film: 7.5.

---