Black and White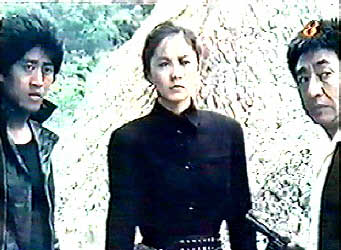 ---
Reviewed by YTSL
Many Hong Kong moviephiles (primarily) think of Brigitte Lin Ching-Hsia as the actress who plays cross-dressing martial women -- and sometimes formidable men -- whose wrathful glare can do major damage to the physical being and psyche of those who have wronged her (or him). Fans of her older Taiwanese films tend to remember her fondly as the adorably cute and sweet star of a whole host of tear-jerking melodramas along with a few light romantic comedies. While her vivid and multiple portrayals of such characters are indisputably a large part of her filmographic legacy, it ought to be realized that this seriously stunning woman, whose visage has graced at least 100 cinematic offerings, actually does have an acting and role range which is way wider than that which she often has been credited as possessing.

I consider it a testament to Brigitte Lin's ability to give a multi-layered portrayal -- in pretty much any condition and circumstance -- that quite a few of the characters she was asked to play in her interesting career have been ones who end up being shown to be way more than first meets the eye (General Tsao's daughter in "Peking Opera Blues", Asia the Invincible in "Swordsman II" and Murong Yin/Yang in "Ashes Of Time" readily come to mind but there's also the women she essayed some years earlier in movies as diverse as "Wild Goose On The Wing", "All The Wrong Spies", "The Other Side Of Gentlemen" and "Pink Force Commando"). In the often opaque BLACK AND WHITE, the Miss Kuan character that she portrays is yet another of these individuals who effectively lead double lives (and/or have dual personae); what with her being a glamorous nightclub owner -- whose wardrobe choices are predominantly black and white (but also includes such as the classic tan trenchcoat) -- who turns out to also be involved with plans to smuggle out of the country a valuable arms shipment she and her group had previously stolen from some German military men -- whose accoutrements include Prussian-type pointed helmets, iron cross medals, jack boots and the kind of uniforms associated with Nazis but minus their infamous swastikas -- and their Chinese cronies.

BLACK AND WHITE's proceedings are set in an area classified as the German Concession in China and alternately spelt as Tsingtao and Chingtao in the offering's English subtitles. Its time frame is not too clear though. If one were to judge from the clothes on display, it would seem that this action film's makers sought to generally locate it in the early part of the 20th century. However, on account of one of them very possibly being the rather weird visioned Chu Yen Ping (A Chao Yu-Peng is credited as the movie's executive producer), the sense that the (re)viewer gets is much more akin to that which comes from having stepped into a parallel universe rather than an expert recreation of a particular historical period. Consequently, it surely would be best to assume that this 1983 Taiwanese production is indeed entirely a work of fiction, and thus not get too hot under the collar about such as seeing one character's leather biker outfit looking way more contemporary looking than that of the others but also watching a child being tortured by the offering's chief villainous figure (the one man given to casting evil looks at our winsome heroine, in whose seductively manipulative hands his superiors -- Colonel Meyer and Commander Feng -- turn into putty).

BLACK AND WHITE has a story that seems rather single-stranded and simple (revolving around the previously cited arms shipment). However, it is rather confusingly as well as meanderingly presented. To be sure, it did not help this non-Mandarin language listener that a few minutes into the film, its subtitles get cropped from the bottom and on the sides, and thus become difficult to read. I really do think though that this work also suffers a lot from poor editing contributing heavily to a sometimes quite jarring lack of continuity. Something else to consider is that while this effort definitely is not as demented, amateurish or outright bad as the absolutely atrocious "Fantasy Mission Force" and "Amazon Commando" (both of which it looks to have shared sets -- as well as Brigitte Lin -- with), it sure does have its share of odd sights and Spaghetti Western-like sounds.

While mine is an admittedly biased view, I honestly can't imagine many Hong Kong film fans wanting to hunt down BLACK AND WHITE to watch for anyone other than the often very radiant looking Brigitte Lin (who, in many of her Taiwanese works, really does appear to be several classes above everyone and everything else in them). Nevertheless, here's also mentioning two others of the movie's cast members who some may recognize and have interest in: Sun Yueh, who here plays a man referred to as Uncle Mai (who was initially involved in Miss Kwan's undercover dealings in a manner which I'm unsure is entirely conscious or good but ends up having his mother as well as himself saved from the Germans by her and her people); and Blackie Ko, whose part as a pickpocket named Hsing Erh -- who is one more ally of Miss Kuan -- allows him to showcase his considerable stunt as well as his more questionable acting talents.

My (undoubtedly inflated due to its starring Brigitte Lin) rating for this film: 5.5

---