All for the Winner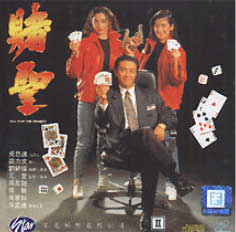 ---
This 1990 film was Stephen Chow's first comedic hit and was to begin his journey into becoming HK's resident comic genius. Previously, Chow had been in a few dramas and a few decent comedies, but in this one he successfully brings together certain comedic elements that he was to often use and build on during his career – a naïve almost blank persona, film parodies, toilet humor and verbal banter among others. The film is quite humorous – though in a low-key manner - but it also has a few top-notch action scenes as well as a few moments that feel very heartfelt. It is a jewel of a film and it is no wonder that it was a box-office hit.
It was also his first true pairing up with his sidekick Ng Man-Tat. The two of them have since appeared together in many more of Chow's films and have developed a real bounce off one another type of chemistry.

After the huge popularity of Chow Yun Fat's 1989 God of Gamblers, there was an outpouring of films with gambling themes. Chow, though going for the humorous angle, was clearly influenced by that film and at one point he actually watches God of Gamblers in order to learn how to look cool. Of course when he makes a grand entrance in slow-mo ala God of Gamblers – everyone thinks he is crazy.
Chow comes from the Mainland to stay with his uncle – Ng Man-Tat – who soon learns that Chow has psychic powers and the ability to look through things. Chow is such an innocent that he has never used his powers for any personal gain, but under the wise (and greedy) tutelage of his uncle, Chow is directed into the world of gambling. Clearly the ability to see the cards and read the minds of horses is a big plus and soon Ng Man-Tat and Chow are making lots of money and coming to the attention of others. On one occasion a gang of thugs come after them and Chow displays some stunning martial arts abilities.

Eventually he comes across the beautifully divine angular looks of Cheung Man who is a killer for a big shot gambler – Paul Chun Pui and falls madly in love with her. Cheung Man was to become Chow's favorite female co-star for many years until a falling out. She looks great here – has some very nice action scenes – and nearly steals every scene she is in.

Finally the World Championship of Gamblers takes place and Chow has to face Paul Chun only to discover that his powers have disappeared – and only the power of love can bring them back.

This film really doesn't have a weak moment – but it also doesn't have too many laugh out loud routines. One that was though was absurd and was a wonderful hint of things to come in future films. In this routine Chow becomes attached to Sandra Ng's under arm mole because it reminds him of Cheung Man and she has to keep her arm up to keep his powers intact. Chow takes it to some very funny extremes.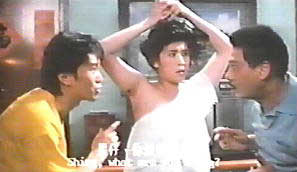 There is also a nice turn done from Corey Yuen who plays one of the people that Ng Man-Tat lives with and he is the conscious of the movie.
My rating for this film: 8.0




---