Hail the Judge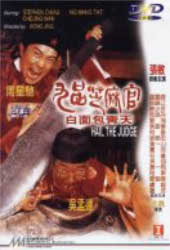 ---
Reviewed by Caroline Chai
Starring Stephen Chow, Ng Man Tat, Cheung Man, Christy Chung, Ada Choi, Lawrence Ng, Elvis Tsui Kam-kong, Joey Leung, Ha Ping, Yuen King Tan, Ngai Sing, Gabriel Wong, Lau Shun, Ku Feng, Lui Fan

---
Iíve never been a big Stephen Chow movie fan although Iíve enjoyed a few of his movies. So I was a little nervous about getting the vcd. However, since I quite happily admit to being an Ada Choi fan, I decided that any movie with Ada in it is worth at least one viewing.

Chowís Bao Lung Sing is the descendent of the legendary Chinese magistrate Justice Bao Qing Tian. However, Bao Lung Sing isn't quite as upright or as smart as his more famous predecessor. The whole town hates him because he is corrupt. However, he's such a loser that he can't even make money from being corrupt and he's constantly being made a fool of by a cunning and unscrupulous lawyer (Lawrence Ng.)

After a series of events Bao Lung Sing is mistaken as a good official and he decides he likes the way people treat him. Also by that time heís met Cheung Man whom he finds very attractive. So when Cheung Man is framed for the murder of the entire Chi family, he decides to be a good magistrate. However, the real culprit is the son (Ngai Sing) of a powerful man (Ku Feng) with many powerful connections and our hero and his trusty sidekick, his nephew (Ng Man Tat,) must go through much to save her. On the way, he picks up a wife (Christy Chung) and meets the delightful Ada Choi. Ada is a pleasure to watch as usual. Unfortunately, she doesnít get much screen time, although what she has she makes use of effectively and memorably.

Like most Stephen Chow films, itís all very silly fun and fairly quickly paced. The first half of the movie is enjoyable although it loses it's way a little when it takes a little detour to the circus... literally. The film really picks up steam again in the latter half when Bao Lung Sing ends up working at a brothel after his scheme to get a free meal is exposed by Ada Choi.
While there he observes how the shrewish mistress of the brothel (the wonderfully funny Yuen King Tan) defeats her opponents by out-talking them. Bao Lung Sing is impressed and decides to train so that he can pick up this skill too. These are actually some of the funniest scenes in the movie as it takes typical training and fighting scenes from martial arts films and spoofs them.

All in all, Hail the Judge is quite enjoyable and while The Chinese Odyssey 1 & 2 still retain their position as my favourite Stephen Chow films, Hail the Judge isn't far behind.
---
DVD Information:
Distributed by Mei Ah
The transfer is very spotty - at times fairly decent and at other times blanched out. The night scenes are quite soft as well.
Letterboxed
Cantonese and Mandarin language tracks
The subtitles are burnt on Chinese and English
There is no menu - and so no extras
There is a five minute stretch near the end in which the sound gets all muffled and the subs disappear.
Another version has been released by Universe which I imagine is much better.
---