All's Well Ends Well '97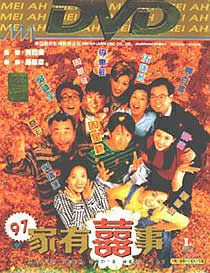 ---
Reviewed by YTSL
The family-centric all star cast Chinese New Year comedy is a Hong Kong movie specialty that this (re)viewer has a weakness for. Thus far, I've found quite a bit to enjoy in those of the often loose and chaotic but nevertheless rib-ticklingly funny affairs that bear producer-actor Raymond Wong's particular imprint (e.g., "The Eighth Happiness", "It's a Wonderful Life" and that with "All's Well, Ends Well" in their title). This 1997 offering is no exception to the rule.

ALL'S WELL, ENDS WELL '97 has the (now) familiar structure of a series of admittedly flimsy plots and subplots which revolve around a father, those of his children who still live in the same house as him, and their sometimes not sufficiently romance-filled romantic lives. This particular offering's widower patriarch comes in the form of the deceptively stern Roy Chiao. Raymond Wong plays the eldest of three sons, a businessman who is married to a very nice but made-up to look beyond plain Christine Ng. The versatile Francis Ng has the role of the shy perennial scholar son who wants to cling on to his first love -- a difficult personality played with some relish by Amanda Lee -- much to the chagrin of his family, who would prefer to go for the honorable woman essayed by pooky-faced Wu Chien Lien. Stephen Chow plays the truly irresponsible son who cavorts around town in the company of such as Gigi Lai but whose eye gets caught by a martial arts expert who masquerades as an idiot -- to guard her widowed mother from bad suitors -- surprisingly convincingly portrayed by Christy Chung.

ALL'S WELL, ENDS WELL '97 is a farce from the start but the absurdities begin to particularly pile on in earnest when two of the brothers play a trick on the third which leads to his in turn deciding to comprehensively and long-term fool his entire family. For reasons that I can't quite pinpoint though, the actions of Stephen Chow -- who plays the individual who feels wronged and attempts to get his own back by literally becoming a fool for much of the film -- were not the ones which elicited the biggest laughs out of me. Instead, it is that which involves Wu Chien Lien -- which has her character pretending that she's been be supernaturally possessed -- and those which had Christy Chung twice putting on great acrobatic and battling shows which positively sent me into hysterics (N.B. This film's action sequences were choreographed by Chin Kar Lok)!

Additionally, the subplot which focused on Christine Ng and Raymond Wong -- but also involved Emil Chow (as an outgoing photographer cum author admired by Ng's retiring housewife character) as well as others in ALL'S WELL, ENDS WELL '97's main family -- turned out to feel more substantive than one might think could be possible. For that matter, so too did a short conversation between a father and what he thought was an already asleep -- and, anyways, beyond understanding -- son. To some extent though, such might have been expected to exist in one of those films that can seem as intent on ultimately celebrating family solidarity as well as ringing in a new lunar year. It also was not unpredictable for this 1997 effort to make references to the Handover that would occur later that year and take the stand that those who chose to see Britain -- rather than China -- as their motherland were not particularly admirable individuals.

For the most part though, this is a film that is meant to not be taken seriously at all. As such, it will appeal more to those viewers who delight in spotting cameo appearances rather than political references. For the record, according to the cast list provided by Joseph Fierro's sadly defunct Hong Kong Cinema site, the hardly classic -- and at times tired feeling -- but still enjoyable ALL'S WELL, ENDS WELL '97 gets briefly graced by a whole bunch of movie folk who include: Alfred Cheung (who directed this work), Leslie Cheung (who also appeared -- and for a much greater length of time -- in the previous two "All's Well, Ends Well"s), Chingmy Yau, Law Kar-Ying, Wong Yuk-Long, Michael Chow, Teddy Robin Kwan, Anita Lee, Fun Nei, Diana Pang Dan, Pauline Yeung, Liz Kong, Chu Kit-Yi, Josie Ho Chiu-Yee, Yeung Yuk-Mui, Cheng Yim-Lai, Si Yi-Lin, Chan Yi-Ming, Michael Lam, Simon Lui, Bao Hei Ching, Law Koon-Lan, Law Ho-Kei, Fung Yi-Ching, Choi Kwong-Kin, Si Kai-Keung and Lee Shun-Yun.

My rating for the film: 6.5
---
DVD Information:
Distributed by Mei Ah
The transfer is very nice - clean and sharp.
Letterboxed
Cantonese and Mandarin language tracks
The subtitles are Chinese or English or None
Chapters - 15
There are no trailers or other extras.
---