Curry and Pepper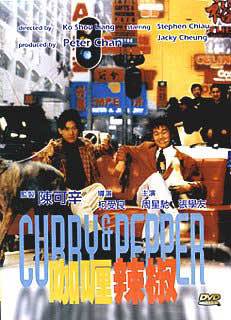 ---
Reviewed by YTSL
There are quite a few fans who lament that Hong Kong movies are not what they used to be. If I were to base my opinion on this matter on this 1990 film, some of whose cast but especially crew would go on to become the Jade Theatre's leading lights later in the decade, I would have to thank the stars that this is the case.
Amazingly, among the individuals in question -- whose efforts did not come to much here -- are: Two founders of the United Filmmakers Organization (UFO); the screenwriter of some of that company's best offerings (E.g., my favorite "He's a Woman, She's a Man" and its often under-rated "Who's the Woman, Who's the Man" follow-up); a cinematographer who has gained particular fame and fortune as the director as well as cameraman of the trend-creating "Young and Dangerous" series of Triad movies; not to mention the true box office king -- more so than Jackie Chan and Chow Yun-Fat -- of the oft labeled Eastern Hollywood. Truly, if I had not beheld this work, I would not have believed Peter Chan and co. to be capable of such uninspired -- even while still generally technically competent -- effort.

CURRY AND PEPPER has comic, dramatic, romantic and action components which may have been alright -- very good even -- on their own but whose effectiveness was frequently undone by their being combined with what they were. A similar thing could be said of its two stars (Jacky Cheung plays a detective inspector named Curry; Stephen Chow acts as his partner and long-time friend, Pepper): Both of whom would have benefited from playing off a straight man but don't get much opportunity to do so in this James Yuen scripted work which no one seems to be all that sure about with regards to what it ought to be (not least its director, Blacky Ko, whose on screen presence -- as a menacing gunman whose wrath gets incurred by our heroes (and vice versa) -- was the one which ran most counter in mood to all of the featured others).

Although the versatile Eric Tsang is also in this Andrew Lau lensed picture (as a small-time crook who is a friend as well as informer for the two not very orthodox plain-clothes policemen), his CURRY AND PEPPER role seems generally intended to make proceedings even more farcical (rather than grounded -- but still far from devoid of humor -- in the way that those he essayed did to great effect in works like "Comrades, Almost a Love Story", "Task Force" and even "Fly Me to Polaris"). Ditto with regards to John Sham's screechy cameo appearance as a bad-tempered cook whose wonton noodle dishes lack wontons (yet probably have more flavor than Ann Bridgewater's attractive looking but personality devoid TV reporter character as well as the love -- or should I say lust? -- interest that she is asked to represent).

Judging from the often infantile behavior of many of the film's characters, much of this work is played for laughs. But what then are we to make of CURRY AND PEPPER's violent -- as well as quite spectacular -- action segments? To put it mildly: A high body count is not what one would expect of a Peter Chan production. Even more shocking was its containing a bitterly anti-elitist streak along with an unfortunate tendency to have the assorted villains be of non Hong Kong extraction. This soccer fan additionally found it annoying that it could not be realized that most of the world -- and surely former professional player, Eric Tsang -- knows that "the beautiful game"'s World Cup Finals DON'T take place around Christmas. Ultimately though, the biggest crime committed by the not untalented folks involved with this disappointing movie may well be their having churned out something so mediocre that (even) I can't really be bothered to get all that indignant or excited about any aspect of it.

My rating for the film: 4.5
---
Reviewed by Brian
I actually found much of this film to be easy going and pleasant viewing. It can't really be considered a Stephen Chow vehicle as this was made before he hit it big and he has to share the screen equally with Jacky Cheung. The first half of the film is fairly silly and innocuous (though very far from Stephen Chow hilarious), but they play off each other to good effect. The film hits a bit of a slow drag when it gets very dopey about Jackie's relationship with Ann Bridgewater (looking very stunning here and from what I witnessed a hell of a good kisser!) and how this hurts his friendship with Stephen. But it comes back with a huge bang as the two of them take on a shipload of bad guys and the action displays elements of John Woo and a few gunplay moments that looked very Hard Boiled - except Hard Boiled was two years away.

My rating for this film: 6.0
---
DVD Information:
Distributed by Universe
The transfer is so so - clean picture but the colors are muted and blanched out at times.
Letterboxed
Cantonese and Mandarin language tracks
The subtitles with 4 choices: Chinese (Traditional), English, Chinese (Simplified), Bahasa Malaysia
8 Chapters
It has it's own trailer plus previews for Fun and Fury, The Last Blood, and Alan and Eric: Between Hello and Goodbye.
There is cast infomation for Stephen Chow, Jacky Cheung
The subs are easy to read.
---