My Loving Trouble 7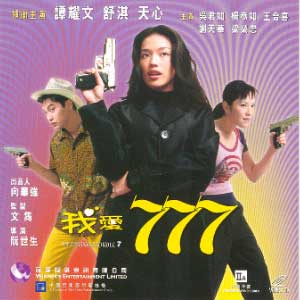 ---
The critics panned this film, friends that saw it snorted with disdain, it lay like a dead fish in theaters in HK for a short run – but damn if I didn't find this to be a sweet and quite enjoyable film. It worries me. Have I lost my objectivity? Who am I kidding? I've never been particularly objective when it comes to Hsu Chi. I just think her face is glorious and I am willing to overlook many cinematic sins if she is in a film. People have stated that she looked tired and haggard in this film, but at least on the small screen she looked sleek and elegant and she gets enough close ups to satisfy any Hsu Chi fan.

The film though is not simply Hsu Chi – it is a frothy light as air confection that kept me amused from beginning to end. It is a romantic spy spoof with a comedy style that falls somewhere between Wong Jing and the UFO comedies. I mention UFO because the writer and director is James Yuen who wrote a number of the better UFO scripts. Often the subject matter (laxatives, voyeurism, large breasted women, gay jokes and sexual misunderstandings) edge very closely into Wong Jing territory, but Yuen is more subtle in his use of them.
Patrick Tam is a director of TV commercials who has to pretend to be gay to be able to get work in that field – but he actually has quite an eye for women. One day while shooting a commercial on the streets of HK, he captures Hsu Chi on film getting into a car. She has what he terms "a camera face" and he wants to track her down for a perfume commercial. He continues to watch his footage of her and starts to fall in love with that face and so when he finally locates her he confesses his love for her. In a terrific "men are dogs" monologue His Chi goes off on him and finally punches him out. This of course only makes him love her more.

So he rents an apartment across the way from her and sets up an electronic surveillance on her and even bugs her apartment. There is of course a problem with this – Hsu Chi is a spy on a deadly mission. Now she may not strike you as spy material – but I'll tell you she looks great in a cat suit (not quite Maggie Cheung in Irma Vep great – but very nice) and plays her tongue in cheek role with just the right balance of seriousness and playfulness.

In a possible homage to the Moon Lee/Yukari Oshima film Dreaming the Reality, Hsu Chi and two others were brought up from childhood to be professional independent spies. In fact the "father" is Mr. Ko - while that figure in Dreaming was played by Eddie Ko. They are spies that contract their services out to the highest bidder and now they have a mission to steal some computer data from a high security installation. Hsu Chi has received a new partner – Candy (Tim Sum) – who is such an airhead that she makes Hsu Chi look mature and grown up by comparison. Candy's only discernable assets are breasts that look as if they are slotted for the next mission to Mars.

This all plays out very humorously and one scene had me gasping for breath even if it has been done a few times before. Tam is electronically eavesdropping on Hsu Chi and Candy as they go through a training exercise. Candy is practicing slithering through electronic alarm beams and Hsu Chi is coaching her – "faster", "spread your legs", "raise them higher" while Candy moans in agony. Tam is turning as white as a sheet. Then afterwards Hsu tells Candy that she has been in the profession since she was twelve and has been hurt by men a few times – even taking on a group of them at once. A horrified Tam thinks he has fallen in love with a "violent lesbian whore" but even that doesn't faze him.
There are a couple good cameos – one from Kristie Yeung as Tam's ex-girlfriend looking for a very funny version of closure – and she has never looked lovelier, from Spencer Lam who once again dons a cassock – and then a great cameo from Sandra Ng as a fellow spy. When she and Hsu are sitting in a bar, Hsu spots Tam and says "I've seen that man before" and Ng responds "Shall we kill him".

Perhaps I have just been subjected to too many really bad HK comedies lately so that this film which has a glimmer of intelligence and originality struck a chord, but I found this to be a charming lighthearted affair that was easily digested. Hsu Chi does a fine job – more subdued than usual – but I think this fit the character well and once again I was impressed by Tam (Century of the Dragon, Legend of Speed) who seems to be quite different in everything I have seen him in and has good presence on the screen. And Tim Sum is a new set of . . . I mean face on the scene and does a nice comical take on her character.
Don't send me hate mail – but my rating for this film: 7.0

---