Bless this House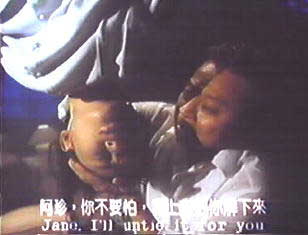 ---
Try picturing a film that attempts to combine elements of the old Cary Grant comedy – Mr Blandings Builds his Dream House – and the horror film – Poltergeist – and with a dash of Doby Gillis and you get a sense of this film. Admittedly, this film is not even remotely as good as any of these – but it's still an interesting effort at mixing these diverse genres. This family film is actually fairly middling as the comedy is pretty bland while the horror aspects are decent at best. Considering the talent behind the camera – Ronnie Yu directing and Fruit Chan as the Asst. Director - one might expect much more.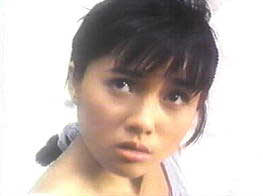 Both Bill Tung and Loletta Lee starred in a number of these family pictures in the 80's (sometimes together) in such fare as It's a Mad Mad Mad World, Merry Christmas, Happy Ghost and Double Fattiness. Loletta was sort of the Sandra Dee of her time – playing sweet perky daughter types. Of course in the 90's, she made a radical image change by performing in Category III films like Girls Unbutton and Sex and Zen II. But those days were still years off in the future and in this film she is perfectly innocent and adorable.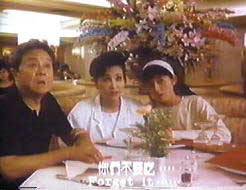 Bill Tung is an architect and as a reward for twenty years of good service his company awards him a large and lovely house on the outskirts of town. He soon moves in along with his wife and two daughters. There is of course a catch. The house is in bad shape with holes in the walls and in the floor – and every time they try to fix it up – something else falls apart - but the family bands together to try and get in back into ship shape.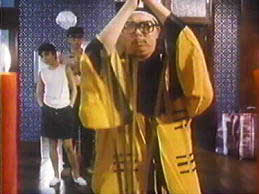 Odd things begin happening – strange sounds in the night, moving plants, blood running down the walls – and a scary wild one-eyed man warning them to move out before it is too late. The family of course ignores all these signs and keeps fixing up the house. When Bill becomes possessed though Loletta hires a Taoist priest (no – not Lam Ching-Ying unfortunately!) to exorcise any ghosts – but a possessed Hoover vacuum cleaner soon chases him out of the house.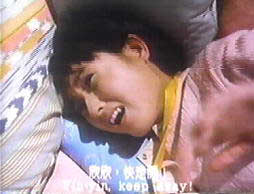 They find out that the previous owners died in a fire and their ghosts seem to need to kill them in order to reincarnate. This leads to one of those wild HK finishes with people and furniture flying about the house. The last fifteen minutes of the film is not too bad – but not very much happens beforehand.
My rating for this film: 5.5

---