01:00 A.M.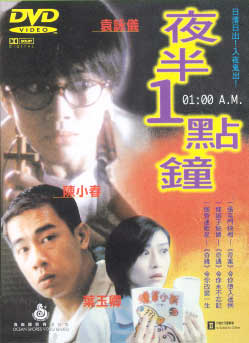 ---
One has to wonder what the point of this horror anthology was. It consists of three different episodes that are less frightening than the leftovers in my refrigerator. They are pleasant enough and have some nice comic moments – but I think the intent was to scare (or at least it is marketed that way) – but the film falls woefully short of that target. This is Wilson Yip's directorial debut, but he has come a long way since this film with his recent critically acclaimed Bullets over Summer and Juliet in Love – and even his popular cult horror film – Bio-Zombie of a few years ago.

In the first story Veronica Yip is a night nurse that begins seeing ghosts wandering the hallway. It doesn't seem to bother her too much though as she goes on reading and eating. One of the patients is a famous singer/idol who has gone into a coma and the film takes a few good-natured swipes at that world and their rabid fans. It seems that his soul has been stolen from his body by the ghost of a fan who killed herself over him – and it is up to Veronica to try and talk the ghost into letting his spirit go. In the meantime though Veronica takes the opportunity to ask his spirit if Andy Lau is really gay and whom Aaron Kwok is dating!

The second episode finds Anita Yuen on a deserted stretch of road late at night trying to interview a ghost. She is a student in a psychology class – barely able to stay awake most of the time – and she and three friends discover that their school rivals are interviewing a serial killer for their class project. So they decide to top this by sending out Anita (looking adorable behind her large rimmed glasses) to find a legendary ghost and record her. The car breaks down and things begin getting a little spooky. It's not much – but I would still rate it higher than the Blair Witch Project!

Finally, we get two easy going slacker cops – Jordan Chan and Tsui Kam-kong – who are assigned nighttime radar duty. Nothing much happens until a little old granny goes faster than the speed limit – on foot! That and disappearing in thin air clue the boys into the possibility that this little old granny may be long dead.

Even though it would be easier to find icebergs in Arizona than scares in this film, the film does have a few excellent points. The cast is terrific and they do a good job with their roles. The acting is uniformly understated and enjoyable to watch. In the first two episodes Veronica and Anita are practically performing monologues - and Anita in particular is a standout in that slightly wacky way of hers. In the third segment, Jordan and Tsui have some excellent chemistry going -and at times it appears that Jordan is doing all he can to stop from cracking up in laughter.
My rating for this film: 6.0
---
DVD Information:
Distributor - Ocean Shores
As usual, Ocean Shores does the minimum it can - no menu, no extras. The transfer is OK - nothing great - probably the same as on the LD - a little soft - but still watchable.
Letterboxed
Subs - burnt on English and Chinese
Subs are difficult to see at times -esp. in the first episode with the white subs against the white uniforms.

---