Midnight Zone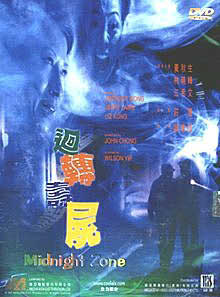 ---
This is another in a near avalanche of horror anthology films that came out in the second half of the 90's and many of them were either named after an hour of the day or a date in the year. This one is directed by Wilson Yip who had also directed the similarly styled 1:00 a.m. a few years earlier. For the most part I enjoy these bite-sized anthologies - even though they usually tend to be more comical and atmospheric than scary. Though made on a fairly small budget, they still manage to have good production values and generally a very solid group of actors. The three stories here are each about 30 minutes in length.
Headless Soul



The cops discover the body of a murdered female, but the head is missing and can't be found. Jerry Lamb makes a few smart-ass remarks that his superior overhears and so he is assigned the duty of watching over the place during the night. He of course begins hearing odd noises, seeing lights and the manual typewriter begins clicking out words. The watchman Spencer Lam shows him logically how all this could have happened - but often logic is not the right answer - and where is that head? There isn't very much to this film, but it was enjoyable seeing Lamb take center stage for a change.

Hit and Run
A married couple - Tsui Kam Kong and Liz Kong - are driving down a road one evening when both look around simultaneously for a tissue. Splat - a man is spread across their windshield like a suicidal kamikaze insect. They stop the car and look for him, but the body is nowhere to be seen. The next day they assume they are out of trouble because there has been no report of a hit and run accident and proceed to give each high fives. But when a new neighbor moves in and they realize he looks just like the man on the windshield, they get a bit nervous. Later when they spy into his apartment and see him playing "hit and run" with a model car and a toy doll and a maniacal smile - they know there is hell to pay. Bits of this film are amusing (chanting prayers karaoke style) – and it's always a pleasure seeing the very underused Liz Kong - but it is the weakest of the three segments.

Midnight Dinner
This segment is again not particular frightening - in fact not in the least - but rather than going for comedy, Yip injects a surprisingly sentimental feel into it. Anthony Wong, his wife King Yuen, and his two children are cremating his mother, Helen Law Lan. This less than cohesive family unit is wracked by guilt at how poorly they treated her while she was alive - and are now worried that her ghost will come back seeking revenge. They all do their best to be away from the house on the seventh day when her ghost is suppose to appear - but some mystical force draws them all back to the apartment. Law Lan does appear looking grim and vengeful – and the family all point fingers at one another for her ill treatment - but the film takes a lovely little turn from expectations.

My rating for this film: 6.0

---
DVD Information:
Distributed by Media Asia/Mega Star
The transfer is fine - clean and sharp.
Letterboxed
Cantonese and Mandarin language tracks
Subtitles: Chinese , English, Thai, Spanish, Vietnamese, Nil
9 Chapters
It includes it's own trailer plus Option Zero and Beast Cops.
The sub-titles are easy to read.

---