Resort Massacre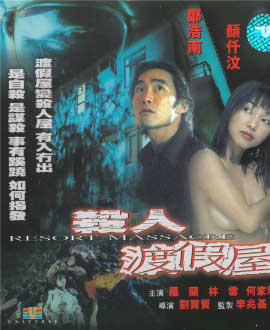 ---
Away from HK lies the quiet and peaceful island of Cheung Chau where Hong Kongers go to get some relief from the fast pace of the big city. Here the Sunshine Resorts hotel is having its troubles. Guests are checking in – but like the roach motel – they are not checking out. Either they are disappearing or committing suicide. It's not the bad room service driving them to this either – instead there appears to be evil afoot. No one on the island though appears particularly concerned about this rash of coincidences – not the owner, Helen Law Lan, not her son, Lam Suet and not even the police chief (William Ho) – who just happens to be Law Lan's brother.
This low budget, slightly erotic, somewhat squeamish and partly nasty horror/thriller film was not nearly as bad as I was expecting. I have to admit to purchasing the VCD primarily for the charms of Sophie Ngan (pictured above) – but that aspect of the film turned out to be a real disappointment. Ngan received a lot of attention for her portrayal as an evil but sexy sorceress in Horoscope II - but like that film the poster art was actually taken from a Penthouse pictorial that she was in. In this film – sadly to say – at no time is she clad or I should say unclad as shown on the cover of the VCD.

In fact, neither she nor the other box office draw on the cover, Mark Cheng, are really in the film all that much until the last twenty minutes. The film really focuses on Law Lan, Lam Suet and the very brutal William Ho – and their performances – in particular Suet's are absolutely terrific. Lam Suet has become somewhat well known as a terrific character actor – and Milkyway films in particular have made great use of his talents. He was the oily cop in Where a Good Man Goes, the none too bright minion in Running Out of Time, one of the boys in The Mission – and he is completely different in all of them. He is here as well.

Hidden behind thick glasses, blotchy skin and a mole with a long whisker hanging ominously down his chin, Suet is a repressed man-child who is sweet and very Peter Lorre like creepy at the same time. He walks around the hotel watching everything through his bleary sight and capturing every sound on his tape recorder. He knows things – secrets long buried in the past that his protective mother begs him to forget about.
Cheng's girlfriend is one of the suicide victims and he returns to Cheung Chau to investigate and Sophie is a journalist trying to get to the bottom of these mysteries.
Though I said the film was better than my expectations – I would not go so far as to call this a good film. It has a very slow middle section – but some surprising twists, the last twenty minutes and a top notch performance from Lam Suet made it better than many of the HK horror film these days.

For those that bought this film with the hope of seeing a sexy Sophie Ngan – and only for those people – here are a few pictures from her Penthouse layout that a fellow HK film fan sent me. Before you get disappointed once again, I should point out that though the pictures are revealing there was no nudity in the layout – no points were shown as Sanney would phrase it!
My rating for this film: 6.0
---