Troublesome Night VII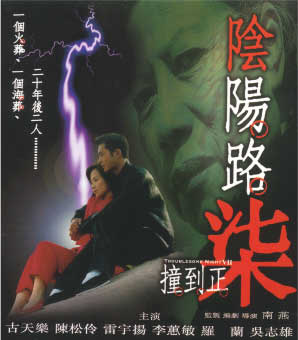 ---
The Troublesome Night series continues unabated through these dismal box office days in HK. This one – as in Troublesome Night VI – only contains one story. Herman Yau who directed all of the previous films in the series is nowhere to be seen in this one and producer Nam Yin takes over the reins. I vaguely recall reading something about a falling out between Yau and Nam Yin. It is a bit of a shame because I thought Yau's Troublesome Night VI was the best in the series and this one is definitely lacking the edge and tension of the previous films. It also oddly enough primarily takes place during the daylight hours – perhaps it should have been the beginning of a new series – Troublesome Days!

In fact, this film has no edge at all – and by the end I realized that Nam Yin had really made a love story, not a horror film. Looking at it from this perspective, the film is actually touching and sweet – but of course people don't generally watch a Troublesome Night film for this reason. They want a few jolts and chills – and the only ones that this film has are totally manufactured by someone jumping unexpectedly into the camera frame.

The film does have a large and solid cast – Troublesome Night veterans Louis Koo, Simon Lui, Helena Law Lan and Amanda Lee show up as does Wayne Lai, Law Koon Lan, Ng Chi Hung, Hui Siu-Hung along with a number of young actors. I particularly enjoyed Amanda Lee's (popular Cantopop singer) performance as she gets to sing a few lovely numbers.

In the film she actually plays a singer called Amanda Li and she, her backup singers and a video crew go to a small rural island to shoot a MTV video. There is some playful interaction between the crew and the villagers – the villagers want to milk them for as much money as they can – and so stick them into a one star hotel with the amenities of a hole in the ground – which in fact the toilet is.

But its not the bare bones conditions that are bothering them so much as the strange sounds in the night, waking up on the beach after going to sleep in your bed, seeing a blur going by at supersonic speed and the death of one of the video crew.

Finally, Helena Law Lan appears and her presence immediately adds weight to the film. She gathers everyone around her and tells them the tragic tale of Louis Koo and his love for Chan Chung Ling twenty years ago. They are now ghosts separated in different dimensions and unable to find one another. With the assistance of Amanda singing an old ballad (I believe a Teresa Teng song), Helena attempts to bring the dead lovers together and bring peace to the island.
My rating for this film: 6.0

---