Haunted Mansion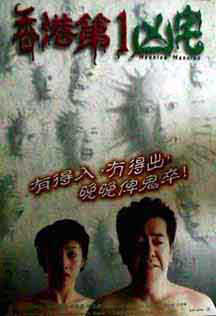 ---
This low budget horror film hit all the right buttons with me. It was just creepy and interesting enough to hold my attention, but not so scary as to get me into a cold sweat. There are also some solid performances from Anthony Wong, Gigi Lai, Spencer Lam and the horror stalwart herself – Helen Law Lan. This was just what I was looking for.

It takes much of the first half of the film to really go anywhere – but when it does it is quite satisfactory. Wong and Lai are husband and wife and spend much of the film bickering with one another in a good-natured husband and wife way about him getting fat and her always insisting on a condom. It is kind of enjoyable seeing a domesticated Anthony Wong! Gigi is quite good in this film – and I wish I could see her in more things.

Gigi gets a call from her sister that strange things are happening in their family home – such as a dead dog being strung up and the doer of this deed being killed by the TV antennae. Could Gigi and her cop husband come out and take a look? Strange things doesn't quite describe it – a feng shui expert tells the couple that the house is on top of "the Gateway to Hell" and that ghosts are passing through all the time. On top of this a sleazy construction builder is trying to force the family to sell the house.

At one time the mother Law Lan was able to keep the ghosts at bay with spells and sacraments – but now she is suffering from Parkinson's Disease and no longer has the ability to hold them off. Phantom phone calls with a child crying on the other end, an imaginary miscarriage, playing mahjong with ghosts for your soul and possession begin to plague the household. Gigi gets her boss Spencer Lam to help free Law Lan's spirit from her debilitated body to help – and then they have to face down a very angry and vicious little girl.

It is a good story – touching towards the end – and except for the light bantering between Gigi and Anthony the film takes itself quite seriously which is the way I prefer my horror films.
My rating for this film: 6.5

---
DVD Information
Universe Laser and Video Co.
The film transfer is OK considering the film is quite low budget – but the colors were muted and the flesh tones were never quite right.
Letterbox
Trailer
Previews of Tricky King, Demons Baby, Temegotchi, F***/Off
8 Chapters
Removable subs
Easy to read subs
Written information on Anthony Wong, Gigi Lai and Helen Law Lan
- Gigi is the granddaughter of Lai Man Wai who the bio calls "father of HK cinema"
- Helen Law Lan has been acting since she was 16-years old, appeared in 100's of films and is a devoted Catholic.
Satisfied with overall quality of DVD.

---